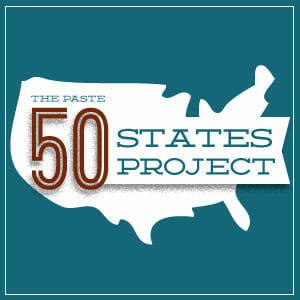 Illinois was home to an incredibly vibrant music scene long before Sufjan Stevens announced his states project and penned his classic album paying tribute to the Land of Lincoln (and in doing so, inspired this series of state lists). Chicago's produced scores of legendary artists, serving as a hotbed for the blues, house music, pop-punk and hip-hop—not to mention housing a little band called Wilco. But about three hours south of the Windy City, there's another healthy scene in the college town of Champaign-Urbana, home of labels like Polyvinyl and an independent, DIY spirit that began with garage bands like The Vertebrats decades ago and continues to this day.
With that aesthetic in mind, we've limited this list to up-and-coming bands from Illinois we think are worth your attention. You won't find any REO Speedwagon or Cheap Trick here, nor will you see any bands we've covered before like JC Brooks and the Uptown Sound, Maps & Atlases or Smith Westerns. Check out our picks, in alphabetical order, below.
Big Science
Hometown: Chicago
Members: Jason Hendrix, Jeremy Pena, Jason Richards, Bob Buckstaff
Album: Difficulty (out May 29)
This quartet waves its post-punk flag proudly, but don't let that fool you: they're just as likely to blindside you with a simple hook as they are to wow you with a lush, soaring track. Their new LP drops next month, and if it's anything like 2010's Skyscraper Sound EP, it'll be worth repeat listens.
Common Loon
Hometown: Champaign-Urbana
Members: Rob Hirschfeld, Matt Campbell
Album: The Long Dream of Birds
The members of this psych-pop duo have known each other since kindergarten, and it shows; they work together seamlessly to produce dreamy, reverb-soaked melodies that'll command your attention.
The Congregation
Hometown: Chicago
Members: Gina Bloom, Charlie Wayne, Joe DeBord, Chuck Sansone, Dan Wendt,
Brian Crane, Nick Nottoli, Erik Eiseman
Album: Not For Sleepin' EP
Cut from the same cloth as Alabama Shakes, Vintage Trouble and their fellow Chicagoans JC Brooks and the Uptown Sound, these soul revivalists recently earned an opening slot for Wilco. While their most obvious influences include the likes of Otis Redding and Aretha Franklin, they can also rock with the best of them—they've even recorded a cover of The Stooges' "I Wanna Be Your Dog."
Elephant Gun
Hometown: Chicago
Members: Jared Olson, Jon Olson, Ryan Wizniak, Paul Chivari, Jim Drake, Evan Porter, Zach LaBomascus, Katie Bendorf, Justin Past
Album: Kid Scissors
This nine-piece project is tough to pin down sonically; they've been described as everything from "aggressive Americana" to "metal-influenced folk pop." Do with that information what you will—the best way to get a feel for this group is to catch them live and take in their raucous, sweeping sound.
Elsinore
Hometown: Champaign-Urbana
Members: Ryan Groff, Dave Pride, Mark Woolwine, Chris Eitel
Album: Yes Yes Yes
They've been local heroes in Champaign for some time now, and Elsinore seems poised to break out on a national level soon. You might have heard the title track off of their full-length Yes Yes Yes on So You Think You Can Dance or in a Kohl's ad, but if you haven't, familiarize yourself with the vocal stylings of Ryan Groff so you can say you knew these indie-popsters back when.
Exit Ghost
Hometown: Chicago
Members: Evan Holmes, Jordan Stacey, Julian Stacey, Rachel Kahn, David Brankin
Album: Move Alone (out May 2)
Fronted by Evan Holmes, this group has garnered a strong local following thanks largely to their bold indie-folk tunes. Fans of Sun Kil Moon or Ryan Adams will enjoy Move Along, which is streaming in its entirety on their Soundcloud page.
Grandkids
Hometown: Champaign-Urbana
Members: Vivian McConnell, Evan Metz, Adam Gorcowski, Phil Sudderberg
Album: Sister Walls EP
You may know Vivian McConnell from Santah (watch them play our CMJ party here). Her smooth vocals take centerstage with her other project, Grandkids. Their full-length debut is in the works, and we're willing to bet money it'll be, well, grand.
Hollows
Hometown: Chicago
Members: Maria Jenkins, Emma Hospelhorn, Megan Kasten, Hannah Harris, Jason Davlantes
Album: Vulture
This mostly female quintet expertly blends '60s girl group influences with a garage sensibility, delivering beachy harmonies with a punch and making them a must-listen for fans of The Shangri-Las, Best Coast or Those Darlins.
Mazes
Hometown: Chicago
Members: Edward Anderson, Caroline Donovan, Charles D'Autremont, Tom Smith, Pat Cavanaugh
Album: Mazes Blazes (forthcoming)
Fans of this folk-pop group—which contains members of The 1900s—had a bit of a scare a while back when several members moved across the country. Luckily, however, the group recently announced a new vinyl LP, Mazes Blazes as well as their own label.
Shy Technology
Hometown: Villa Park
Members: David Coulson, Andy Kearns, Pat Kearns, Nick Stetina
Album: Getting Rich, Staying Poor
Fans of The National or Interpol will dig these guys and their fourth LP, Getting Rich, Staying Poor. Recorded in St. Charles, it was inspired by "the death and birth of loved ones," according to the band.