Interpol Recruit Kristen Stewart, Finn Wittrock for "If You Really Love Nothing" Video
It's the third single from Interpol's new album Marauder, out tomorrow, Aug. 24
Image via Matador Records/YouTube
Music
News
Interpol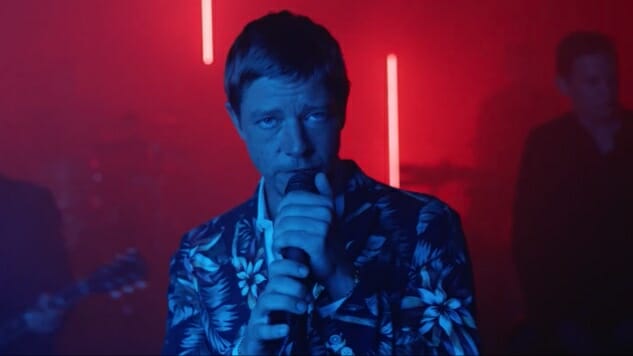 Interpol's sixth record Marauder is out tomorrow, Friday, Aug. 24, and ahead of its release, the NYC post-punks have debuted a star-studded video for the LP's third and final single, "If You Really Love Nothing." The short film stars Kristen Stewart and Finn Wittrock as a mismatched pair of star-crossed lovers who spend a wild night out together.
Shot in Los Angeles with direction from Hala Matar, the "If You Really Love Nothing" visuals reflect the single's stylish swagger, opening on Wittrock's quiet, comically handsome protagonist before introducing Stewart, his charming rogue of a companion, who makes a memorable entrance by hopping out of the trunk of a taxi. The two head into a colorful nightclub, where an unfettered Stewart feeds Wittrock liquor (and later, spaghetti), makes out with just about everyone in sight and generally acts like she owns the place.
Frontman Paul Banks praised Matar's direction in a statement:
Hala is a young director I had the pleasure of meeting a few years ago, and I've been a big fan of her short film work since. Her luscious use of colors and lighting, her insightful dialogue and playful direction, for me, are her hallmarks. There's always humor, drama and atmosphere to spare in her work. I see all of these qualities in her video for "If You Really Love Nothing." And speaking on behalf of Interpol, we are so proud to have had the opportunity of this collaboration.
"Kristen Stewart is the perfect actress for this part. I don't think there's anyone that could have better played the role," Banks adds. "She nails it, and I love the performance from Finn Wittrock. Another wonderful casting choice—he plays the role of Kristen's beleaguered companion beautifully."
Marauder is the first Interpol album since 2014's El Pintor. "If You Really Love Nothing" joins previous singles "The Rover" and "Number 10," and is the second advance track to receive the visual treatment, following the band's cinematic video for "The Rover," which featured a star of its own in Ebon Moss-Bachrach (Girls, The Punisher).
Again, Marauder is out tomorrow on Matador Records, and Interpol will tour through early 2019 in support of the new album. Watch the "If You Really Love Nothing" video and see the band's full tour slate down below.
Interpol Tour Dates:
August
23 – Philadelphia, Pa. @ Union Transfer – w/ Honduras
24 – Brooklyn, N.Y. @ House of Vans
September
11 – Boston, Mass. @ Orpheum Theatre – w/ Sunflower Bean
12 – Montreal, Quebec @ Olympia Theatre – w/ Sunflower Bean
13 – Toronto, Ontario @ Rebel – w/ Sunflower Bean
14-16 – Chicago, Ill. @ Riot Fest
16 – Detroit, Mich. @ Royal Oak Theatre – w/ Sunflower Bean
17 – Columbus, Ohio @ Express Live! Indoor Stage – w/ Sunflower Bean
27 – Dallas, Texas @ Bomb Factory – w/ Sunflower Bean
28 – Austin, Texas @ Bass Concert Hall – w/ Sunflower Bean
29 – Houston, Texas @ White Oak Music Hall Lawn – w/ Sunflower Bean
October
01 – Phoenix, Ariz. @ The Van Buren – w/ Sunflower Bean
04 – Los Angeles, Calif. @ Hollywood Bowl – w/ The Kills, Sunflower Bean
05 – San Diego, Calif. @ SDSU Open Air Theater – w/ The Kills, Sunflower Bean
06 – Berkeley, Calif. @ Greek Theatre – w/ The Kills, Sunflower Bean
November
06 – Tokyo, Japan @ Akasaka Blitz
14 – London, U.K. @ Royal Albert Hall w/ Nilüfer Yanya
16 – Manchester, U.K. @ O2 Apollo – w/ Nilüfer Yanya
18 – Dublin, Ireland @ Olympia Theatre – w/ Nilüfer Yanya
23 – Hamburg, Germany @ Mehr! Theater – w/ Nilüfer Yanya
24 – Copenhagen, Denmark @ TAP1 – w/ Nilüfer Yanya
25 – Berlin, Germany @ Tempodrom – w/ Nilüfer Yanya
27 – Utrecht, Netherlands @ Tivoli Vredenburg – w/ Nilüfer Yanya
28 – Brussels, Belgium @ Forest National – w/ Nilüfer Yanya
29 – Paris, France @ La Salle Pleyel w/ Nilüfer Yanya
January
31 – Vancouver, British Columbia @ Queen Elizabeth Theatre
February
01 – Portland, Ore. @ Keller Auditorium
02 – Seattle, Wash. @ The Moore Theatre
05 – St. Paul, Minn. @ Palace Theatre
08 – Milwaukee, Wis. @ Pabst Theater
09 – St. Louis, Mo. @ The Pageant
11 – Nashville, Tenn. @ Marathon Music Works
14 – Raleigh, N.C. @ The Ritz
15 – Washington, D.C. @ The Anthem
16 – New York, N.Y. @ Madison Square Garden – w/ Car Seat Headrest, Snail Mail