Apple Is Finally Doing Away with iTunes: Report
Photos by Ian Waldie/Getty, Justin Sullivan/Getty
Music
News
Itunes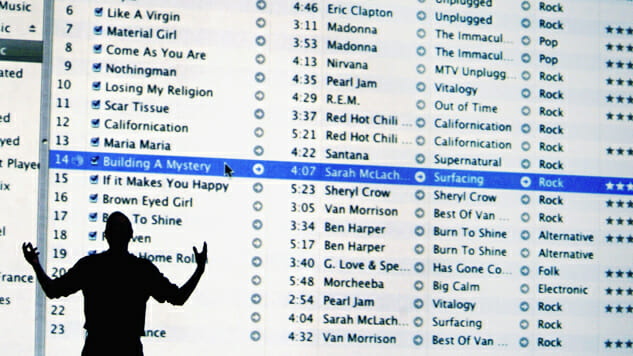 Remember iTunes? That old-fashioned computer program where all the digital music you'd bought and paid for used to live? Apple is doing away with it, according to Bloomberg, replacing the platform with three new Mac apps: Music, TV and Podcasts. Apple CEO Tim Cook and co. are expected to formally announce their new approach during the keynote presentation at the company's Worldwide Developers Conference in San Jose, Calif., on Monday.
iTunes debuted in 2001, pre-dating the iPod, and was initially marketed as "jukebox software," i.e., a place for users to play and organize their MP3s, and burn them onto CDs—the millennial mixtape. 2003 brought about the iTunes Music Store, which sold both albums and individual songs, the latter of which were available at 99¢ a pop, and Genius playlists debuted in 2008, giving users algorithmically generated playlists based on their favorite songs. The platform grew to incorporate music videos, TV and podcasts in 2005, followed by movies in 2006 (here are the best ones on it right now, if you're curious) and books in 2010.
The writing was on the wall for iTunes when it was supplanted by Apple Music, the company's streaming platform, if not when streaming music became the new industry-wide paradigm in place of owning MP3s.
We'll learn more about Apple's post-iTunes plans when WWDC begins on Monday. In the meantime, bid your old friend iTunes adieu and indulge in some nostalgia, why don't you?