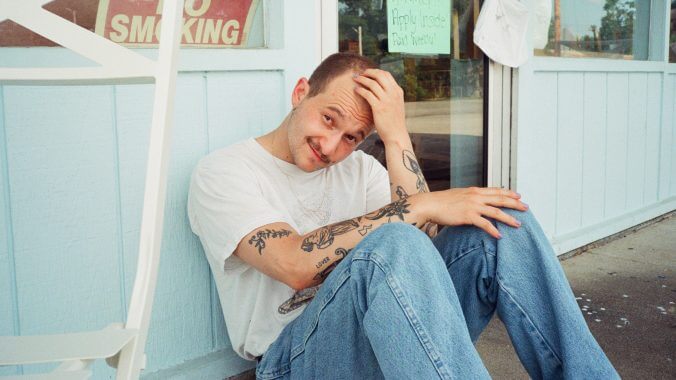 Boston singer/songwriter Izzy Heltai has returned with "25," the most recent single from his forthcoming EP mostly myself again—which is set to arrive on October 20. A successor to last month's "Bad Time," "25" is a woozy arrangement of slow, dreamy, soulful guitar-driven rock 'n' roll that merges a Pavement-style vocal cadence with psychedelic and R&B-inspired construction.
Lyrically, Heltai sings about flirting with a parallel universe where he doesn't make it past his teens, where his queerness ushers in a certain, inescapable finality. "And if I peaked in high school, then maybe I wouldn't care," he croons. "But I was just another queer kid and I thought that I'd be dead by the time I turned 20. Guess I'm pushing all my luck, living past my life expectancy. 'Cause trans kids normally don't get this far." It's an anthemic, hypnotic gauge of survival; a beautiful, gracious offering of enduring hope.
Heltai says about "25": "I moved back in with my mom about two months before I turned 25. I felt pretty defeated—I'd spent my entire adult life working at something that wasn't really going anywhere. It felt like I was just beating my head against a wall over and over. I would always get into these conversations with my mom about how I thought maybe I was washed up, and too old for anything else to really happen. She would always tell me how ridiculous that was, 'Izzy, you're still young,' and 'Maybe you should just take a deep breath and be thankful instead of resentful about the things you've gotten to do already.' I'm 27 now, and I still find myself feeling like this—that I'm never doing enough, or things are never moving fast enough. But I have so much time left, so why do I need it all to happen right now?"
Listen to an exclusive premiere of "25" below.