Jack White Is Banning All Cell Phones at Upcoming Shows
The 42-year-old musician is tired of people not clapping
Photo by Rick Diamond/Getty Images
Music
News
Jack White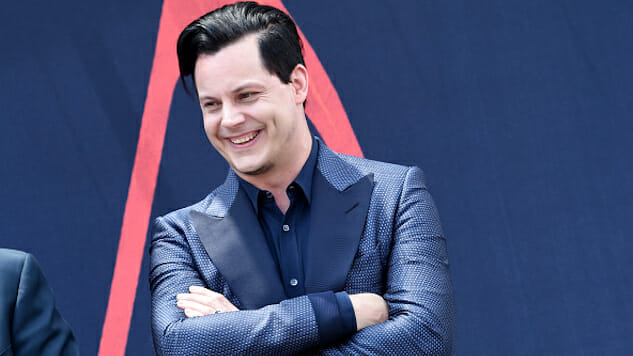 Former leader of The White Stripes Jack White is going on tour a month after the release of his forthcoming album, Boarding House Reach. But if you were planning on going to the show and wanted to relive the experience over and over again through your smart phone, chances are you may just have your work cut out for you. White released in a press statement earlier today that all cellphones, cameras or recording devices will not be allowed at his shows in lieu of a "100% human experience." The statement provided by the 42-year-old rocker from Detroit, Mich., reads:
"Upon arrival at the venue, all phones and other photo or video-capturing gizmos will be secured in a Yondr pouch that will be unlocked at the end of the show. You keep your pouch-secured phone on you during the show and, if needed, can unlock your phone at any time in a designated Yondr Phone Zone located in the lobby or concourse."
"For those looking to do some social media postings, let us help you with that. Our official tour photographer will be posting photos and videos after the show at jackwhiteiii.com and the new Jack White Live Instagram account @officialjackwhitelive. Repost our photos & videos as much as you want and enjoy a phone-free, 100% human experience."
Fans are having mixed reaction to the news. Although some agree with White that the technology takes away from the human experience, others don't appreciate the artists telling them how to enjoy the show. White however, seems to think that cellphones take away a critical part of his performance. White told Rolling Stone in a 2014 interview:
"People can't clap anymore, because they've got a fucking texting thing in their fucking hand, and probably a drink, too! … Some musicians don't care about this stuff, but I let the crowd tell me what to do. There's no setlist. I'm not just saying the same things I said in Cleveland last night. If they can't give me that energy back? Maybe I'm wasting my time."
White is offering an alternative to being on social media during the show by providing pictures of the concerts taken by his staff photographers free of charge to anyone who wants to post them online. Although this action may seem extreme to some people, it comes as no surprise given White's reputation of stripping everything down to the bare essentials.
Yondr pouches (the company behind the device locking bags) began as a startup in 2016 and have been recently used by many musicians including Alicia Keys, Guns N Roses and The Lumineers as well as comics such as Chris Rock, Louie CK and Dave Chappelle. Whether or not these new pouches will help change public perception on concert etiquette, they will for sure make it easier for your friends to lie about being at the Jack White show.
Boarding House Reach is due out March 23. White goes on tour a month after, starting April 19. Revisit White's 2018 tour announcement here and listen to the singles off the new album "Connected by Love" and "Respect Commander" here.