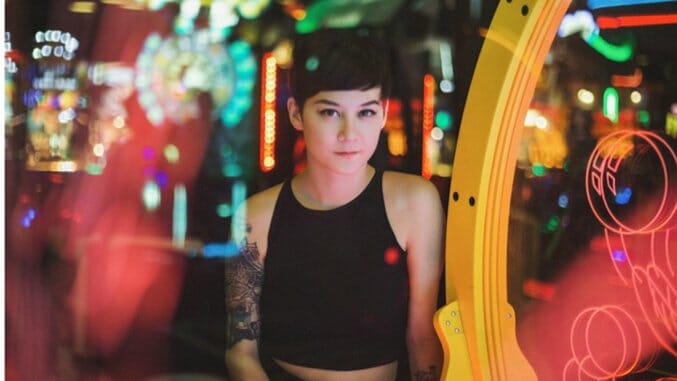 Breakfast is the most important meal of the day—Japanese Breakfast, even more so.
Little Big League frontwoman Michelle Zauner recently debuted her solo project with Psychopomp, a 25-minute slice of dynamic, deeply felt and all-around excellent noise pop. The ethereal album is dedicated to the memory of Zauner's late mother. Zauner has now released the occult-inspired video for Psychopomp highlight "Jane Cum," which she describes as "definitely the most dramatic song on the record."
The hypnotic new visual was directed by Adam Kolodny and House of Nod Productions, who were also the production team behind Japanese Breakfast's "In Heaven" video. Zauner explained how the "Jane Cum" video concept came together in an interview with Rookie Mag:
After the "In Heaven" video, I knew I wanted to work with Adam again. We wanted to do a really dark, witchy video. So we both made moodboards for it, and they were just perfectly aligned. I knew that I wanted to have really dark shots, where the background was pure black, with lighting from headlights. I wanted to reference the '90s movie The Craft. Then Adam brought in this True Detective daytime vibe. He was also the one who created the narrative with the artifacts. We went to Freehold, New Jersey, and filmed it in his parents' backyard. We drove around in this vintage Volvo, filming with a car camera and a drone.
Japanese Breakfast is currently on a North American tour with Mitski and Jay Som. "I'm super excited!" Zauner told Rookie about the tour. "This is the first tour I've ever seen with three Asian-American women on a three-band bill. I never would have thought, growing up, that I would have seen something like that. It would have meant a lot to me when I was younger—it still means a lot to me."
Psychopomp is out now via Yellow K Records in North America, and is available for preorder via Dead Oceans elsewhere in the world. You can stream it right here via Hype Machine.
Watch the "Jane Cum" video above, and find Japanese Breakfast's tour dates below.
Japanese Breakfast Tour Dates:
June
22 – Boston, Mass. @ Brighton Music Hall *
23 – Philadelphia, Pa. @ Boot & Saddle *
24 – Philadelphia, Pa. @ PhilaMoca *
25 – Washington, D.C. @ Rock & Roll Hotel *
26 – Durham, N.C. @ The Pinhook *
28 – Atlanta, Ga. @ Masquerade (Purgatory) *
29 – Birmingham, Ala. @ The Syndicate Lounge *
July
1 – Houston, Texas @ Walter's Downtown *
2 – Austin, Texas @ The Sidewinder *
3 – Dallas, Texas @ Three Links *
5 – Phoenix, Ariz. @ The Rebel Lounge *
6 – Santa Ana, Calif. @ The Constellation Room *
7 – Los Angeles, Calif. @ The Echo *
8 – Oakland, Calif. @ Starline Social Club *
9 – San Francisco, Calif. @ Bottom of the Hill *
11 – Portland, Ore. @ Analog Theater *
12 – Vancouver, British Columbia @ The Cobalt *
13 – Seattle, Wash. @ The Crocodile *
15 – Salt Lake City, Utah @ Kilby Court *
16 – Denver, Colo. @ Larimer Lounge *
19 – Minneapolis, Minn. @ 7th St Entry *
20 – Chicago, Ill. @ Lincoln Hall *
22 – Toronto, Ontario @ Horseshoe Tavern *
23 – Montreal, Quebec @ Bar Le Ritz *
24 – Burlington, Vt. @ Monkey House
25 – Portland, Maine @ SPACE Gallery *
26 – Providence, R.I. @ AS220
27 – Brooklyn, N.Y. @ Music Hall of Williamsburg *
(* = with Mitski and Jay Som)