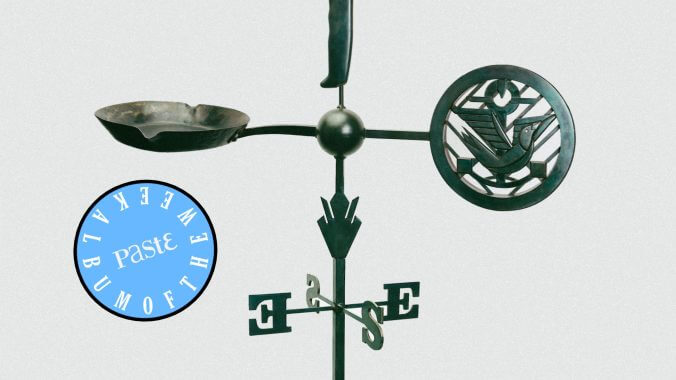 Jason Isbell's career is a bit like Nick Saban's. Even Saban's worst teams over the past decade would still be considered legendary at other college programs. Not every season of the Saban era features Mark Ingram leading the charge or once-in-a-lifetime moments like when true freshman Tua Tagovailoa threw a pass in overtime to secure a championship, but each team exudes excellence in a way some other programs just don't.
Alabama native Isbell has a dynasty of his own. Not every album he writes is going to be Southeastern. But every song he releases into the world is worth listening to, a reminder that he, too, is working at the highest standard of excellence. No matter what is happening in his life—addiction, loss, romance, marriage, family—not to mention what's happening in humanity on a wider scale, Isbell finds a way to distill it all into melodies worthy of a national title.
That power can be heard once again on Isbell's most recent album with his stalwart band the 400 Unit, Weathervanes. Despite a few lyrical lowlights, Weathervanes is another undeniable product from Isbell and his fellow players—Derry deBorja, Chad Gamble, Jimbo Hart, Sadler Vaden and, occasionally, acclaimed fiddler and Isbell's wife Amanda Shires—who, together, constitute one of the best live rock bands on the road at any given time. Albums like Isbell's solo magnum opus Southeastern and the 400 Unit's biggest splashes The Nashville Sound and Reunions are full of life's highest highs and lowest lows, which means they contain some of Isbell's most personal and effective songs. Weathervanes hits close to home too, but it finds more inspiration in the everyday moments.
While Weathervanes is more of a straight trail than a winding path with lots of peaks and valleys, its steadiness is one of its most attractive attributes. Within the first 20 seconds of the album, Isbell sings: "Everybody dies but you've gotta find a reason to carry on." The peaks and valleys that make up most rock songs are 20% of life, while the "carrying on" is the 80% majority—and Isbell is one of few artists who has a way of making all the moments feel equally important.
He studies the ordinary again on "Middle of the Morning," which is about finding enough energy to not only swing your legs out of bed in the morning but also move through the day without losing your mind and snapping at a loved one, all through the lens of a particular kind of pandemic-flavored fatigue: "Yes I'm tired and by the middle of the morning I'm out of shit to say."
But this is not to say that Weathervanes only exists in the space between your morning cup of coffee and school pickup. It also digs into the more grotesque elements of daily American life. Isbell has always had the rare ability to respond to social issues with empathy and grace without sounding like he's pandering. He did this on "White Man's World," and he does it again with "White Beretta," which is presumably an apology from a man to a woman who underwent an abortion, or maybe just a woman who made some other kind of sacrifice that ultimately benefited her partner and their future. Women quietly take on so much labor in relationships and families—both physical and emotional—and it's incredibly rare to hear a "thank you" or "I'm sorry," but here Isbell shares both.
Current events are made personal again on "Save The World," when Isbell realizes forgetting his ID for a flight isn't a real problem stacked against the news of yet another school shooting flashing on CNN, and he then partakes in the distinctly American impulse of scanning the grocery store for the nearest exit sign, just in case. Because it happens every day. And he grapples with the equally ridiculous American dilemma of wanting to keep your child home in case the unthinkable happens. "Can we keep her here at home instead / Can we teach her how to fight?" he questions.
Family is on the mind again during "Vestavia Hills," which balances the tension between wanting to build a home life, answering the demands of rigorous touring and, ultimately, being stuck in the Birmingham suburbs. The seven-minute scorcher "Miles," too, examines the distress of being apart from family as time moves by at lightning speed.
And while the 400 Unit frequently excels at rocking out (just listen to the entirety of "Miles" and the heartbreaker "When We Were Close" for proof), some of Isbell's best work is found in his folk songs. He reminds us some of the best wisdom comes from questioning the status quo on the harmonica-infused "Cast Iron Skillet" and encapsulates the phenomenon of just wishing you could step out of your own life for a minute on "Volunteer."
Isbell has a way of singing about the South that even his most comparable contemporaries can't quite replicate. He also has a style of singing about life, love and country that seemingly gets better and sharper with time. It may not be perfect from start to finish, but Weathervanes again affirms Isbell's place as an Alabama legend—right there next to Saban.
---
Ellen Johnson is a former Paste music editor and forever pop-culture enthusiast. Presently, she's an editor and freelance writer. You can find her tweeting about all the things on Twitter @ellen_a_johnson and re-watching Little Women on Letterboxd.