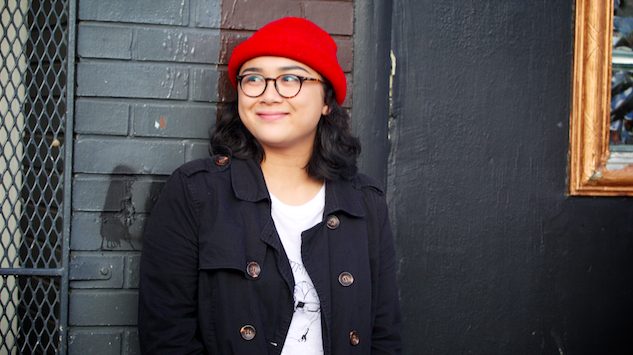 At first glance, it seems like Jay Som appeared out of nowhere. As charming as her current narrative is — a Bay Area musician who caught Bandcamp success with Turn Into, a collection of indie rock dream pop demos she uploaded while buzzed on wine — singer-songwriter Melina Duterte's career has been a decade-long, winding road of musicianship masked by shyness. Before those Bandcamp demos, she was scaling the songwriting path at a rapid rate. Her rise wasn't luck. It was fate.
In some ways, Duterte is a stereotypically zenned out millennial. She hangs out with her parents' dogs, she's taken to planting succulents, and she puts on Netflix to fall asleep, often with the volume so loud that it annoys her roommates. Growing up, she was just as chilled out. But somewhere between regularly downloading songs off Limewire and buying CDs from Barnes & Noble like the rest of suburban '90s kids, Duterte became curious as to how she could emulate these artists. "I just wanted to see if I could do it," she says over the phone. "It seemed fun, but no one I knew was doing it."
Of course Duterte phrases her segue into self-taught musicianship as if the whole thing came with a shrug. The 22-year-old packs her music with self-doubt and complex uncertainties, but her work is worth marveling at. For one, she's taking the call from her Oakland home studio, which she created herself. Duterte can't stop laughing when asked why she dubbed it EMA Studios, and eventually reveals it's a secret with her friends, but can confirm it's "kinda inappropriate." Her bed takes up half the space — which, she notes, she built herself thanks to Ikea — and soundproofing blankets hang from the wall beside photos. Her drum kit sits in the center of the room ("That way I can wake up and just start drumming," she says). Her studio desk stands by the window, topped with a Scarlett Audio Interface and monitors displaying Logic Pro X. Guitars hang from the walls and others are strewn across the floor, tallying up to a total of six. The room is filled to the brim, but the way she describes it, Duterte surrounded herself in a personal paradise. Based on the work she wrings from that room, it wouldn't be wrong to declare Jay Som will be a figurehead in indie rock in a matter of years, if not by the end of this year alone.
Jay Som's success isn't a coincidental stumble. Ever since her mother gifted her a Nylon guitar for her eighth birthday, Duterte's been preparing to lead the life of a musician. "I got it because I was really into The Donnas and Yeah Yeah Yeahs," she says. "I really, really wanted to play guitar, so I got lessons for two months until the instructor moved away. Then I ended up teaching myself, just using UltimateGuitar.com."
From there, it was a whirlwind of instruments. In the 5th grade concert band, she picked up trumpet and played it until age 19. "That was the most disciplined I got with music because it's a strict instrument," she says. "I was first chair and had a lot of responsibilities when I was in [concert] band." Over the course of those years, she performed in the wind ensemble, joined jazz band, and gave trumpet lessons to kids. Around age 18, she joined her friends' band, Summer Peaks, on bass. At age 20, she began learning drums during the recording process of Turn Into, the unofficial debut full-length under her Jay Som moniker. "I bought a drum set off Ebay and, a week before, I practiced every single day," she says. "The song "Ghost" was the first track I ever did with drums." You would never know unless she told you.
Now she's ready to release her real debut full-length, Everybody Works on Polyvinyl Records, though to many it's a sophomore LP. The growth it shows in her songwriting is impossible to ignore. Everybody Works is scattered with other sounds like accordion, piano, and keys, but according to Duterte, those are just "hobby" instruments. "The other day, a friend of mine said she wanted to 'play' music, and I got confused because she has guitars. I told her she does play music," she says. "It made me realize how many people think that if they teach themselves or if they just 'play' for fun, then they're automatically bad. Having your own unique style without a professional background doesn't mean you don't play. So many self-taught musicians are actually my favorites because they have a different view of playing than a professionally-taught musician."
As she talks, Duterte realizes she should apply that rule to herself. Same goes for her role as a producer. The opening track on Everybody Works, "Lipstick Stains," is a gorgeous tremble of finger-plucked guitar, dreamy piano, and fading hums. When I ask how she recorded orchestral strings like that, she laughs. "It's all fake," she says, as if suddenly aware of her own skill. "I just played with reverb and layers and stuff."
Both of Jay Som's albums have a clear, distinct sound that she crafted by herself. Oftentimes, a surplus of genres on an album presents itself as sloppy indecision. For Jay Som, transitioning from noise pop on "1 Billion Dogs" to the dancey shoegaze of "One More Time Please" immediately after sounds natural. "I think I'm finally coming to consider myself a producer," she admits. "I comfortably accepted that producer hat recently when I realized these are my ideas. I may mess around with them, but in a general sense, I am a producer. Actually, I think I have more fun doing that than actually writing the songs. I guess I didn't really realize that before."
Duterte battles with self-doubt, especially as she enters adulthood, behind the Jay Som moniker. Growing up, you can juggle activities, succeed wildly, and feel accomplished because of it. When you reach a certain age, that same rate of activity and success no longer seems impressive, not because of a lack of effort, but because other people's lives go at equally radical paces. No one ever tells you how hard that will be. "Moments of self-doubt still hit me all the time," she says. "I don't believe I can do this. I don't believe I deserve this. Then, at the same time, I'm trying to figure out how I can make myself better. Writing "Everybody Works" and having it as the album title was cathartic, and playing it live, I'm not going to lie, makes me get a little sad still."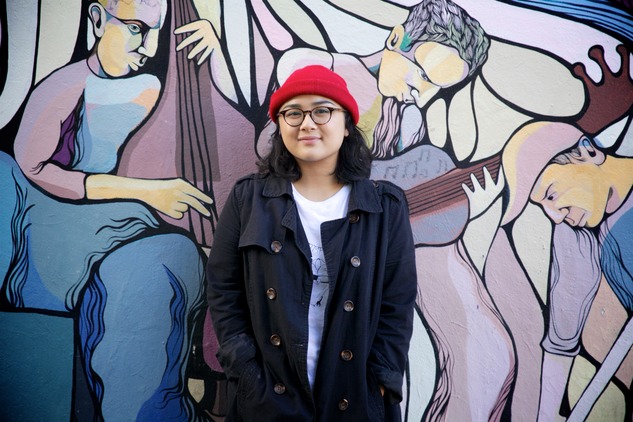 As the Jay Som fan base grows, she asks herself more frequently if she should be writing directly for them. It's not a form of catering. Duterte wants to find a way to heal, and if her own musical medication can help others simultaneously, then the way she sees it, she absolutely should. That uplifting, authentic honesty is a mode of delivery, on and off record, that she learned from touring alongside Mitski and Japanese Breakfast. That tour "pretty much changed [her] life." Now, she knows performing songs live can help her feel in control of her anxieties, and it can aid others in that process, too.
"I kind of obsessively look at the comments of what people say about my music. I try not to take it too seriously or get too hurt, but it's rather just informational stuff to me," she explains. "I want to make this music for women to listen to, maybe queer people, just people who aren't white and male. I want to show it's possible and that they can relate to it if they choose to. Especially with this album, I want anyone who listens to it to feel some type of connection where they can think, 'Hey, I know what that feels like.' It's very important to be vulnerable and open with yourself, but also to be so with other people."
As she ruminates on her life as an artist and takes time to figure it out, Duterte finds herself stretching out, relaxed, finally enjoying the life of an artist that she's been working towards for over 10 years. After all, recording everything by herself is a sign of an artist who feels they have a lot of personal stories to share and doesn't want to compromise them by letting others change the delivery. In that, Everybody Works is a gift from herself to herself. It's a reminder that life never lets up, but everyone is working just as hard as her, because if that weren't true, her steady climb to honing her musical style would've been on everyone's minds the last several years. Jay Som is a complex bubble of indie rock filled with foundational personal developments. She just happens to hold it together in a way that makes her rise to fame seem effortless — the way all greats do.