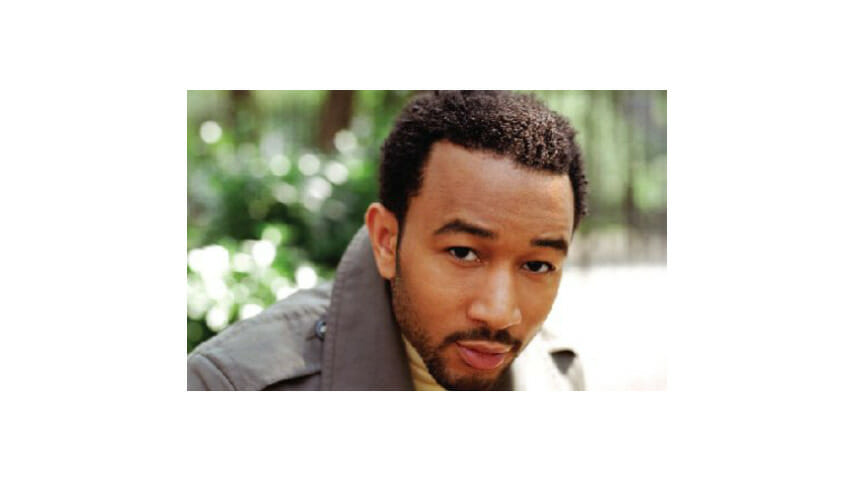 If at first you do succeed, try, try again.
Sophomore slump? What sophomore slump? On the follow-up to Get Lifted, the Grammy-winning multi-platinum debut from John Legend, the one-time session man chucks the simple old-school nostalgia for a collection of music that's genuinely legendary. He jumps out of Once Again with the breezy, retro-futuristic pop of the album's first single, "Save Room," a song so silky and seductive that when my dad heard me playing it, he assumed I was listening to some long-lost gem from the Bacharach/David catalog. (It actually does borrow the melody of the 1968 Classics IV single, "Stormy," introduced to Legend by producer will.i.am.)
"Save Room" is followed by two more nuggets of radio-friendly sweetness, the gospelish, Kanye West-produced "Heaven" and the spare, percussive "Stereo." But it isn't until the fourth song, the brilliant Raphael Saadiq/Craig Street-produced "Show Me," that Legend reaches for the real Heaven. The nearly seven-minute-long composition begins on a bed of Hendrix electric-guitar strumming, then soars to new galaxies with Legend's voice conjuring the spirit of Jeff Buckley. Yep, it's that ambitious.
Each track is so tasty I'm tempted to make this a song-by-song menu review, but Once Again is more than just a random collection of great tunes. Legend has grown by leaps on this disc, delivering a richer sound and more adventurous experimentation. Toward the end of "Save Room," the organ part gets a little crazy and then abruptly vanishes. The gritty "Slow Dance" would be straight-up old-style R&B were it not skewed slightly by the flatulent sound of a tuba and more Hendrix riffage. And the jazzy piano intro to "Maxine" gives way to bright strings and papier-mâché-like percussion.
Amid all this zagging are strong melodies that would stand on their own without all the frills, and some of the tracks do just that. The piano ballad "Where Did My Baby Go," for example, is pure Stevie Wonder loveliness. And in a rich croon that recalls Hootie & the Blowfish singer Darius Rucker (though with much more soul), Legend closes the album with "Coming Home," the simple tale of a soldier longing for his return to U.S. soil. Legend's own return is no less momentous.