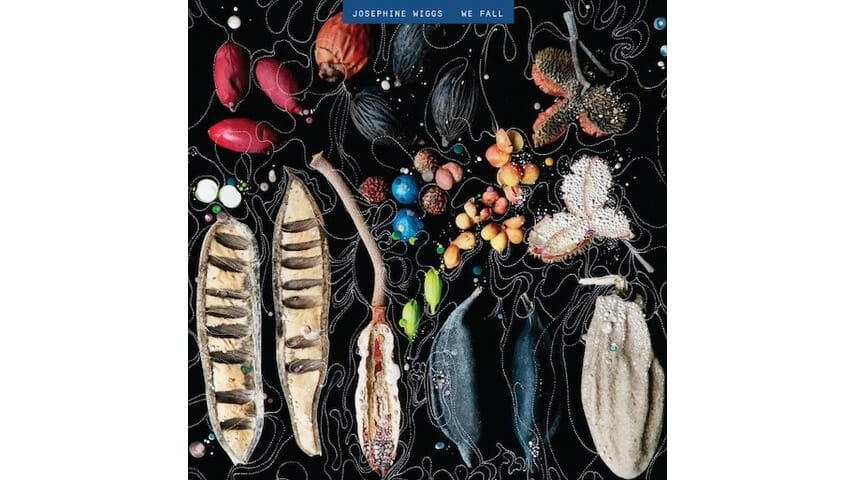 It is perhaps a blessing and a curse that Josephine Wiggs will always be most widely remembered for the iconic sliding bassline that introduces "Cannonball," the catchy single that made The Breeders alt-rock stars in 1993. Memorable as it is, it overlooks the fact that Wiggshas had a productive and varied career before and after her tenure with the Deal sisters. Along the way, Wiggs has held down the low end for The Perfect Disaster, collaborated with Spacemen 3 drummer Jon Mattock and members of Luscious Jackson and written film scores.
The role of Wiggs' bass in The Breeders' spry pop-rock wasn't exactly understated. In fact, her clanging tone and assertive fretwork stood out among the most prominent features of the band's luxurious arrangements. As imaginative as her playing was, though, it gave you no real reason to suspect that such a multi-faceted musician was lurking in plain sight between the Deal sisters. We Fall, Wiggs' first proper solo album, showcases how equally comfortable she is working in the parallel realms of ambient music, minimalist composition, chamber music, post-rock, and lo-fi, electro-organic experimentation.
In 1970, Harold Budd—a composer Wiggs cites as a primary influence on the new album—decided to create music that was, in his own words, "so sweet and pretty and decorative that it would positively upset and revolt the avant-garde." With We Fall, Wiggs follows Budd's lead by embracing unabashed beauty in the sounds she creates with piano, cello, acoustic guitar, acoustic and electric basses, Mellotron, the Roland TR-606 drum machine and the occasional use of her own voice. Wiggs certainly embraces melancholy here.uch of the album hovers in a kind of somber cloud, moving along at steady but decidedly downtempo pace. Nevertheless, its sheer sensory appeal shines through like infinite glints of light.
Not unlike The Breeders' use of overlapping guitar tones, Wiggs recorded and mixed the piano chords that propel tracks like "37 Words," "In A Yellow Wood" and the title track in such a way that the harmonic overtones occupy center stage. For all the instrumentation Wiggs makes use of here, one could argue that those myriad intersections between piano notes serve as the lead instrument. Longtime cohort Mattock, meanwhile, extracts a lyrical quality from the drums. On these mostly instrumental tracks, Mattock sometimes acts as the "singer," hitting the drum skins and cymbal surfaces with an exceptional sense of dynamic control and taste. His stuttering kick-snare groove on "Loveliest of Trees"—one of the most sweetly ear-pleasing tracks on the album—is as hummable as Wiggs' delicate cello and guitar lines.
In its earliest form, We Fall began as a suite of short pieces Wiggs composed for the score to director Malachi Connolly's architecture documentary Built on Narrow Land, a film about the way Bauhaus building forms were imported to the seemingly incongruous New England coastline. Similarly, Wiggs fashions pop-style hooks—spectral vestiges of hooks, but hooks nonetheless—out of spare repetitive, interlocking parts . Thanks to Wiggs' tunefulness, We Fall rises above the sequence of minimalist motifs it could have been and instead gels as a collection of tunes.
"Turn to Moss," for example, starts out as a fairly standard chamber pop exercise as multiple tracks of bowed cello play out over a dusting of piano chords. Almost immediately, however, a sparkling three-note guitar figure interjects melody in a way that recalls the covert pop instincts of experimental acts like Rachel's, Radiohead, and others. . ore dramatically, the title track reaches a grand, anthemic scope before Wiggs even chants the words "weeeeeee… fallllllllllll" —- a chorus in both the traditional and conventional sense. We Fall comes chock full of such moments.
We Fall doesn't announce itself with much fanfare, and it exits as swiftly as dusk transitioning into night or night into dawn (which gives the whole-album listening experience a sense of fleeting). Don't be fooled by how unassuming and unobtrusive this music is, though. With We Fall, Josephine Wiggs has built a picturesque bridge between ambient chamber music and pop songwriting. Artists have been peering from one stylistic shore to the other for decades, but Wiggs travels between them with exceptional agility and poise.