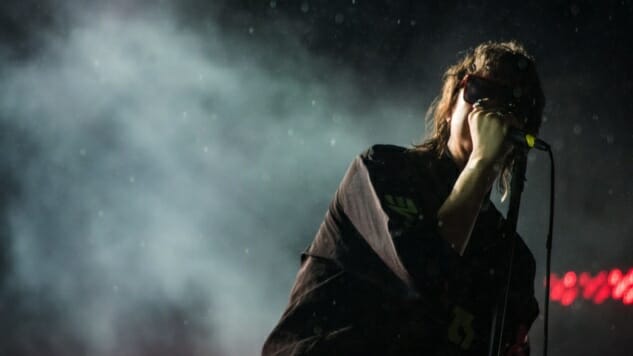 After Tyranny in 2014, Julian Casablancas + The Voidz succeeded in leaving a void. Many a valiant jazz-punk band tried to fill that void with fuzz and distortion pedals, but we're still haunted by the desire to walk down a busy New York street blasting "Where No Eagles Fly" and staring at everyone from our under-eye bags.
Then, almost as mysteriously as the band disappeared, we witnessed their return.
Last month, the band played a secret show in L.A. under the name "YouTube Comments" and announced a tour in South America. Last night (wink), JC + The Voidz played a show in Sao Paolo that wasn't so secret: it aired on Brazilian late-night talk show The Noite, and below you can watch them perform a new tune, "Wink," as well as Tyranny's "Nintendo Blood."
If you're in South America backpacking on your parent's money, they've got dates left in Argentina and Uruguay. If you're not, Julian Casablancas + The Voidz will be making an appearance at The Growlers Six music festival in Los Angeles, Calif. on Oct. 29. Mahalo.
See the band's tour dates below, beneath their The Noite performance.
Julian Casablancas + The Voidz Tour Dates:
October
21 – Buenos Aires, Argentina @ Teatro Vorterix
22 – Cordoba, Argentina @ Plaza de la Musica
25 – Montevido, Uruguay @ La Trastienda Samsung
29 – Los Angeles, Calif. @ The Growlers Six