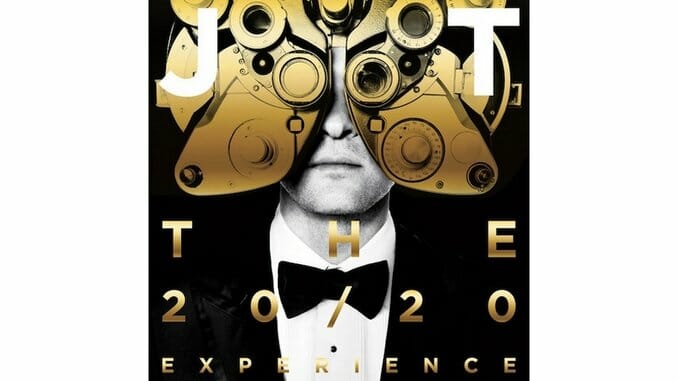 After seven years, Justin Timberlake knew: The 20/20 Experience could be too much of a good thing. Keeping the focus sleek, its pop/soul songs come closer to the three-to-five-minute radiocentric realm.
But with seven years between projects, someone so wildly creative had more to say, play, explore. 2 of 2 takes grooves deeper, lyrics freakier, the format hotter.
Sexually frank and utterly willing, Timberlake builds on Madonna's pure dance sweat-shoppery with curtains of synthesizers, fat bottom basslines and falsetto vocals etching melodies into the tracks.
Opening with "Give Me What I Don't Know (I Want)," Timberlake crafts an epic dance track injected with animal desire references and a tribal undertow that churns towards an almost predatory invitation. It suggests anything goes—over the 11 songs, plus sweet (if spare) acoustic bonus track "Pair of Wings"—2 of 2 seeks carnal delivery.
Equal parts disco, techno, classic R&B and rap, it's fitting the man who emerged from a boy band has grown into a provocative melder of styles in much the way Michael Jackson grew from a Motown confection to blend rock, funk and soul. Indeed, "Take Back the Night" suggests Jackson at his Off The Wall finest.
In Timberlake's world, like Marvin Gaye's or Teddy Pendergrass', sex is blood sport, an all-in-or-why-bother proposition. Whether it's the metaphoric fisticuffs of "TKO" or the staccato punch and horn-punctuated "Murder," with Jay-Z's Yoko Ono rap, the carnality is fierce.
Lust's enduring pull remains long. The swung-low "Drink You Away" has a churchy B-3 swirl, hand-claps and obsessive lyrics worthy of a country song. Timbaland's instincts to keep those vocals out in the open, both the synchronized harmonies on the chorus and Timberlake's witnessing on the verses, adds a sense of torment to lingering want.
Endurance defines 2 of 2. The project—74 minutes to supplement 1's 70—finds most songs lasting over seven minutes. In a world of quicker, faster, harder, it's intriguing when songs spread out, taking their time to get to the point or create landscapes beyond the hook.
The string-ladden "You Got It On," a tender respite, builds to a theatrical string interlude, which drops out as "Amnesia"'s tugging rhythms rise up, expanding the disorientation of desire in new directions. That disorientation is the sterno heating up the beat poetry of "Only When I Walk Away"'s frisson.
Justin Timberlake remains America's heartthrob. To maintain accessibility for all, 2 of 2 ties up with a pure pop bow: "Not A Bad Thing." Endorsing love, love, love—after all the throbbing want, raw desire and shadow sexplay—it celebrates the happily ever after trope for all its worth.