Listen to Kendrick Lamar's Confrontational New Single "The Heart Part 4"
Photos by Rich Kern/Getty, Bryan Bedder/Getty
Music
News
Kendrick Lamar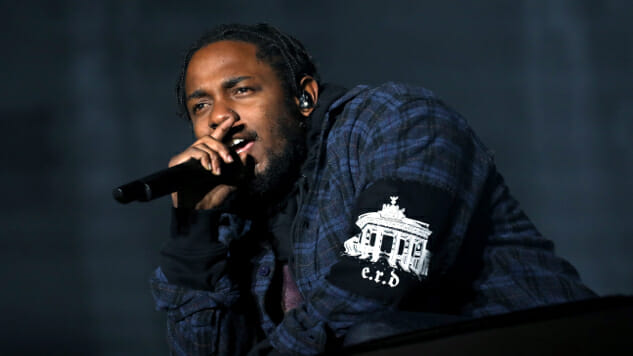 Yesterday, Kendrick Lamar cryptically teased new music with a Roman numeral "IV" on his Instagram account, and now we partly know what that was all about.
Lamar has continued his "The Heart" series which started before he ever had a major mixtape or album out, and ran up to the release of good kid, m.A.A.d city in 2012. Like the other entries in the series, "The Heart Part 4" has "King Kendrick" going in about his importance to the rap game ("the legendary status of a hip-hop rhyme savior") while steadily eviscerating pretenders to the crown ("My fans can't wait for me to son your punk ass and crush your whole lil shit"). That line's allegedly about Big Sean, but it could be addressed to any number of artists Lamar thinks are guilty of backbiting.
Kendrick absolutely puts a name on it, though, when he criticizes the current status of America. "Donald Trump is a chump, know how we feel, punk / Tell 'em that God comin', and Russia need a replay button, y'all up to somethin'," Lamar exhales as the beat switches up to a malevolent burble. There's clearly a lot on his mind and the multi-faceted track gives Lamar all he needs to speak his piece and stand in his truth.
Given that Lamar mentions April 7 near the end of the song, and considering that the aforementioned "The Heart Part 3" dropped right before gkmc, it seems like we might be getting that new album soon. Listen below.