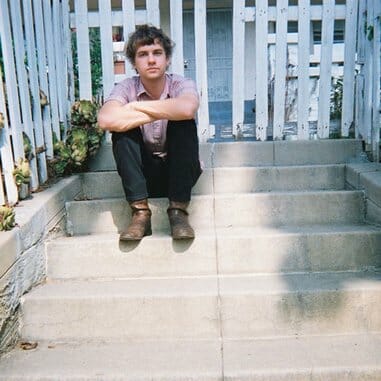 "Lou Reed died today," Kevin Morby tells me. He's not breaking the news, as it is evening and Reed has been gone for half a day, but transitioning our pre-interview banter away from Sky Ferreira and to banter that actually speaks to his debut solo album, Harlem River.
Morby cites Reed as a direct influence, and it's not hard to hear from the titular New York setting to the unexpected female backing singers on opener "Miles, Miles, Miles" to a song literally called "Wild Side (The Places You Go)" that actually resembles "Sweet Jane" more than its namesake. Later he would tell me "I'm really into influences, and I have no problem trying to bite something that I feel connected to, especially when it is something from the '60s or '70s, something that is so far removed."
"It's not that it's a celebrity death," Morby says of Reed, "But not a lot of people I really respect have died, people at least that have been alive while I'm alive. I shed a tear. Yeah, I was upset. I put on "Pale Blue Eyes" and I was upset. I remember my mom telling me that when John Belushi died my dad cried. I remember thinking that was strange as a child, but today I kind of get it."
With an album titled Harlem River, you'd expect Morby to be a New York lifer, but here we are talking in his new home city of Los Angeles, the sharply dressed, smooth-faced songwriter drinking a Tecate on an outdoor patio in late October. Morby is actually from Kansas City, and moved to New York City by himself at the age of 18.
"I always considered myself a songwriter," Morby says, "but I didn't move to New York with plans of doing that, it just sort of happened. Everyone thinks that I moved to New York strictly to play music, but I totally just happened to fall into playing with Woods, and it all got started from there. I just went to New York to hangout."
Morby didn't know anyone in the city, but "within three days [he] met some kids," and that's all it took. The casual presentation of these facts is of someone that this has happened to before, or would happen again. Assimilating with such ease, though, seems hyperbolic until you meet Morby. In conversation, Morby is well-spoken and honest, generous in his assessments of character and easy to like as a result. After our allotted time, we stay chatting for 40 minutes about everything from Nick Cave to 30 Seconds to Mars. Certainly this same charm is what Woods saw, with the NYC folk institution and label flag-bearers hitting their "Rain On" wave of success as Morby "fell in" with them. With most members being 10 years older than Morby, he "thought they were joking" when they asked him to join. Of the experience, Morby concludes, "Woods taught me how to be on stage, and The Babies taught me how to sing on stage."
The Babies began as a side project with his former roommate, Cassie Ramone of Vivian Girls. The two were able to reconnect and write songs with each other long after their initial encounter had passed, with the side-project turning into a full-blown touring band by the time of their second full-length, 2012's Our House on the Hill.
"My favorite songwriters are all solo artists," Morby tells me. And indeed, it's not like Morby woke up one day and decided to make his first solo album. Some of the songs on Harlem River date back to his first years in New York. The collection was recorded after a year of touring the world, with friend Rob Barbato in L.A. Morby imagined an acoustic album initially, but when Barbato heard the demos, he called in friends and instructed Morby to do the same. There is a grandeur to the album that is understated and tasteful, but undeniably present, and Morby explains that those favorite songwriters "span both ends of the spectrum."
"Someone like Bob Dylan," Morby says, "he toured all the time and became quite famous, or there's someone like one of my other favorites, Simon Joyner, who made no pursuit of success or fame. I like the idea of that and the freedom, to just be able to release albums on my own time and tour when I want to, to be a sort of evolving band but still be solo.
"I'm taking a break from Woods for the time being," he says, explaining just how all these projects work. "I don't plan on doing anything with them for the next year. It's sort of indefinitely. It's not a situation—cause those guys are my best friends—where I quit the band. I'm sure I will play with them again at some point. They have a new album coming out sometime next year I'm sure and will tour on it, but without me. And the Babies have no future plans right now. I just moved out here and so did Justin [Sullivan] who plays drums in the band, and Cassie plans on doing a lot of solo stuff."
The album is like nothing Morby has recorded previously, with the new solo artist likening it to his band that he doesn't write for, Woods, and noting that through social media, parents of friends and old teachers are finally showing some reaction to his music. Surprisingly, the album had one initial critic.
"When I first sent it to my dad," Morby confesses, "he told me 'I was hoping it would have the energy of the Babies. It's a lot slower.' It was like the day after I sent it to him, and he's going 'I don't know if I like it as much.'" He's a really blunt guy, but like a week later, he said he thought he liked it better than my other albums."
Living in L.A., recording a love letter for a time and a place exudes the bittersweet experience it must have been to record the album, or even the bittersweet experience it is to live our memories. Why leave New York, though?
"There's this essay that Joan Didion wrote about when she lived in New York and moved to Los Angeles after eight years," he says. "And she says that when she first got to the city, she thought the 59th street bridge was the Brooklyn bridge, and it wasn't for a year that she learned their real names and how silly she was for mistaking them. But then she goes on to say that she liked New York better when she didn't know the bridges names. And that sentiment really hit home. I grew up in the Midwest and never really felt at home there, and when I got to New York I was really fearless. I feel like I really fell in love with the the place. But then it's a place where your world is really big at first and then becomes really small. I found myself hardly leaving my neighborhood, like I made it into a small town. I thought then maybe it was time to leave. Also, the music scene I was involved in, with Woods and the Babies, that whole Vivian Girls/Crystal Stilts scene was kind of over, I just felt like moving on in a mature way, rather than sticking around too long."
And whether L.A. eventually becomes the same thing to him remains to be seen, but in leaving he got something not fleeting from the metropolis: an eight-song collection of deeply affecting, timeless tunes, that could launch his career as not a piece of a puzzle, but a new American voice that people can connect to.
When asked about what the Harlem River signifies, Morby talks about classic literature and long walks by himself, but he also notes that it is the waterway separating Manhattan from the Bronx, and I think that maybe the river to him is like the bridge to Didion. And later, when I'm using Google Maps to find the El Rey Theater, a concert hall I'd been to no less than 30 times in my life, I think that maybe Kevin Morby has come to the right place.