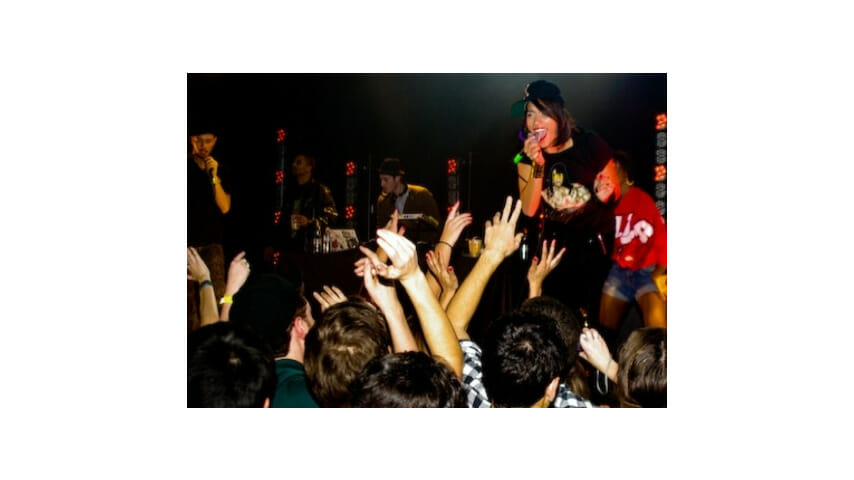 On several occasions last Wednesday night, Kid Sister reminded the Metro crowd that she had worked there as a cocktail waitress two years ago. She was let go from the job, but she wasn't bitter at all. "It was a blessing in disguise," she said. "So I want y'all to give it up for the nigga who fired me!"
A dynamo in a sequined T-shirt and pants, Kid Sister (aka Melisa Young) looked thrilled to be playing to a hometown crowd at her "Get Fresh" single release party. That excitement radiated off of her: The crowd hopped and sang along to her better-known numbers, like breakout single "Pro Nails," and if she ever seemed to feel the energy lagging, she'd respond with frantic round of dancing. And when she dropped songs off her debut album Dream Date, due out Jan. 27, the infectious beats quickly brought the audience along.
Kid Sister rapped over upbeat rhythms that owe as much to house and techno as they do to hip-hop, focusing on having fun, with songs about dancing, doing your nails and getting paged on a beeper, and her sound kept the dance-party vibe of the night going. Her set spun right out of Flosstradamus', a local DJ duo whose set was as fun to watch as it was to listen to. Josh Harris (Kid Sister's actual brother) and Curt Cameruci's fingers fluttered over the knobs, and they swayed and clapped to get people to dance along. First opener The Hood Internet played a fun blend of mashups, but rarely appeared from behind the laptop, making the crowd work of Flosstradamus and Kid Sister really stand out.
Unfortunately, it sometimes seemed as if Kid Sister was more focused on playing to the audience than rapping. She didn't project well into the mic; this could have been due to monitor trouble, but at times it made it hard to understand the words, especially on some of her faster-paced rhymes. But no matter. With Cameruci hanging around to DJ the set, Kid Sister and her co-MC brother played off of each other and got cheers with every mention of "Chicago" they could sneak in. The bouncy "Family Reunion," with its irresistible sing-along chorus, was a highlight– and, at a hometown venue, with friends and family in the crowd, seemed especially appropos.
Related links:
Review: Live Review: Smashing Pumpkins @ Chicago Theatre, 11/19/08
1000 Words: Pelican – Chicago, IL – Subterranean – 11/19/08
Feature: Mad Genius