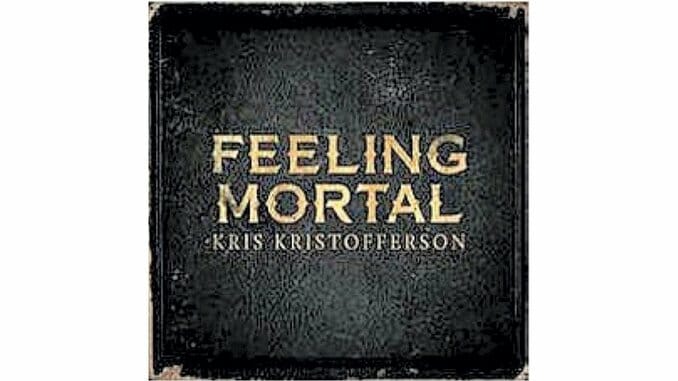 At 76, Kris Kristofferson is one of Americana's true icons. A witness to old-school hillbilly music, rock's excess, punk's rebellion and modern country, the Rhodes Scholar with an emphasis on William Blake's poetry has figured how to transcend all—and he's created timeless Wurlitzer music.
For all the bare-bones arrangements on Feeling Mortal, Kristofferson's first on his own label, it is that ragged voice like a rusty hinge that sets the tone for these songs about the inevitable tapering of life. For years an object of critical contention, now his voice is evidence to the way life wears away veneer, leaving the raw essence of one's soul.
The slow shifting-from-side-to-side rhythm of "The One You Chose" is an elegant reality check. Feeling like a slow dance between partners who have weathered the difficulty and found higher ground, they bask in the warmth of Mickey Raphael's harmonica. It is the genuine intimacy of grown-up love; what it lacks in swagger, it trumps with unflinching honesty.
Kristofferson has always reckoned with failure, hungers that can't be cured, drives that aren't always good. The man who wrote, "He's a walking contradiction/Partway truth and partway fiction" in "The Pilgrim" recognizes the inherent conflict in the human condition, making him even braver in the face of the age.
Looking into a mirror, there's no denying time's ravage on the opening title track.
Assessing his reflection, he can only reflect upon where he is. As a steel sobs and mariachi guitar strums time, he arrives at the chorus and adds up his truth: "God Almighty, here I am/ Am I where I ought to be/ I've begun to soon descend, Like the sun into the sea/ And I thank my lucky stars, from here to eternity/ For the artist that you are, and the man you made of me…"
The fragility of life after so many years is captured again in "Castaway," but it's tempered by the lilting chanty-esque "Bread for the Body," which measures worth beyond mere money.
In the end, the Country Music Hall of Famer will not surrender his dignity or fight. "You Don't Tell Me What To Do" is a slow measure of knowing what not to fight for, while choosing self-determination as his template for life. As the harmonica settles in the bare places, the piano rises and electric guitar carves up the melody; this is the dignity of knowing one's place in a very big world. Having led such a big life, Kristofferson serves us a small but welcome comfort in the great unknown.