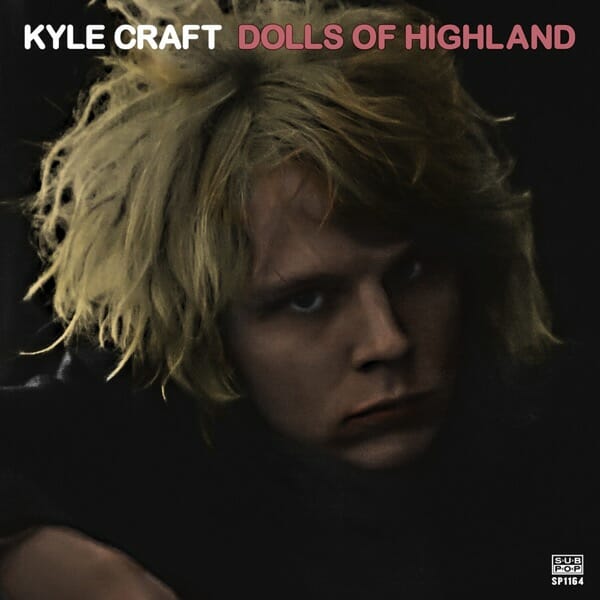 Kyle Craft is a strange creature. His debut album, Dolls of Highland, is stranger still. Set for release through iconic record label Sub Pop, it's not what you might expect from an artist who claims he's most inspired by David Bowie. Instead, the album plunders a wide range of genres to create something familiar yet hard to pin down. It's more in line with classic Americana and acoustic punk than anything one might expect from Craft's curriculum vitae.
Craft is solo in every sense of the word, having written Dolls of Highland alone in a laundry room in Shreveport, Louisiana, following the breakdown of an eight-year relationship. A native of the state, despite moving to Portland, Oregon to see his musical aspirations come true, Southern rock echoes throughout Dolls of Highland and gives away Craft's roots. Thanks to this and an ongoing narrative of booze, lazy weekends and movin' on: it's more than reasonable to approach his work from a troubadour perspective.
Added to the fact, Craft draws heavy comparison to the mighty Bob Dylan. It's not just the singer songwriter's mode of operation that lends itself to pairing: affected and drawn out, Craft's vocal is harsh and dominates nearly every song. Like Dylan, his rambling pronunciation can be hard to swallow and will alienate listeners who prefer their music on the accessible side of 'out there.' Anyone looking for a truly unique artist unafraid to embarrass his peculiarities, however, will find solace in Craft's voice from the off.
Craft relinquished mixing responsibilities to friends and label mates Brandon Summers and Benjamin Weikel of The Helio Sequence, working with the pair at The Old Jantzen Building in Portland. Members of an alt rock band with a penchant for sprawling, epic melody, at first it must have seemed an unlikely if not bonkers idea for Craft to work with such men. But Dolls of Highland is elevated, thanks to the duo's handy work. The addition of a dramatic, prog undercurrent on tracks such as "Trinidad Beach (Before I Ride)" helps to diversify the album and retain interest from start to finish.
Elsewhere the theatrical theme continues. However, instead of conducted mayhem, Dolls of Highland presents as a rockabilly cabaret not dissimilar to the work of British composer Richard Hartley, whose work includes The Rocky Horror Picture Show soundtrack. It's another 'love it or hate it' element that will divide Craft's crowd, but have those who love it fall head over heels.
Divisive, peculiar but undeniably unique: Kyle Craft is a strong contender for outsider of the year. An unlikely hero of rock music, he's nonetheless created a noteworthy, potentially groundbreaking debut album in Dolls of Highland.