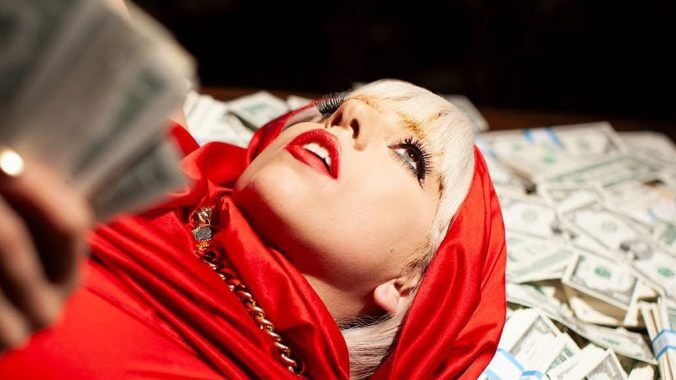 Lady Gaga fired off the incendiary tweet on the evening of October 24, 2019: "Fame is prison." The tail end of the 2010s presented a puzzling—albeit wildly entertaining—time to follow the enigmatic pop star on social media. Around mid-2019, she began to dabble in trollish behavior, sporadically sprinkling her Twitter feed with baffling comments like "f" and the mirthless boomer inquiry "What's fortnight." (RIP to her broken promise "I'm calling my next album ADELE"). It was a weird time, even for a self-proclaimed mother to all outcasts. But her message on October 24 went beyond weird—it was a full-volume record scratch for pop culture. Lady Gaga practically invented modern fame. Who was she to forsake her own creation with the swipe of a finger across a keyboard?
Before graduating to a near-suffocating level of global superstardom, Lady Gaga was a devout scholar of celebrity, and her 2008 debut album The Fame was her 14-track dissertation. The album worshiped the tenets of fame with streamlined dance-pop and eccentric euphemisms, effectively aligning one of music history's most powerful slew of consecutive pop singles: "Just Dance," "Poker Face," "LoveGame" and "Paparazzi." With over 300 weeks on the Billboard 200 and two diamond-certified singles, The Fame is the plinth of Gaga's pop empire. Yet, despite its close study of stardom, the record ironically defies fame's greatest rule of thumb; its 15 minutes of fame have lasted 15 years.
This month, on the anniversary of The Fame, we twirl a disco stick in honor of Lady Gaga's nascent sparkle and revisit the fantastical refuge of her first LP, a headspace where the lights stay seductively low but the LED dancefloor never goes dark. In the confines of this metaphorical club, opulence and notoriety aren't merely exhilarating pursuits—they're a priority. Which is more than anyone could say about celebrity culture at the time of The Fame's release. Or more accurately, tabloid culture.
The most authentic snapshot of celebrity in 2008 would actually consist of an entire gallery of snaps. Specifically, shots that are so notorious and widely distributed that they're universally understood and require no caption. Think: a photo of Lindsay Lohan venturing into public with an alcohol monitor clipped to her ankle, or Britney Spears with the umbrella and the haircut. Put plainly, the unabashed bread and butter of publications like TMZ and PerezHilton.com and grocery store checkout line fodder.
With so much vulnerability in full view, it's easy to grasp how fame became tantamount to shame in the mid-to-late 2000s. Embarrassment was inevitable, if not routine, thanks to a greedy domino effect that wore down the wills of countless A-listers. The more prominent a person was, the more paparazzi followed them in lockstep. More paps ensured more meltdowns. More meltdowns meant more bankable photos of a person's worst moments, each captured in crisp detail. Bonus bucks if bodily fluids were involved, or if underwear wasn't. Sex sold, sure. But disgust went viral. If a publication could repulse readers with stories about an "it girl" vomiting on herself, or catch her without the era's signature whale tail under her skirt, it could also pander to their sense of smug superiority—usually expressed through bursts of profitable online shares.
In the media, mansion tours came second to bleary-eyed mugshots. Galleries depicting alleged drug use trumped hat-to-anklet breakdowns of designer outfits. Fame was a running joke, and the paparazzi worked overtime to cast its participants—especially young women—as the degenerate jesters. Every time a cultural figure stepped outside, they were hunted. But within The Fame, Lady Gaga decided they would be hallowed. Not just for their status, but for their shared craving for large-scale relevance and impact. As she once told MTV, "The Fame is not about who you are—it's about how everybody wants to know who you are.'"
And if they didn't? Gaga found a way to recite her intentions anyway. "I can't help myself / I'm addicted to a life of material / It's some kind of joke / I'm obsessively opposed to the typical," she sings on the title track of The Fame, rolling her lofty goals into a glorified thesis statement. Funk-spiked guitar riffs throb in cadence with her admissions of avarice. "Give me somethin' I wanna see / Television and hot blondes in odd positions," she later requests on the pre-chorus, thrusting sexuality into the frame after she offers a photographer carte blanche access to her body for a photoshoot. The lyrics tip Gaga's hair bow to the inherent sleaze of the entertainment industry, yet she can't bear to deny herself the benefits of a little feminine finesse. On the coquettish following track "Money Honey," she luxuriates in the benefits of being a mistress, relishing trips in private jets and Jaguars. "When you touch me, it's so delicious / That's money, honey," she coos, likely because said affection is preceded by caviar and imported bonbons.
The pair of tracks form the thematic core of the record, providing a springboard for Gaga's narrative to vault in opposing directions. Through an autobiographical lens, The Fame documents Gaga manifesting her way from a "no one" to number one on the Billboard Hot 100—twice. Supersized synth-pop asserted her avant-garde visions, a true fake-it-til-you-make-it approach that sent her first fans staggering across dancefloors to the woozy bridge of "Just Dance," and later stunned them with the ominous strut of "Poker Face." And while "LoveGame" never advanced beyond #5 on the Hot 100, its melody could shatter stadium speakers with its bulletproof buzz—perhaps the soundtrack for a musician making their grand entrance onstage, or two lovers commencing an animalistic smackdown.
Outside of the immaculate lineup of singles, Gaga culled inspiration from her own unfabulous trek towards relevance. She advocates for a life of excess from the gutter of New York City against a snappy snare drum beat on "Beautiful Dirty Rich," and spits venom at her first record label on "Paper Gangsta." (Prior to her deal with Interscope, L.A. Reid fumbled the disco ball when he dropped Gaga from Def Jam.) The 2011 music video for "Marry The Night" would eventually reveal her triumphant rebound in bedazzled detail, but "Paper Gangsta" stews in the beef, sharpening an arsenal of insults. Gratuitous vocal effects practically pixelate Gaga's pipes as she admits she feels so "deaf in the jam," a jab not even a vocoder could conceal.
But despite the kernels of truth that lend credibility to the album's dogged hustle, the mirrors hanging inside this club often distort reality. Gaga's examination of fame is one-sided, created by someone who's well-versed in celebrity but who has yet to experience it for herself. The Fame is pure fantasy, untouched by the fears that would fester in plain view on her 2009 follow-up The Fame Monster. Humiliation, loneliness, and addiction are noticeably absent in this utopia of limitless opulence, where the term paparazzi is a mere expression of unrequited love.
"I'm your biggest fan / I'll follow you until you love me," she vows with the sincerity of an unabashed stalker on the album's fourth single, naivete bleeding through her casually ominous lyricism. On the bridge, she chants one of the album's most bizarre but instantly-recognizable lines: "We're plastic / but we'll still have fun!" The quip held up for 12 years, right up until Chromatica arrived. Gaga's sixth studio demonstrated the lightyears between her present as a decorated multi-hyphenate and The Fame's whimsical takes on grandeur. And it snapped the hell out of 2008's praise of a fantastic 'n' plastic life.
Following her work on the A Star Is Born soundtrack, the country-tinged outlier Joanne and her first jazz record with Tony Bennett, critics hailed Chromatica as a return to form for Gaga. Yet major chunks of the 2020 album reveal the antithesis of The Fame's attitudes. "Fun Tonight" explicitly states that her joie de vivre is withering under the weight of her own stardom, reiterating the metaphor of her worrisome tweet: "You love the paparazzi, love the fame / Even though you know it causes me pain / I feel like I'm in a prison hell / Stick my hands through the steel bars and yell." Even more agonizing is the pre-chorus' numb question—"What happens now? / I'm not okay"—aimed at no one in particular with no apparent solution.
On the stiff robotic confessional "911," Gaga crowns herself her biggest enemy, as she struggles to skirt suicidal ideation and exasperation with the public life she willingly pursued. The subsequent symbolism of "Plastic Doll" – which reduces Gaga's multifaceted identity to the features of a fictional "Malibu Gaga," likening herself to a cherry-lipped, microchipped plaything—requires little explanation. But it's "Alice," Chromatica's opening track, that states her desperation for comfort in the simplest terms. The end of each chorus reverberates with a plea. "Take me home," she cries repeatedly, with harrowing emphasis on the word "home." Then she clarifies: "Take me to Wonderland." After 12 years sculpting pop music as Lady Gaga—and now 15 years in 2023—she yearns for a refuge of innocence and fantasy. A place where she can go unexamined and undisturbed. A place to draw up a limitless blueprint of her next project. To dance recklessly and dream without abandon. A place just like The Fame.
---
Victoria Wasylak is an award-winning music journalist and editor with bylines in Vanyaland and The Boston Globe. She's also written over a dozen episodes of the world-renown music and true crime podcast, Disgraceland. She recently appeared in Forbes' inaugural 30 Under 30 list for Boston. You can find her on Twitter @VickiWasylak.