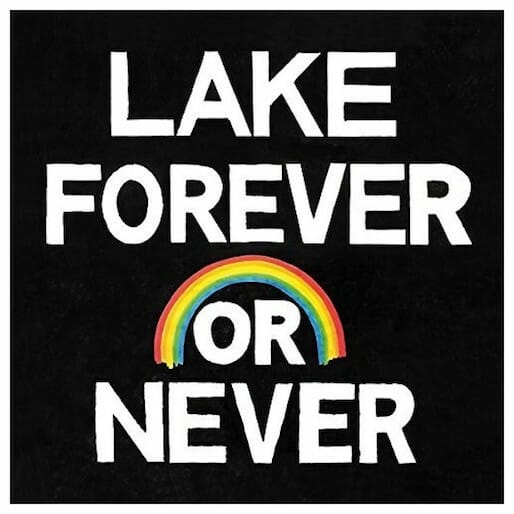 Like a disco ball hanging in a foggy forest, LAKE's easygoing sound has always stood out among the Pacific Northwest's gaggle of noisy punk and glowering rock bands. Since 2005, the group — founded in Olympia and helmed by husband/wife songwriting duo Ashley Eriksson and Elijah Moore — has recorded and released a steady supply of LPs and 7"s stocked with well-crafted indie-pop-rock that features a lot more rounded corners than sharp angles.
On their eighth album Forever or Never, LAKE further softens its focus. Across 12 tracks, the band revisits many of the same sonic interests it has explored in the past, such as jazz, gentle psych and Latin rhythms. But the entire work is so completely cocooned in a soft '70s vibe, it can be tough to find the emotional peaks and valleys that often push a perfectly solid album into rarified air.
Forever or Never is not without more than its share of highlights. Opening track "Turn Around" is a sublime blend of undulating guitar riffs and keyboard lines that bubble ever upward, giving the song an airy feel. The breezy percussion and lounge vibe of "Work With What You Got" recalls the extroverted side of Belle & Sebastian, while "Christian Comedians" is a mini-pop-symphony that sounds like an overcast High Llamas.
Elsewhere, "Give Back" is an organ-fueled slow jam with a memorable melody, and the buzzy guitar threaded through "Gone Against the Wind" suggests something a bit more sinister hides beneath LAKE's surface. And then there's the closing track, "Magazine," which is built on a taut bass line and repeated piano part. Backed by a chorus of perfect oohs and ahhs, Eriksson's vocal melody on the song may not be the catchiest on Forever or Never, but she infuses it with the most charm.
To be certain, LAKE is a consistently charming band led by skilled songwriters and clever arrangers with a natural knack for an easily likeable sound. But for all their good qualities, it feels like the group settles into one groove on Forever or Never and is content to ride it straight off into the horizon. And while it's a good groove, it could have been even better if LAKE had encountered a few bumps in the road and/or hairpin turns along the way.