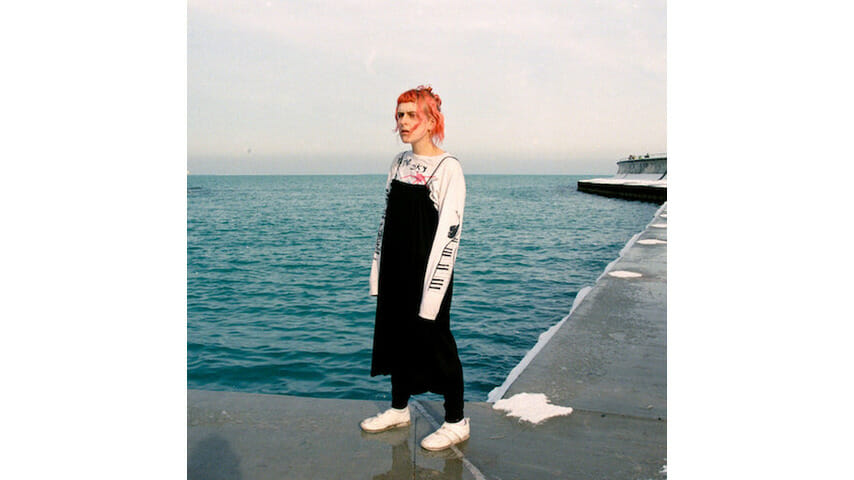 The title of the new album by London-born/Chicago-based Lillie West aka Lala Lala wasn't a random choice. The Lamb chronicles West's quest for sobriety and continual dig for how to navigate young adulthood—both the messy side and the joyous side. Mixing melancholy, reverb-filled lo-fi, indie-rock and dream-pop, West doesn't reach for mighty, happy-go-lucky choruses, rather the choruses serve as somber, much-needed exhales often just as satisfying as stadium rock-sized refrains.
The album opener and lead single, "Destroyer," achieves a memorable chorus without having to slap on a happy face with a faux uplifting spirit. West sings as she tears herself down, "You are the reason my heart broke behind my back," but she doesn't feel the need to sugarcoat her pain or declare victory over her self-destructive feelings. She knows that she has to learn from her mistakes, but refreshingly she doesn't overtly verbalize that in her lyrics. There's a continuing pattern of West giving the benefit of the doubt to herself rather than others, with one of the best examples on "Scary Movie" ("Spilling blood is ugly / Unless I know it's mine").
There's an underlying mercurial pain felt throughout this record, but not unlike The Smiths, West excels at cloaking it with jangly reverb-laden guitars and cheery melodies. On "Dove," there's a lurking sense of optimism, but the lyrics reveal a narrative of cynicism and alienation ("It's all made up / Everyone just leaves"). West is often cryptic with her phrasing and she keeps her cards close, but her lyrics are no less cathartic and meaningful. On "The Flu," West is harsh on herself ("And if I could drive my car / Then I would trash it / And if I could hold you back / You know I'd take it") and on "Water Over Sex," she acknowledges her self-guilt and secret-keeping, ("I've had too much fun / When will it get taken / I love my secrets / I'm lucky in making").
The theme of water arises a few times, giving nod to the title's theme of renewal and a strive for purity or at least more purity. On the final track, "See You at Home," West references her new lifestyle changes, "So we're working with water / I promise I'll drink it cause it's all I'm allowed to." With guitars blaring, "When You Die," on the other hand, sees West trying to come to grips with the death of a loved one as she tries to rewrite history and celebrate friendships, "And if I could try again / I'd predict what was ahead…Keep my friends safe / Keep my friends near."
However, it isn't all dark despair, on the second track, "Spy," there's an untouchable feeling and peppy energy as she speaks to the highs of life with no regrets and on "Dropout," there's invigorating drumming and hopeful, dreamlike keyboards while she paints a picture of a mystical world constructed by her deep-seated secrets. The second single, "Water Over Sex," shows West has made progress, but isn't anywhere near her desired destination, "You think I'm good well I want to be gooder." Her vocal diversity also keeps things fresh as her voice ranges from a reverb-filled cascading pour ("Spy") and triumphant singalong ("I Get Cut") to gorgeous pop yelps ("Dropout") and doo-wop crooning ("When You Die").
By this point in her life and by the end of the record, West has, by no means, figured it all out or emerged victorious, but the point of The Lamb is that she's trying and her efforts have resulted in a colorful listen and touching journey.