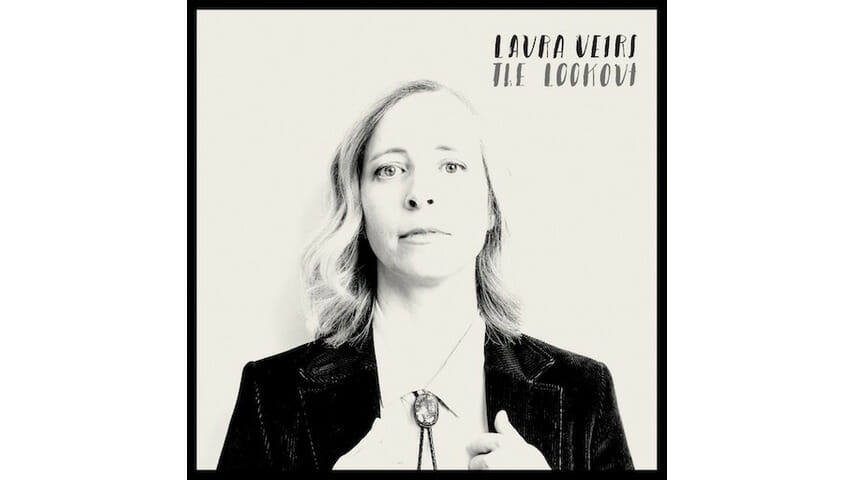 Laura Veirs is probably not the first person who comes to mind for socially conscious music, but there's a careful vigilance about her new album that feels intertwined with the present cultural climate of unease and suspicion. Sentries stand watch on more than one of these new songs, guarding against a vague foreboding just beyond the horizon. Set within Veirs' pastoral lyrics and courtly folk arrangements, the effect can be unsettling, as if the watchers on the edge of some vast wilderness are themselves being watched.
Yet The Lookout is by no means a gloomy album. In keeping with Veirs' aesthetic, it's often pensive and sometimes wistful, but there are moments of deceptive brightness, too. The title track is one of them: the loping beat and Veirs' double-tracked vocals sound almost festive as she sings the troubling couplet, "I can't read these people/ I can't read their eyes," to someone she's glad to have found (husband/producer/drummer Tucker Martine, perhaps?). There's a weary triumphalism in album closer "Zozobra," which finds a measure of hope amid reverberating electric guitars and vocals from Veirs that are almost serene.
She sounds less sanguine elsewhere. There's an undercurrent of disquiet on "Watch Fire" in the way Veirs moves her voice from falsetto to a throatier sound in the space of a few syllables, and a dark chord sounds beneath the sprightly acoustic guitars on the verse as Sufjan Stevens sings a whispery call-and-response. "When It Grows Darkest" pairs minor-key acoustic guitars with dissonance that builds as the song progresses, and Veirs sounds deeply melancholy on "The Meadow" as she recalls a too-brief interlude with "no fear, no confusion/ just a sliver of the moon/ cheering us on from out in the blue."
The Lookout is Veirs' first album since case/lang/veirs, her 2016 project with Neko Case and k.d. lang, and her first solo release since Warp and Weft in 2013. Not surprisingly, this album has more in common with the latter than the former. Veirs' songs on case/lang/veirs were essentially character studies, while her lyrics tend to roam the natural world when she's left on her own, even when she's not casting worried glances over her shoulder. The Lookout opener "Margaret Sands," a hushed, intimate tune inspired by T.S. Eliot's poem "Death by Water," ponders bones in the sand, picked clean by the sea. She roams through an unspoiled bucolic landscape on "Seven Falls," pedal steel guitar whining over a mix of piano and electric guitars, and embraces the pastiche of mythology on a cover of the Grateful Dead's "Mountains of the Moon" as if she wrote it herself.
Veirs' strengths here help patch over a handful of rough spots: the effects-treated vocals and blooms of robotic percussion on "Everybody Needs You" disguise a flimsy song structure, while "Canyon" (featuring harmony vocals and guitar from Jim James) plods along without ever taking flight. Those are mostly quibbles, though, about a solid collection of songs that show Veirs for what she is: a reliably consistent, sometimes inspired, singer and songwriter.