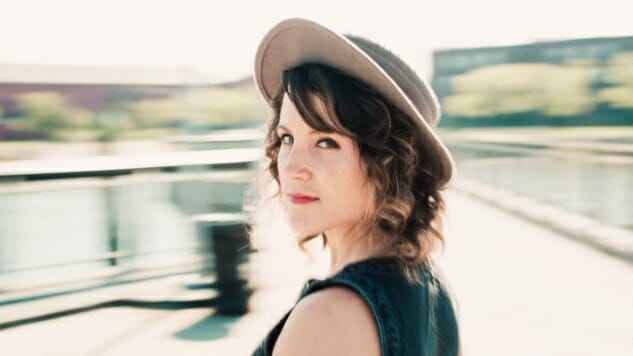 Daily Dose is your daily source for the song you absolutely, positively need to hear every day. Curated by the Paste Music Team.
After serving as a backing vocalist for the likes of Bob Weir, Kevin Morby, Benjamin Booker and Elizabeth & The Catapult, singing in girl-group doo-wop trio The Bandana Splits and performing as Dear Georgiana, Lauren Balthrop is stepping into the spotlight to release her debut album, This Time Around. Ahead of the record's Sept. 21 release via Tone Tree Music, Balthrop has shared a video for her new single, the lovely "Don't Ever Forget," out tomorrow, Friday, June 29, on all streaming platforms.
Balthrop says "Don't Ever Forget" was inspired by Lou Reed's "Perfect Day," a meditation on the evanescence of joy and its accompanying nostalgia. Speaking to the track's visual component, which Balthrop herself spliced together using footage from vintage films, she explains, "Since the song is about living in nostalgia and rose-colored memories, I loved this old footage of lovers and dancing to serve as imagery for beautiful faded memories of perfect days and passed love."
"Don't Ever Forget" is awfully rose-colored indeed, a steady-moving reverie highlighted by—what else?—Balthrop's dulcet vocals, which are layered over fuzzed-out electric guitar and bright acoustic strumming. "Don't ever forget, we're not even there yet," Balthrop sings, savoring the present, yet looking forward to the future—as she should be.
Listen to "Don't Ever Forget" below and revisit Balthrop's 2013 Daytrotter Session as Dear Georgiana further down.