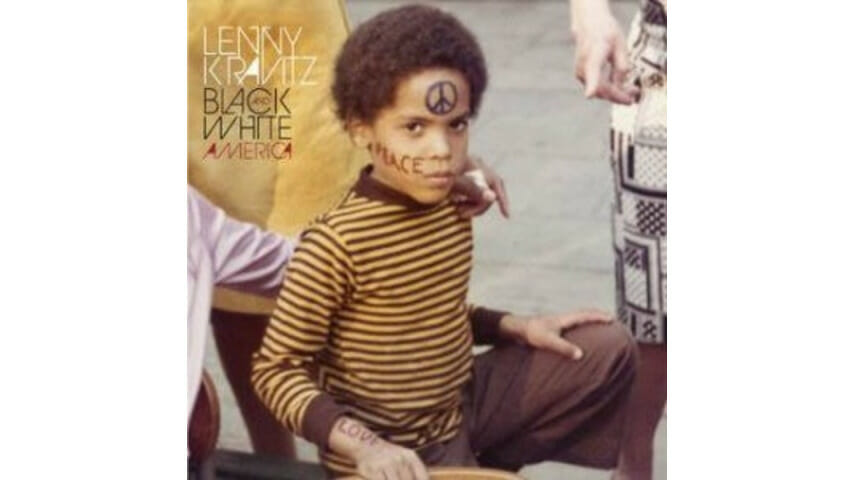 Pop music chameleon Lenny Kravitz, being a half-white/half-black American, has plenty of justification for titling his ninth album Black and White America. There aren't too many biracial rock stars in the U.S., after all. But as a musician, producer and songwriter, Kravitz has always been a tough nut to crack—he's been a spaced-out guitar hero-hippie ("Are You Gonna Go My Way"), a falsetto-sporting soul man ("It Aint Over 'Til It's Over"), a fist-pumping, riff-driven modern rocker ("Fly Away") and a piano balladeer ("I'll Be Waiting"), among other titles. Being deeply immersed in both black and white cultures—and the musics of both—he brings a fairly singular perspective to his songs.
But Kravitz's genre-hopping skills are pretty impressive, regardless of ethnicity. Few pop stars have been able to cover so much stylistic ground, and even fewer have been able to do so without falling out of the record-buying community's good graces (even if there have been a few critical speed bumps along the way). If you turn on your car radio, you can flip through three or four stations and hear a Kravitz song at any given moment. Which is certainly saying something. There's a reason he's been able to stick around for over 20 years in an unforgiving industry. Even in his clumsiest, most awkward moments (Is anyone else still traumatized by the dancing-girl music video to the god-awful "Lady"?), Kravitz has remained a reliable craftsman: writing (or co-writing), producing, and playing nearly every instrument on every one of his albums.
That trend continues on Black and White America, Kravitz's blackest and whitest collection to date. Rumored to be the realization of his long-awaited "funk album," Black and White proves that half-accurate. Many moments rank high on the Kravitz funkiness chart, including the fantastic title track—which rides liquidy slap-bass and buzzing synth, fleshed out by interjections from glistening strings and horns. "Superlove" is as nasty as an Ohio Players deep cut, offering another wonderful slice of slap-bass (this time smothered in wah-wah), some airy harmonies, a note-perfect guitar solo, and a palpable sexual tension in the chorus. The "blacker" he gets, the better he gets.
Well, for the most part. A half-baked attempt at club-styled organic hip-hop, "Boongie Drop" is nice enough atmosphere—with its hypnotic drum kit loop and whirring synth—but the dance-floor lyrics ("Roll, sister; roll on it / Don't let the music stop") are a total buzzkill. I have absolutely no idea what a "boongie" is (or why it's so important that Kravitz's female counterpoint not drop it), but Kravitz does his damnedest to make the track work regardless, aided in no small part by the street-wise flow of one Mr. Jay-Z (even if his guest spot feels stifled and slightly awkward). Meanwhile, the contributions of DJ Military (umm…who? Why?) amount to little more than obtrusive shouts you might hear on pirated internet mixtapes.
Unfortunately, Kravitz's whiter side proves far less interesting. The rollicking "Rock Star City Life" is catchy in a commercial kinda way—you certainly don't feel good about singing along (even as you inevitably do). The lyrics are generic (as you can deduce, based on the title), even if every detail of the production and arrangement is immaculately groomed. "I Can't Be Without You" is Kravitz's soulful take on arena rock, layering '80s synth and skyrocketing power chords to another terrifically vague chorus: "I don't wanna know another day without you / Won't you call my name 'cause I can't live without you."
Mr. Kravitz: The radio would be a lonely, segregated underworld without you. But, at this point, that full-on funk album sounds pretty damn nice.