A Song for Leon Pays Tribute to The Master of Space and Time With a Murderer's Row of Roots Music All-Stars
Music
Reviews
Leon Russell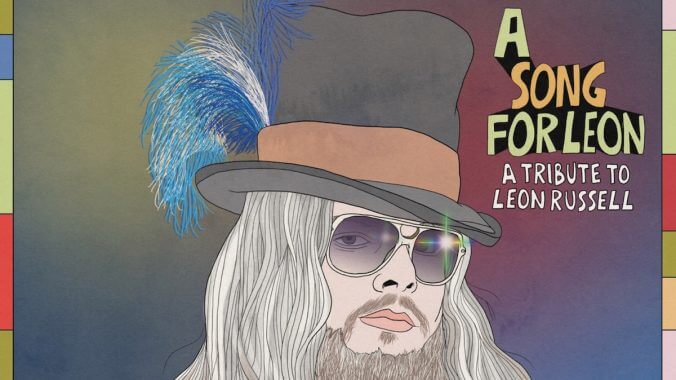 Oklahoma is a godly place, and few of its saints loom larger than Leon Russell. The top-hatted ringmaster of The Tulsa Sound, a country-fried mutation of swamp pop and blues rock born from a midcentury shuffle-groove session with Jerry Lee Lewis, was most certainly moved by the spirit. You'll hear as much in the cosmic yearning of his singular Okie drawl and the gospel-tinged piano—both of which reverberated with reverence through the halls of his hallowed hometown recording studio, a converted place of worship established in 1972 as The Church.
There's an echo of that sacredness in the new star-studded tribute album A Song for Leon, a faithful compilation of standards and surprises that turn the miracle of Russell's music over in the light. With a tracklist boasting big names in the world of contemporary Americana and beyond, the new record is stuffed with genre standard bearers like Margo Price, Hiss Golden Messenger and Nathaniel Rateliff. These are offset by more outside-the-box cuts from the Pixies, Flight of the Conchords' Bret McKenzie, Canadian avant-pop act U.S. Girls and funk legend Bootsy Collins, with breakout turns from emerging talents like Chicago-born singer songwriter Monica Martin scattered in-between.
The latter's heartstopping rendition of "A Song For You," the piano-driven tearjerker that would become Russell's tentpole in the arena of popular music, is the beating heart of A Song for Leon. The aching and angelic single from his self-titled 1970 debut has been recorded more than 200 times—by the likes of Willie Nelson, Aretha Franklin, Ray Charles, Whitney Houston and Amy Winehouse, to name just a few—but, under Martin's gaze and placed in the middle of this new collection like a plucked wildflower, the sparse and tender ballad feels as holy as ever: "And if my words don't come together, listen to the melody," her quivering and commanding voice carries Russell's words through the gossamer silence between the keys. "'Cause my love is in there, hiding."
But Russell was no choir boy, and there's a lot more than holy tenderness in the 10 tracks gathered for this particular service. The album opens with verified asskicker "Stranger in a Strange Land," delivered faithfully and forcefully by alt-country star Margo Price. That gives way to the bright and bouncy "Tight Rope" from Nathaniel Rateliff and The Night Sweats, chased by the smoky R&B reboot of "Out in the Woods" by Hoosier soul revivalists Durand Jones and The Indications. This opening trio offers the straightest approximations of Russell's wiry pop sensibilities, replete with nearly every flourish and affectation that made the originals so compelling in the first place. It's a strong burst out of the bucking chute, but if you're already a Russell devotee, these flawlessly performed, high-energy cuts are unlikely to take you anywhere you haven't already been.
Richer are the moments on A Song for Leon when the music of the old master grows new wings. The best example can be found in the show-stealing collaboration between Megan Remy's genre-scrambling U.S. Girls project and Parliament-Funkadelic bassist Bootsy Collins. Together they turn the Carpenters-recorded 1971 hit "Superstar" (co-written by Russell and Bonnie Bramlett) into a deep, synth-funk freakout that stands boldly on its own two feet. It's a welcome reprieve after Orville Peck's bloodless rendition of "This Masquerade," a mechanical and momentum-killing approximation of an early Russell hit whose 1976 version by George Benson remains the undisputed gold standard.
With such rare soggy patches dotting an otherwise thrilling and gorgeous collection of music, A Song for Leon feels like a minor—but welcomed—addition to the flowers at the foot of Russell's grave in Tulsa. While the tribute's best moments reveal new and rewarding dimensions to his immortal songs nearly seven years after his death at age 74, the collection doesn't move the needle when it comes to building more awareness around the visionary's innumerable contributions to pop music. But, perhaps, this insider's guide to one of the world's most quietly influential songwriters isn't meant to cast a wider net on an undersung genius, but to bring his songs closer to the people who already love them. As the man himself sings in the big-hearted ballad that launched a thousand covers: "I've acted out my life in stages / With 10-thousand people watching / But we're alone now / And I'm singing this song to you."
---
Jezy J. Gray is an award-winning culture reporter and editor based in Boulder, Colorado, with bylines in ArtDesk, PopMatters, This Land, Colorado Public Radio and elsewhere. Find him online: @jezygray.