"Old Town Road" Is Now the Longest-Running #1 Hip-Hop Song in the Hot 100's History
Image via Columbia Records
Music
News
Lil Nas X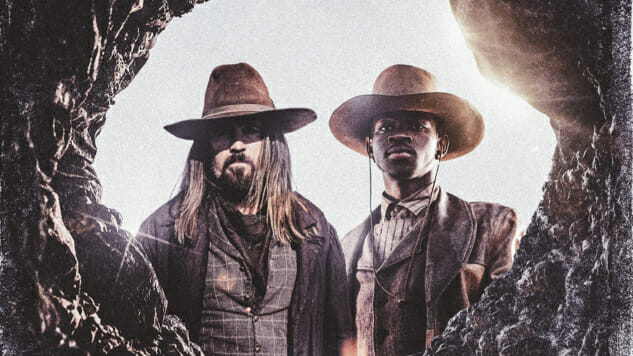 You probably could've guessed that "Old Town Road" would go down in history as a record-breaker.
Billboard has just announced the brain-blasting Lil Nas X/Billy Ray Cyrus collaboration has rewritten the record for the longest-running #1 hip-hop song on the Billboard Hot 100.
The announcement comes as "Old Town Road" enters its 13th week on the Hot 100, a figure that surpasses Wiz Khalifa and Charlie Puth's Paul Walker dirge "See You Again," The Black Eyed Peas's"Boom Boom Pow" and Eminem's "Lose Yourself," all of which led for 12 weeks each. What strange company to be in.
The song's reign has managed to keep Billie Eilish's "Bad Guy," Taylor Swift's two recent singles and the Ed Sheeran/Justin Bieber collaboration at #2 spots on the chart.
Billboard notes that "Old Town Road" is the 12th single in the Hot 100's six-decade history to remain on the chart for at least 13 weeks, and concurrently remains in the #1 spot on the Hot R&B/Hip-Hop Songs and Hot Rap Songs charts.
Seeing that Lil Nas X publicly addressed his sexuality on Sunday, the single marks the first #1 song by an out gay man since Elton John's 1997 chart-topper "Candle In The Wind."
Let's see if the Lil Nas X beast-monster-thing will surpass 2017's "Despacito" behemoth, which spent 16 weeks at #1.
Listening to "Old Town Road" is like that "500 Miles" bit from How I Met Your Mother. After suffering through at least three rotations of the song on the radio during your morning commute, being unable to pick out a carton of eggs without it playing on the grocery store speakers and watching viral video after viral video of children dancing to it, the song starts to come back around again.
Watch the cameo-packed "Old Town Road" video below.