Linkin Park's Mike Shinoda Releases Post Traumatic EP in Honor of Chester Bennington
The EP marks Shinoda's first release since Bennington's death
Photo by Kevin Winter/Getty Images
Music
News
Linkin Park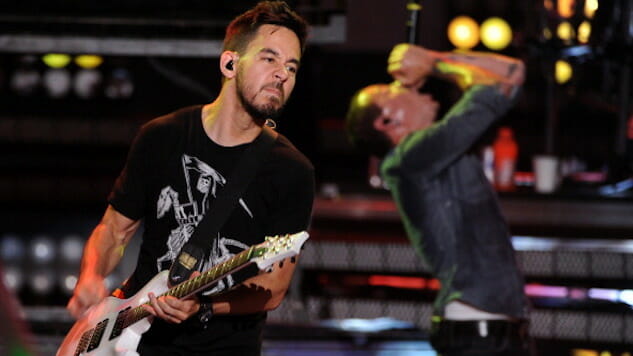 Singer-songwriter, rapper and rhythm guitarist for Linkin Park Mike Shinoda has released a three-song EP, Post Traumatic. The EP, available through mikeshinoda.com, finds the artist struggling to process the death of his former Linkin Park bandmate, Chester Bennington, who died by suicide in July of last year. The EP marks Shinoda's first music release since Bennington's death. Shinoda said in a hand-written statement on Twitter:
The past six months have been a rollercoaster. Amidst the chaos, I've started to feel an intense gratitude—for your tributes and messages of support, for the career you have allowed me to have, and for the simple opportunity to create. Today, I'm sharing three songs I wrote and produced, with visuals that I filmed, painted, and edited myself. At its core, grief is a personal, intimate experience. As such, this is not Linkin Park, nor Fort Minor, it's just me. Art has always been the place I go when I need to sort through the complexity and confusion of the road ahead. I don't know where this path goes, but I'm grateful I get to share it with you.
https://t.co/H25dDJZsaJpic.twitter.com/VnPEhD3E0q

— Mike Shinoda (@mikeshinoda) January 25, 2018
Each of Post Traumatic's three tracks come with individual music videos recorded by Shinoda using a hand-held camera. The opening track "Place to Start" showcases the artist singing over a synthesized R&B beat. The most heartfelt part of the video comes at the end, where Shinoda shows his gratitude by playing voicemails from the wave of support he's been receiving, ending with a warm image of a Venusaur Pokemon toy, a Linkin Park fidget spinner and a keychain reading "Celebrate life in honor of Chester Bennington."
The second track, "Over Again," showcases a hard-hitting rap beat over Shinoda's lyrics directly addressing the death of his friend. "Over Again" reminds us more of Fort Minor, with the turbulent emotions Shinoda is undoubtedly feeling coming out through his in-your-face lyrics.
The closing track, "Watching as I Fall," is a more developed piece, with its video displaying landscape images of Shinoda traveling through the desert and chalk-like animation showing images of robotic figures intermixed with swimming fish and skulls. The video ends on a personal note, with Shinoda laying on a couch talking to the audience in a free-flow thought about topics from getting a wart removed, to the wildfires in California, to his preoccupation with what's going on in the news.
In October of last year, Linkin Park's remaining members gathered to honor Bennington in a live tribute to the singer. Later that year, they released One More Light Live, which features performances from the band's last tour with Bennington. While Linkin Park will never again be what it was then, their legacy continues through Shinoda's solo career. From the launch of today's EP, it looks like the musician still has a lot of light left in him.