Exclusive: Living Colour's Vernon Reid Talks Racism, Trump and Shade
The guitarist chats with Paste about what Living Colour means in 2017.
Photo: Travis Shinn
Music
Features
Living Colour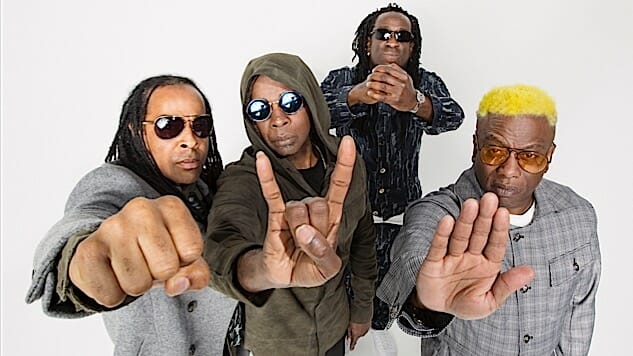 There may never have been a better time for a Living Colour album to come out. One of the alternative era's most flexible bands, Living Colour have long been renowned for their scorching riffs, propulsive rhythm section and social conscience. The New York-based quartet shot to stardom behind their 1988 debut Vivid, which mixed metal, pop and funk into songs about racism, poverty, housing and the dangers of personality cults. From there, they incorporated jazz, high-life, and thrash-punk stylings in an increasingly fluid vision of what rock music could sound like before abruptly calling it quits in 1995 while recording a never-finished fourth album.
Though Living Colour reunited in 2002, they haven't had a new record since The Chair in the Doorway in 2009, just as Barack Obama was settling in as president in what was then called "post-racial" America. Eight years and two terms later, Living Colour return to a drastically altered (yet all too familiar) political landscape with their sixth studio album, Shade.
Not surprisingly, bandleader Vernon Reid (pictured second from left), whose molten guitar and Jackson Pollock-esque soloing style defined the band's sound, has plenty to say about the world in 2017, both musically and otherwise. One of the most distinctive guitarists of his generation, Reid has alternated leading Living Colour over the years with a slew of production and session gigs as well as collaborative work with the likes of Mick Jagger, Public Enemy, Tracy Chapman, Bill Frisell, John Zorn, Jack Bruce, DJ Spooky and Janet Jackson, to name a few.
Read our review of Living Colour's Shade here.
Paste caught up with Reid, who just turned 59, in the run-up to the release of Shade (which comes out Friday) to talk about modern racism, Donald Trump, hip-hop, Elvis, and getting the band back together.
Paste: Living Colour has been out on the road recently. What kind of sense do you get for where the country is at these days?
Vernon Reid: There's a really, really interesting tension. There's a tendency to think of Trump voters as one particular thing. Now I'm not into Donald Trump—can't stand him. But this whole idea of castigating the people who voted for him and being paternalistic toward them is wrong-headed. It just deepens the divide. We have to get past all the name-calling. In terms of tension, there are definitely places I've been where I've felt it. And we've addressed it on songs like [drummer] Will Calhoun's "Pride," [which points to] the exception that's made for the band that's not extended to the person's neighbor. But I've also been in situations, in really red states, where people get into [the music]. I've had many, many people say to me, "You guys made me think about my attitudes." We've been engaging in a continuous dialogue about what it is to be an American.
When Living Colour first started touring the U.S. in the 1980s, what were some of the things about traveling the country that stuck out for you then?
There's this dismissive idea of the rest of the country as flyover country, which is really unfortunate. One thing that I found is that places like the Midwest don't get enough credit for their influence. I remember we were on tour and we'd finished a gig, I think it was in Ohio or Michigan, and we happened to be near a parking lot for a hip-hop club. That was the first time I saw 4×4s, what would become known as SUVs, blaring hip-hop. Back then you had, like Public Enemy's "My 98," Lincolns and cars like that with sound systems. But then SUVs became a nationwide thing. We were also able to see the impact around the country. Our touring music, the tape that was playing in the van constantly, was Public Enemy's It Takes a Nation of Millions to Hold Us Back.
You started Living Colour while you were playing with jazz drummer Ronald Shannon Jackson and the Decoding Society. How far were you expecting the band to go at point?
I was hoping to be able to make a living. I was really chasing the possibility of connecting. I wanted to say the things I wanted to say [because] I didn't think they were being said. There was either avoidance of the conversation or denial of the subject.
That subject being?
Racism. But the conversation about race is an ingredient. Songs like "Broken Hearts" and "Love Rears Its Ugly Head" are just as important in the band's conversation because they're about life and making mistakes and "how do we recover?" A song like "This Is the Life" is all of us. The problem with racism is, yeah, the unfairness and the brutality of it, but also that we don't see each other clearly. We can't see who people are.
"I'm not into Donald Trump—can't stand him. But this whole idea of castigating the people who voted for him and being paternalistic toward them is wrong-headed. It just deepens the divide."
How much would you say that bands like Living Colour, Fishbone and 24-7 Spyz felt pressure on both sides because some black audiences were like, "they're not playing black music"?
You know, I can't help that. That problem is the problem of pre-determining the definition of what black is and what black isn't. If we wanna go there, we're talking about things you can't help, like what shade you happen to be—literally, the lightness and darkness of your skin goes into the equation. To me, it's like a disease. People harp on rock because they look at it as "white boys with long hair." But we started this shit, so I love what other people have brought to it. I love where it's gone; it's the Sex Pistols, but it's also Rush.
It sounds like you're talking about the judgement and rejection that goes on within communities.
You know it! And we barely talk about it.
How heated was the reaction to your 1990 single "Elvis Is Dead"?
"Elvis Is Dead" doesn't castigate Elvis. Public Enemy was like, "Elvis was racist and simple and plain" [a paraphrase of the band's 1989 single "Fight the Power"]. But it was maybe not as simple as that. The point of "Elvis is dead" is: You didn't see him at the shopping mall.
B.B. King spoke highly of Elvis in his autobiography.
I produced a record at Sun studios with the great avant-garde guitar player James Blood Ulmer. There's a picture of Elvis with B.B. King, and if you look at this picture, you see that they were friends. So it doesn't surprise me that King would speak highly of him. That whole crew of British bands—the Stones, the Who, the Beatles, Cream—all acknowledged African-American music as part of what [made them what they were]. They also intervened to give a lot of forgotten American artists brand new careers. Howlin' Wolf, John Lee Hooker, Lightnin' Hopkins, Buddy Guy, and Muddy Waters were able to play concert halls and rock festivals because these artists championed them and sought them out. That's the difference with what Elvis did. He admitted it, and even had black folks in his band. There was a lot of thievery—like with Led Zeppelin and Willie Dixon—but in the aggregate, they went and gave back, where a lot of white American artists weren't doing what they did. They would've been content for Muddy Waters to be a truck driver or a desk clerk in Chicago.
When Living Colour played with the Rolling Stones and Guns 'N Roses at the L.A. Coliseum in 1989, you spoke out onstage against Axl Rose's infamous "police and niggers" lyric. You also toured with Jane's Addiction on the inaugural Lollapalooza tour in '91. Why is Perry Farrell's line "I find my fun with the freaks and the niggers" different to you?
I can respond to things [differently] if the context [is different]. Like, I have no problem with John Lennon's "Woman Is the Nigger of the World" because it's true. That word is the avatar and symbol of the ultimate objectification. You're a product. You're a thing to be removed. You're not whoever you are. You're the n-word! There's an element of negation, of being an object to be removed or destroyed. That meaning of it is still present. When you hear that word used as a precursor to rage and violence, it's not different—however you want to pronounce it—than its original meaning. Hey, my father never used the word, so I never heard it in the house. But because it's a painful reminder, it's also a tool for saying "This country did such and such." The context means something.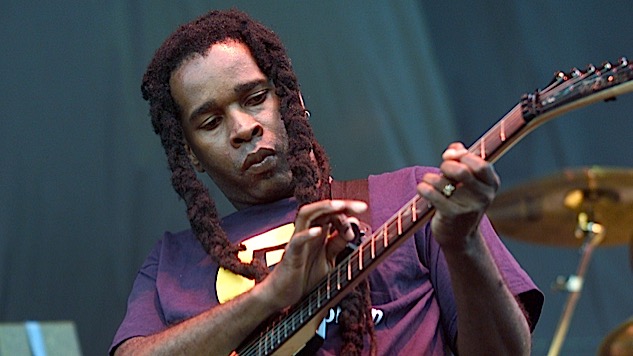 Vernon Reid plays with Living Colour in 2001.
It sounds like you have mixed feelings about rappers using it too.
Oh yeah. I have mixed feelings with the commodification of it. You're making money off of it. When you're putting that word in the context of terminal violence toward another human being, how is it different than the people who grabbed people and threw a rope around their neck? It's not. Perry Farrell was dealing with the darker side of life in his music. Maybe he should have been challenged, but it's also in the context of a lot of rock 'n' roll and rap songs that are deeply sexist. There's a dark undertow to American maleness, and Perry Farrell works with that.
Hours after the news of Chris Cornell's death broke, Living Colour played Soundgarden's "Blow Up the Outside World" at a show in Perth, Australia. You've said before that Kurt Cobain's death really shook you.
Definitely.
Can you talk about your response this time around?
I love Soundgarden. They're my favorite American rock 'n' roll band. We'd done shows with them way, way back in the Louder than Love days.
You have notes in the liners for the Badmotorfinger reissue.
I do. I wrote those notes just as a fan. The band's work is one of the greatest bodies of work. A lot of what they [addressed] was about the struggle—struggles with addiction, mental illness, depression. In the liner notes for my [1996] solo record Mistaken Identity, I said that "The Day I Tried to Live" saved my life. I was just in a hole, and that song reached me in a big way.
That was around the time Living Colour was starting to fray, right? You guys didn't make an album between 1993 and 2003.
Yup. I was really, really unhappy. I was breaking up with my first wife as well as the band. [Things] were basically coming apart for me.
Not long after Living Colour reformed in the early 2000s, you said that one of the reasons you did it was to see if you could get some kind of closure. Fifteen years later, where's the closure?
Good question! When I come up with the answer for that, I'll let you know.
What you are you doing differently in your relationship with your bandmates that you weren't doing at the time you broke up?
Talking. We're actually communicating more. We talked a lot in the beginning, then we went through a period—Muzz [Skillings, original bassist] leaving the band—where we weren't talking. We've gotten to a place where we're able to talk to each other. Most times it's great; sometimes it's a challenge. That's what it is having a longstanding combination of relationships. [Laughs.] Shade was kind of a difficult record to make because we went through a lot of internal strife. We had various managers who came and went, and we had disagreements about the direction of the record. But at the end, we pulled it together. The word "shade" [connotes] relief, but shade is also grief. [Laughs.]
Like when someone's "throwing you shade," giving you a hard time.
Exactly. There was plenty of that thrown and caught and tossed. We were trying to, hopefully, invoke some colors of the blues in our own way, along with everything else we do. I think we did it.