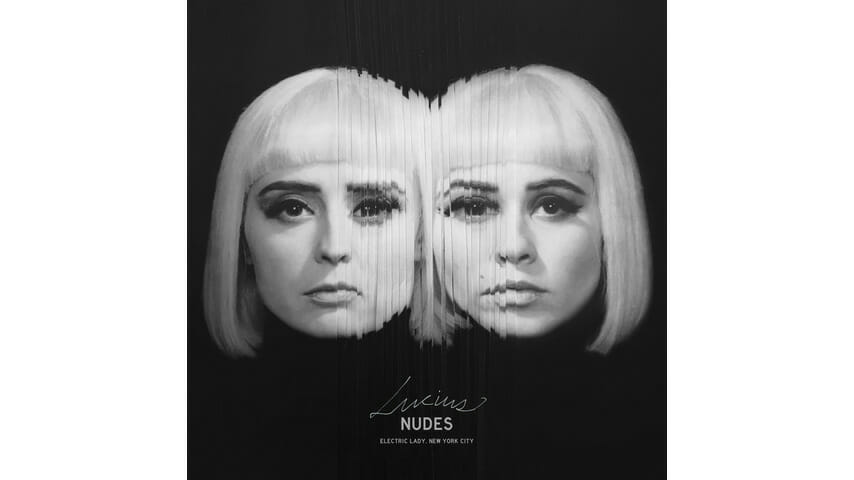 There was a moment during every night of Roger Waters' Us + Them tour, where the attention is taken off the legendary Pink Floyd bassist and a sole spotlight shines down upon the twin-like forms of Jess Wolfe and Holly Laessig as they reimagine the Floyd classic, "The Great Gig In The Sky." It was a high point of the show, every audience wowed by the acrobatics and power of their Berklee College Of Music-trained voices, and hypnotized by their preternatural ability to lock in to each other's sonic center.
It's this experience that informed Wolfe and Laessig's latest release as Lucius—the duo they formed in Brooklyn when they were roommates. "Amidst nearly every performance…we've had the opportunity to strip away everything – be it at the center of the crowd, or on stage around one microphone, or in tiny, unexpected rooms around the world – all to share and create an intimate, heartfelt connection with our audience," Wolfe and Laessig said in a press release. The result is NUDES, a 10-track acoustic mishmash of covers, new material and bare-bones re-dos from their back catalog.
Is it a bit soon for acoustic reimaginings of songs that were only an album or two ago? Probably. But the bigger problem lies in these "reimaginings." "Million Dollar Secret"—a single that was used beautifully in one of the last episodes of HBO's Girls—and two tracks from their debut album, "Tempest" and "Until We Get There," sound generally the same as the originals. Not that they aren't lovely to listen to, the re-recording just feels a bit unnecessary. More successful is "Something About You." Originally released with moody synths, a dance-friendly beat, and plenty of glossy production flourishes on the very 80's indie-pop Good Grief (2016), the stripped-down acoustic version actually provides a different listening experience than the original—what I would assume is the main purpose of re-releasing your own songs.
"Neighbors" and "Feels Like A Curse," two of the new tracks, are good enough that I wish they had just saved them for the next album. The anxiety and unease of the former's opening lines ("I always lock the door/Cuz you never know for sure/Who your neighbors really are") tempered by a hooky melody and hopeful bridge, while the latter is gentle as it breaks your heart with a lilting melody and their most fragile vocal delivery.
NUDES is rounded out with a selection of covers—Gerry Rafferty's "Right Down The Line," the Tame Impala Currents favorite "Eventually," and the standard "Goodnight Irene." The winner is "Goodnight Irene," which features Roger Waters and a lo-fi quality of recording that only adds to its sweetly intimate, "backstage in the dressing room" feel—Waters' bluesy, casual take on the lead vocal mixing beautifully with the duo's otherworldly harmonies, before all of them dissolve into giggles.