Lucy Dacus Performed "My Mother & I" with Her Mom on Mother's Day
Photo by Kevin Brown
Music
News
lucy dacus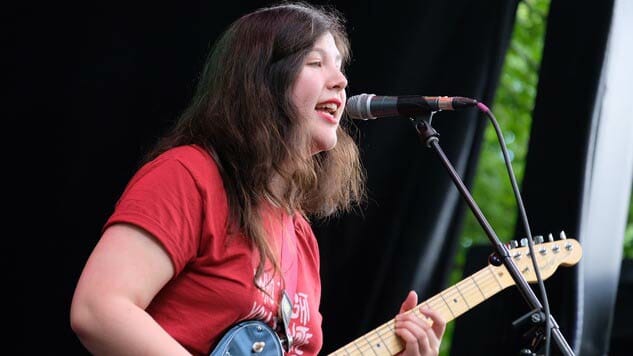 Instead of flowers or a handmade card, indie-rock songstress Lucy Dacus decided on a different gift for her mom this Mother's Day: She wrote her a song.
Dacus's mother joined her onstage Sunday in Asheville, N.C., as the two performed the song, titled "My Mother & I," together.
Monday morning, Dacus tweeted, "i cried," in response to a video of the performance. Dacus teased the performance early this month when she tweeted that she "got the all-important text that my mom is okay with My Mother & I and, furthermore, is learning the harmony."
got the all-important text that my mom is okay with My Mother & I and, furthermore, is learning the harmony

— Lucy Dacus (@lucydacus) May 1, 2019
"My Mother & I" is the latest in Dacus' 2019 holiday-themed singles series that started with her Valentine's Day cover of "La Vie En Rose." Dacus will also release singles for Halloween, Christmas, New Year's, and Bruce Springsteen's birthday.
With the comforting cloak of a cascading guitar and empathetic lyrics, the song sounds like a lullaby sung from a mother to a daughter, yet in this case, it's from daughter to mother.
The song explores love, shame and insecurity as Dacus wonders what traits, including body shape and body image issues, she has inherited from her mother. "My Mother & I" also celebrates the start of Taurus season because Dacus and her mother are both Tauruses, as she recently told Paste.
While only one mother joined her onstage, Dacus really has two mothers—one adopted and one biological, complicating the song's discussion of what children inherit from their mothers.
"Being adopted has encouraged me to consider what mothers pass on through blood and body, and what they impact in the way of socialization and context," she said in a statement upon the song's release. "We—daughters, and all children—easily inherit the shame and fear of our mothers, but also the pride, self-assurance, and lessons of love."
Dacus has two critically acclaimed albums to her name in No Burden (2016) and Historian (2018), the latter of which we named the best released that year. She is currently touring the U.S. and Europe until July 30. Her tour dates can be found on her website.
Watch the clip of Dacus and her mother performing together below and listen to the artist's 2016 Daytrotter Session further down. You can revisit our recent interview with Dacus here.
.@lucydacus and her mother singing "My Mother & I" on Mother's Day at The Grey Eagle in Asheville NC. pic.twitter.com/gMOfxPKjcz

— Matador Records (@matadorrecords) May 13, 2019