Lydia Loveless Cleans Up Their Own Mess
The songwriter breaks old habits and reckons with lost love on her tremendous new album, Nothing's Gonna Stand In My Way Again
Photo by Jillian Clark
Music
Features
Lydia Loveless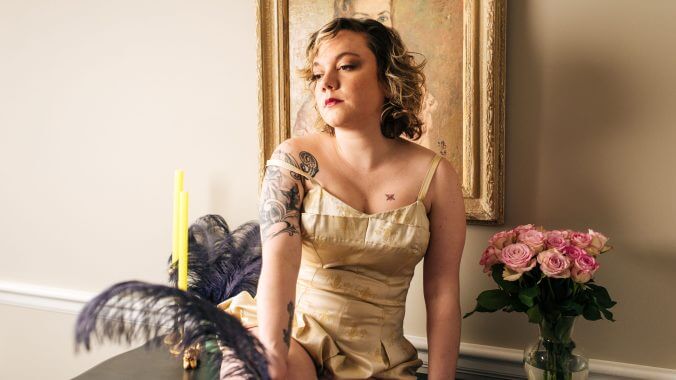 Growth is inevitable. Recognizing when it's time to accept it? That can be a real motherfucker. Columbus, Ohio singer/songwriter Lydia Loveless has made a long career—starting from a very young age—out of writing heartbreaking and rowdy alt-country songs that share the same perspective of someone who has both seen some shit and someone who is refusing to deal with their shit. Wracking up a few years that could only be described as tumultuous, Loveless found herself newly single and couchsurfing after a scorched-Earth breakup. Normally able to find their way out of the pain with a song, they sunk low into the upholstery, numb from another number being called in a long line of failed relationships. Luckily, a friend she was staying with urged her to begin channeling this sorrow into working on songs for her follow up to Daughter, which was released within the first year of the pandemic.
"She didn't want to see me get stuck in a bad situation, which was, at the time, couch surfing and crying all day," Loveless recalls, "She was really forcing me to go and write songs so I couldn't get paralyzed which I normally would let happen. I'd be doing this interview process three years from now about a very different album if I hadn't done that." As Loveless pushed through, she began writing about the breakup with clarity. They wrote the album mostly on piano, a process that was, at times, scary and depressing to work through. Other times, she and her longtime guitarist and musical collaborator Todd May would joke that the album's direction was going "full-Hornsby." But more-so, Loveless believed using the instrument helped them stay true to what they wanted to say.
"It ultimately helped me really focus on lyric writing. I really wanted to express myself properly because I was going through a lot and I didn't want to just like really whiney or victim-y like a I broke up with my boyfriend record and I also didn't want to make an angry record, necessarily," Loveless explains, "Musically, I was really focused on was like not cluttering the space up and I think we really achieved that."
The album is a lyrical breakthrough for Loveless. Normally not one to mince words or leave any survivors in her lyrics, the songs that would appear on the resulting album, this year's outstanding Nothing's Gonna Stand In My Way Again ring with a sobering honesty from someone who has reached a mountainous peak of understanding—rather than delivering a half-assed apology with crossed fingers constrained by cuffs just as the squad car pulls away.
Although, it wasn't as if these songs spilled out of her fully realized. That took some time and and a considerable amount of frustration, which Loveless lays out in the opening track "Song About You." Over sparse guitar chords, she presents the problem staring back at her: "I wanna write a song about you / It used to be so easy to do." For those on the outside of the process, songwriting and heartbreak, seemingly, go hand-in-hand. But what many don't realize is that it can be a stifling deterrent when the wounds are still too fresh. It's a blank stare into the void and embracing of boredom that is all-too-common and not so often talked about in reflective artistic pursuits.
"I think often, a lot of people are like 'writer's block doesn't exist,' but it very much does," Loveless explains of this time at the beginning of her writing, "You have to go through your life and kind of assess what's going on. Art doesn't always have to be the number one priority. It just had to be for me at a time because I was gonna get stuck being houseless and broke. So in that sense, I found it a lot easier to write my way through it. And feels a lot better. But I kind of always use heart heartache, as an inspiration because I'm a sad person. It doesn't always have to be romantic. But in this case, it was."
The album tackles the collapse of their relationship head-on, no-more brutal than on "French Restaurant" which puts the listener at the scene of the fight that sank the whole thing. "That was the that was probably the song that I worked the hardest on on the words and I spent like three days rewriting it over and over again. And I guess it worked because everyone I've played it for is like, 'That song makes me sob.' It's pretty much the only truly angry or hurt song on the record. [There's] a lot of emotion in that one," Loveless adds. It's a show-stopping moment on the record where their blow-by-blow commentary leads to them reaching the height of register. "Well, now you can do whatever you want," they tell him after he breaks it off in the most eye-rollingly extravagant settings he could pick. "You can order whatever you want."
In past situations, a different Lydia Loveless would emerge from this kind of experience—the Loveless who takes a bump of blow at a party before calling an old ex on "Really Wanna See You Again," from her breakthrough Somewhere Else, or the brokenhearted and attention-seeking person looking for the right guy to come to her when she threatens to jump off the roof of her house on the title track from 2016's Real. This time, her writing has helped her understand the same traps of romantic dependency she has found herself getting caught in, time and time again. On the rollicking "Poor Boy," she has to clean up her "own mess" no matter how badly she wants to get into the head of a weak-willed lover who she knows she can easily do her bidding and mold like Play-Doh.
"There's definitely been growth within me so I'm really trying to undo a lot of bad patterns and habits," Loveless says, "Within the past two years, this is the longest I've ever been single in my life, so there's been a lot of self-analyzation and undoing of bad habits. I shouldn't say there's no one I can call, but there's no one cleaning up my mess all the time anymore. I have to do it myself and that's really annoying. So why do I make a mess if I have to clean it up? Which is embarrassing to be learning at almost 33, but I've been in therapy for 10 years, so I should probably be doing it at this point in my life. Making this record, I was thinking about that and how I'm going to move forward in my life. Obviously, the time we're living in this is pretty bleak, and it would be nice to have a sidekick again, but I'm really working on undoing some bad habits and I think that probably comes across in the songs."
Overall, there's a sense of perseverance and hopefulness in their lyrics pointing towards a life alone being filled with possibility rather than loneliness. Over slashing riffs courtesy of May on the album's first single "Toothache," Loveless looks at the ash tray filling up in the time they could have been bettering herself and realizes that "nothing's gonna change." Perhaps the most clear example of this sea-change is "Ghost." In the song's chorus, Loveless delivers the inspiration behind the album's title and a line that will ring true for anyone with a history of wondering freeing things would be in the afterlife. "Now that I'm dead," they sing, "Nothing's gonna stand in my way again." In the song, they wonder if being a ghost that would haunt someone they pine for would be more healthy than only feeling a love that goes unrequited in the flesh. "I've spent my entire life thinking that maybe in my next existence, or someday, I'll feel better and get my shit together," says Loveless, "Letting your life pass you by in the hopes that we'll get a do over was no longer working for me. There are definitely touches of suicidal ideation, but I think that chorus is a little more triumphant than it sounds, hence the title of the record, but it is also coming from a pretty bleak place."
The song was the first one on the record that came together at the depths of her writer's block. In it, she delivers a one-liner that is typical Loveless: "I would fall in love with a hurricane if I looked one in the eye." But curiously, she follows it up by claiming that she "owes that line to A.I." Much like many of us, Loveless got very into the daily horoscope app Co-Star during the pandemic and was presented with that exact line. "I was like, that's really fucking cool, because it's also very accurate about me," she says with a heavy laugh.
But it wasn't just the fallout of their romantic relationship that had left Loveless feeling rootless and on their own. In 2019, they broke their silence and accused Mark Panick, the partner of Nan Wishaw—who had co-owned Bloodshot records which had released everything from their 2011 album Indestructible Machine up to that point—of years of inappropriate and predatory behavior. Loveless would cut ties completely with the label and would release their searing and adventurous 2020 album Daughter that they put out through their own label Honey, Your Gonna Be Late. As a result of these serious allegations, the label synonymous with the alt-country movement of the '90s shut down its operations in 2021. But, back in March, the label announced that it would be turning its lights back on, that founders Rob Miller and Warshaw have since sold their interests in Bloodshot and are no longer owners and operators of the label. This announcement came with a crop of new releases and signings, most surprising amongst those names was Loveless'.
"I think it was a very dark three or four years and everyone joined me in the darkness around 2020," Loveless says of the whole situation, and the swift accountability that the label took to do right by her spoke loudly. When they came back to her with a deal—and a clean house—she was ready to get back to work. "I didn't really want to sit around hemming and hawing about it anymore, and it seemed like everyone involved in the [label] now was a decent human who wanted to make a record. So, it just made sense to me. It was logical and kind of baller, too," she laughs.
Within the last couple of years, Loveless has also been making advancements as a producer and an audio engineer after attending the prestigious The Recording Workshop in Chillicothe, Ohio. They are now producing and engineering records at Secret Studio in Franklinton, Ohio, which was started by their good friends Amy Turn Sharp and Keith Hanlon. At the time of our conversation, they are working on a new record by Canadian singer-songwriter Seth Anderson. Even though she has had a producer credit on a number of her records, the idea of producing her own albums completely on her own is a daunting task she wants no part of. "I always have a hand in the ideas and the process. I don't really want to be worrying about my playing while recording. I want to feel like the magical elves are doing it," Loveless notes.
With the release of Nothing's Gonna Stand In My Way Again, Loveless has made a record that has untethered them from the past, not only from unhealthy habits around love or the toxic individuals who had guided their career, but one that feels the most authentic and unburdened by expectations on how it would be presented. Even though their dynamic vocals can be matched with the best vocalists in the genre—whether its Loretta Lynn or Neko Case—Loveless' personality finally shows through, seamlessly, as the album masterfully melds elements of power-pop and country. "I was kind of lamenting to my friend that I was getting so sick of getting stuck in the country and Americana scene, and he was like, 'But that's what you are.' And I was like, 'Alright then. Fuck it. This is an Americana record.' So, me going This is an Americana record has actually ended up being the least Americana record I've made."
With cleaning up her own mess, as she puts it, Loveless was able to arrive at a new benchmark in a career that has long deserved its flowers. At this point, it would be the right time to button it all up with a groan-worthy cliche about the "journey" being the "destination," or some bullshit. But groan all you want. You can't argue with the truth. "I just feel like it's the most me record I've ever made." says Loveless, finally able to see a new road without any wreckage in her way.
Watch Lydia Loveless' Paste studio session from 2016 below.