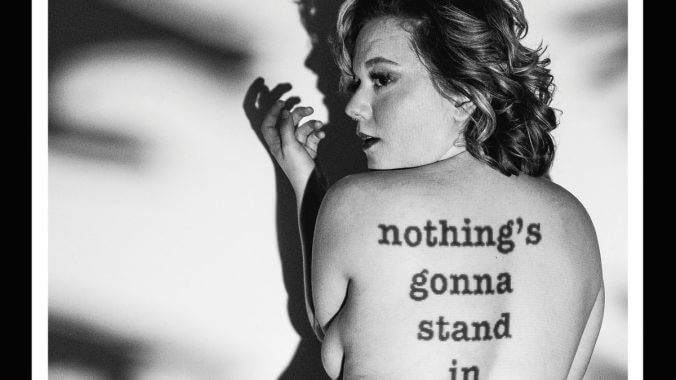 Lydia Loveless arrived with all the subtlety of a runaway train with the 2011 LP Indestructible Machine, a raw alt-country album full of scorching guitars, blunt lyrics and Loveless' full-throttle voice. The Columbus, Ohio, singer burned so hot that they seemed at risk of flaming out.
Loveless has learned a few things since then, many of which inform the singer's latest album. Nothing's Gonna Stand in My Way Again shows how they have become more thoughtful as a songwriter. She could always write a hook—see "Learn to Say No," among plenty of other earlier tunes—but Loveless now is a smarter, subtler lyricist who hasn't lost any of the candor that made her so compelling in the first place. On the new album, their fifth full-length, they apply those skills to 10 songs featuring searing self-assessments, but also a measure of compassion that wasn't always there in the past.
These songs stem from the isolation Loveless felt during the pandemic, the anguish caused by a breakup in the middle of all that and a return to Columbus after a stretch living in North Carolina. Accordingly, Nothing's Gonna Stand in My Way Again reflects a sense of starting over, combined with the resilience and determination of a performer who's been forging a path basically since the start (or at least since Loveless created some distance between themselves and their overly slick 2010 album, The Only Man, which came out when they were 19).
That said, it is worth noting that the title of the album comes from a line in "Ghost," where Loveless is imagining the freedom she'll have in the hereafter when she's haunting someone's house: "Now that I'm dead nothing's gonna stand in my way again," Loveless sings, a sign that her mordant sense of humor remains intact. Elsewhere, Loveless is mourning a bygone love on "Song About You," even though it's clear the relationship had run its course. A breakup happens in a fancy eatery on "French Restaurant," and the numbing effects of alcohol are both friend and foe on "Feel," where Loveless sings, "I'm getting older and my jets are starting to cool / If I ever get sober it's really over for you fools."
It's not just what Loveless sings on these tracks, but how they sing it. The musical palette here is more expansive than the flame-thrower alt-country of Loveless' earlier work, and they use their voice in a way that complements the song rather than dominating it. "Poor Boy" has a surging alt-pop sound thanks to clanging piano, layers of wordless vocal harmonies and a gritty guitar break, while Loveless' vocals ride atop waves of guitar on the catchy rocker "Sex and Money." They still bring the heat when they let their voice ring on the chorus of "Toothache," but there's an element of restraint in the singer's downhearted murmurs on "Runaway." Album closer "Summerlong" pares all the way down to melancholy piano, and the power of her voice here comes from the way she pulls it back from the brink, even as her heart falls over the edge. If it's true that Lydia Loveless' jets are starting to cool, Nothing's Gonna Stand in My Way Again shows that their music still throws off plenty of heat.
Watch Lydia Loveless' Paste studio session from 2016 below.
---
Eric R. Danton has been contributing to Paste since 2013. His work has also appeared in Rolling Stone, The Wall Street Journal, the Boston Globe and Pitchfork, among other publications. Follow him on Mastodon or visit his website.