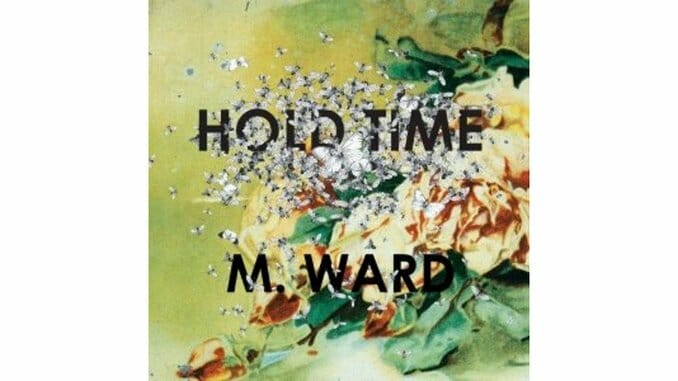 Him goes back to solo for pleasant but uneven record
"Everybody's goin' out / Havin' fun / I'm a fool for stayin' home / Havin' none," Matt Ward sings on his cover of Don Gibson's "Oh Lonesome Me." But those words clearly don't apply to Ward's life. Over the past decade, as he's been cultivating a successful solo career as one of America's finest singer/songwriters, Ward has also found ample work in production (Jenny Lewis' Rabbit Fur Coat), guest spots (My Morning Jacket, Norah Jones, Bright Eyes) and a critically acclaimed side project (She & Him). So it makes sense that Hold Time comes almost three years after Ward's last solo effort, the excellent Post-War. It's the longest it's taken the Oregonian to follow-up an album.
On Hold Time, he once again finds himself in good company. Lucinda Williams sings on "Lonesome," and there are guest appearances from Zooey Deschanel (the She to Ward's Him) and members of DeVotchKa and Grandaddy. On certain tracks, Ward shines as brightly as ever. "Never Had Nobody Like You" is a sweet tune with crunchy guitars, "Jailbird" is quintessential Ward with string embellishment, "To Save Me" rollicks fiercely, and the cover of Buddy Holly's "Rave On" is splendid.
Still, something isn't quite right. Too many of Hold Time's tracks fail to leave an impression, blending into one another. The title track meanders as if a spacey castoff from The Flaming Lips' Soft Bulletin sessions. Other songs—such as "Blake's View" and "Fisher of Men"—alternate between blandness and artistic territory Ward has previously and thoroughly mined. Not that he has to innovate on every song, but Hold Time contains more than a few uninspired moments.
Still, even when Ward verges on boring, his playing is accomplished. An underrated guitarist who brightens songs with his six-string like so many runway lights, even his lesser moments are almost always pleasant. Ward hasn't written an offensively bad song to date, which makes Hold Time easier to accept, but it's starting to show that the dude's got a lot on his plate.