On Valley Of Heart's Delight, Margo Cilker Turns Restlessness Into Poetry
The singer/songwriter's sophomore album is a dashing and brilliant leap of Americana
Music
Reviews
Margo Cilker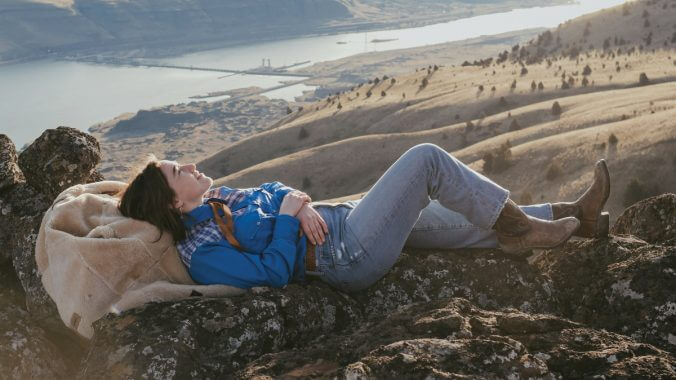 Admittedly, I was not hip to the splendid kaleidoscope of Margo Cilker's country music stylings before this summer. But, when I first heard "Keep It On A Burner," I was hooked. I had to know who this singer/songwriter was—because it was one of the best songs I'd heard in a long, long time. Those are some of my favorite moments in this profession, when I stumble through my PromoJukebox library and land on something that, for lack of a more romantic turn-of-phrase, changes everything for me. I grew up around country music and, often, I'll hear snippets of new work in the genre that reminds me of heirlooms and grandparents and no cell service. Yet, Cilker's approach to construction transcends reference. I'm transported to someplace familiar, though I cannot begin to say where, exactly. The Washington-via-California musician put out her debut album Pohorylle just two years ago; but, on Valley Of Heart's Delight, it sounds like she's got a century's worth of stories to tell.
Cilker was born into the fifth-generation of a family hailing from the Santa Clara Valley, but she moved to the Pacific Northwest in her mid-20s. She calls Goldendale home now and is even married to a working cowboy. What you hear across Valley Of Heart's Delight isn't some falsity—it is, incomparably, the real deal and then some. Album opener "Lowland Trail" conjures honky tonk bar guitar chords and Newport Folk Festival vocal gospels. "I've got hills to climb in my own sweet time," Cilker sings out. It's a short and sweet tune that does much more than establish where the rest of the record is going; it sets a tone for the earnestness that, quite literally, pours from Cilker at every turn.
To segue from "Lowland Trail" into "Keep It On A Burner" is a huge flex on Cilker's part. Here, she takes a beautiful country musing and turns it into this gigantic, rewarding soundscape set adrift with Kelly Pratt's horns and Jenny Conlee-Drizos' crystalline piano. Much of the lyrics arrive like a laundry list, as Cilker sings of things that have happened to her, things that are around her and things to come: "I got sidewalks, I got sunburned, I got books I haven't read. I got neighbors telling neighbors 'they'll be burning up when they're dead.' I got wasted, I got waylaid, I got stuck in Lodi again. But I've got time now, I've got know-how, I've got only to write the end." As a Creedence Clearwater Revival truther, I especially enjoyed the nod to Fogerty there. But "Keep It On A Burner" is, dare I say it, the best country single of 2023 so far. It's maximalist and soulful, yet it never strays too far into oversaturation. There are anthemic roots alive and thriving at every corner of the track. I can't stop replaying it over and over again.
But, like all great records, "Keep It On A Burner" is not where the good stuff ceases. "I Remember Carolina" showcases Drizos' piano and Paul Brainard's pedal steel—especially as the two instruments duet so greatly together. In an upbeat, swinging dust, Cilker takes us on a road trip through Idaho, Carolina, California, to a restaurant with the "best burger in Texas, where her ex lives" and a Bob Dylan concert near Boston—the latter of which gets punctuated with the snarky line "that's the last Massachussets ever did for me." It's here, on this track, where you can see Cilker's command of language take flight, as she compares falling in love with a fisherman to being a "catch and release" and closes the track with a swift "I remember the Alamo."
That wit and grandeur quickly tumbles into the slow-burn balladry of "Beggar For Your Love"—which plays out like some type of "Wild Horses"/"So Far Away" hybrid, which is fully in my wheelhouse of interests—as Cilker laments no longer feeling like she has to bend over backwards for someone else's affection. "You can get a good feel for where you belong only sometimes," Cilker croons. "You can get a good line to hold up a song if the rhyme's right. I've been looking at the edges, trying to find the in-between. It shows on your face when my words mean nothing."
I must note here just how good Cilker's backing band is. The lot of them—Sera Cahoone, Sarah Cilker, Caleb Klauder, Rebecca Young, Jenny Conlee-Drizos, Annie Staninec, Paul Brainard, Kelly Pratt, Ben Walden and John Morgan Askew—make almost every track feel 100-times as wide, and none of their contributions are caught in the background. That's how you know that Valley Of Heart's Delight is brilliant, in that every player has a voice and every player gets a beam of spotlight. On "Keep It On A Burner," even Conlee-Drizos' organ shines in all of its faintest brushstrokes. These folks have played with everyone from Band of Horses to She & Him, and their diverse palettes and talents all get a wink.
There's an open conversation on Valley Of Heart's Delight around Cilker leaving her upbringing behind and her rejection of the Christian lifestyle she no longer wanted to be a part of. What that is or was exactly, we aren't supposed to know. The beauty of this record is in how Cilker is able to articulate her emotions without turning each song into a therapy session of overshares. We can infer that she wasn't interested in living with so much noise—a truth emphasized on "With The Middle," when she sings "sometimes a woman's dream is to be alone." On "Mother Told Her Mother Told Me," she sings of the family strife that arose once she moved north; on "Sound and Fury," she sings of the apricots back home while admonishing the destiny of her own lineage. The songwriting across all 11 tracks is accessible and familiar—and yet, Cilker's world that she's created is fully under the rule of her genius penmanship. It's sharp and far-ranging; anyone who has run from something can tap in and find ecstasy; anyone who has stayed put can achieve the same baroque fate.
But what's, maybe, most remarkable about Valley Of Heart's Delight is how unabashed it is about adopting the tradition of country music while also, simultaneously, chiding the very concept of embracing such a silly history. Twang is not a vessel to step into for Cilker, it's a way of life that surrounds her every beating step. The upbeat tango and two-step of "Steelhead Trout" sounds like a behind-the-scenes look into a weekend for Cilker and her peers, while "Santa Rosa" finds her detailing the places she's left behind—from forgotten friends to the alien remembrance of kin, a wayfaring token of the singer/songwriter heroes she pulls greatly from. Through lessons taken from the songbooks of John Prine and Gillian Welch, there are inflections of gospel, cowboy chords, soft rock and Americana running through the veins of each track. And, at no point on this album does Cilker ever waver in her convictions, her own prophecies or her own pace towards finding the righteousness she greatly wants—all of which feel so deftly urgent and necessary.
I keep returning to the Valley Of Heart's Delight closing track "All Tied Together"—a subdued folk ballad where it's just Cilker and her guitar, singing of either a lost love or an estranged family member. "I wanna push you away, want you to feel my pain," she opines. It's stark and haunting, as Cilker doesn't ham her vocals up into the room-filling color that greatly defines much of the 10 records that precedes it—as if it's just us alone in a room with her, watching the sun break through the windows and the untouched land shimmer with dew nearby. "If it's all tied together, are we better unwound?" she questions. It's the thesis statement of the record altogether, and she saved it for the final chapter—forcing us to sit with that thought long after "All Tied Together" ends. For all of the sweetness and lilting prowess Margo Cilker so marvelously puts on display throughout Valley Of Heart's Delight, we cannot forget that much of the tracklist is a commentary on migration, on leaving and choosing to not forget rather than just, simply, remembering. There's a freedom in that, a personal liberation Cilker is keen on exploring. There's no magical resolution waiting at the end of this record, only the truth that our restlessness might just be our saving grace.
Watch Margo Cilker's Paste session from 2022 below.
---
Matt Mitchell reports as Paste's music editor from their home in Columbus, Ohio.