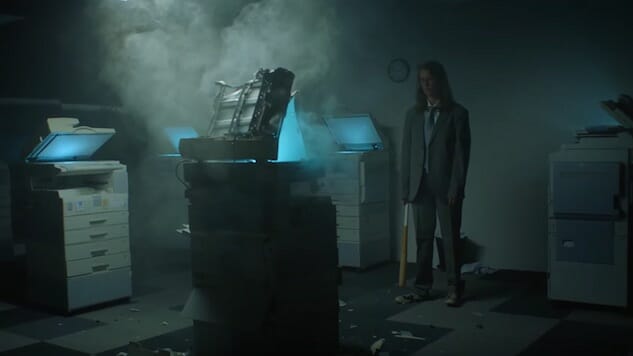 Alternative eccentric Marika Hackman looks like an unpaid intern in her new video for 'the one': making copies, fidgeting in an oversized suit and Converse and destroying expensive office printing equipment with a baseball bat. Maybe not so much the last one, but the comparison still stands.
Hackman lets loose for the absurd and lighthearted cut, switching back and forth between a dull office employee and her punk-provocateur alter ego as the video builds to its climax: the sweet, sweet wrecking of a photocopier. Shards of plastic fly everywhere. Strobes flash. Hackman winces. Everyone's happy.
"I want to do a performance vid in a photocopier, where the imagined rockstar in me performs with gusto as the mediocre, let-down version of me watches," Hackman said of the Louis Bhose (ex-Bombay Bicycle Club-keyboardist-turned-award-winning-director, naturally)-directed video.
Hackman released 'the one'—which she described as "a song from the depths of my extraordinary ego"—last month in anticipation for her forthcoming album Any Human Friend, set to arrive Aug. 9 via Sub Pop. You can revisit the album details here.
Check out the new video below.
Me: I want to do a performance vid in a photocopier, where the imagined rockstar in me performs with gusto as the mediocre, let-down version of me watches.
Hack Video Director (@louisbhose): Say no more.https://t.co/jQdo4S1N9y
Preorder Any Human Friend at https://t.co/ZbJLOrGESRpic.twitter.com/EbYt6DGrXH

— Marika Hackman (@MarikaHackman) July 11, 2019