Mark Erelli Takes on Gun Violence with Help from Rosanne Cash, Sheryl Crow, Josh Ritter, Lori McKenna and Anais Mitchell
Photo courtesy of Signature Sounds
Music
Features
Mark Erelli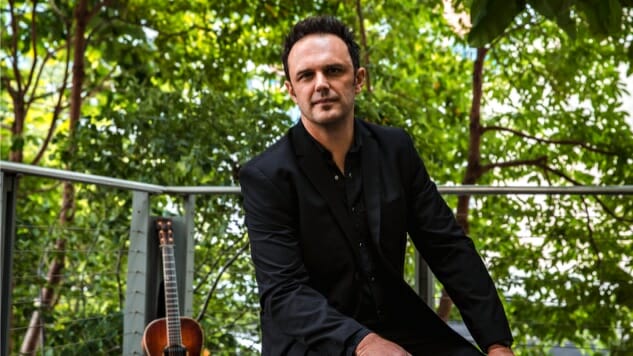 Mark Erelli was wearing his sunglasses on an airplane while writing "By Degrees," his new song about gun violence in America—not to look cool, but because he was having trouble holding back tears.
With vocal contributions from Rosanne Cash, Sheryl Crow, Josh Ritter, Lori McKenna and Anais Mitchell, the tune is a mournful accounting of how each successive gun massacre—the images of people crying; the expressions of shock, horror, outrage; the empty promises to do better—make us numb, a little bit at a time. "You can learn to live with anything / When it happens by degrees," he and his collaborators sing. Erelli wrote the song in 2015 following the shooting deaths of eight students and a professor at Umpqua Community College in Oregon, and released it earlier this month—days before a gunman killed 11 people at morning services at a Pittsburgh synagogue.
"Our leaders tell us that the tragedy in Pittsburgh was 'unimaginable,' but that is not true," Erelli says. "Anyone that can't imagine this happening—and happening again, if we fail to act—is just not tuned in to the real world."
Soon after the Pittsburgh shooting, President Trump suggested that an armed guard at the Tree of Life synagogue could have changed the outcome. Erelli finds that view simplistic, to say the least.
"This kind of violence is practically a mathematical equation, the logical conclusion when you mix toxic rhetoric, social isolation, racism and white male rage—with guns," he says. "I feel this song directly addresses all that, avoiding poetic, flowery metaphors in favor of real-life observations, and as such I'd like to think that it puts what seems hopeless in some kind of context. If anything, the headlines from Pittsburgh and the national debate in the aftermath bring the song, and what is at stake when we get used to this kind of violence, into even sharper relief for me."
Cash in a press release called the song "the most compassionate, vivid and non-preaching anti-gun violence song I've ever heard." Striking that tone was important to Erelli. "I think people assume and expect folk singers to be these liberal firebrands, but I am not a joiner by nature," he says. "That some might think of me as a preachy folk singer makes me extremely uncomfortable. The party lines are that the left wants to take away the guns and the right wants to solve everything by putting a guy with a gun in the mix. I really wanted to sidestep all that and just get real on a level where we might all be able to agree on some very basic tenets of humanity."
All of the proceeds from the song go to Giffords: The Courage To Fight Gun Violence, an advocacy group started by former Arizona Congresswoman Gabrielle Giffords, who was shot in the head while meeting with constituents in 2011. Apart from raising money for Giffords, Erelli hopes the song can help inspire people working to end the gun violence that has become all too common.
"I know that one song isn't going to solve this whole problem," Erelli says. "On a more fundamental level, I just hope 'By Degrees' gives voice to what is in so many others' hearts and minds, that people really listen and know that they are not alone in their anguish and their struggle. I honestly believe that a song can still nourish the spirits of those fighting for change, if enough people hear it."
Watch Mark Erelli perform in the Paste Studio in New York: