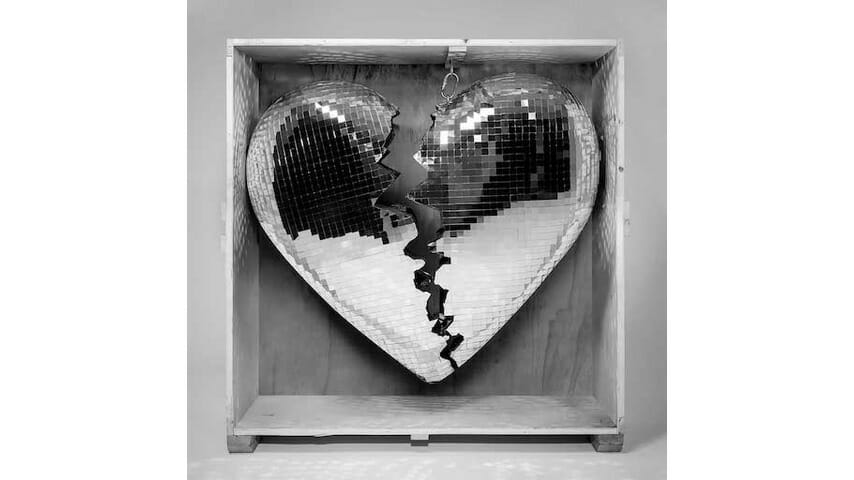 Mark Ronson has gotten really good at sounding ubiquitous. In 2018, the British songwriter, producer, and DJ co-wrote "Shallow," the power ballad that glues Lady Gaga and Bradley Cooper together at the mic in the latest Star Is Born remake. Before that, Ronson wrote and produced "Uptown Funk" featuring Bruno Mars, a song that spent a good chunk of 2015 atop the Billboard Hot 100 and appears to have acquired an obligatory slot on wedding band set-lists since its release. Between smash singles, Ronson casually drops tracks with the likes of Adele, A$AP Rocky and Paul McCartney at an impressive clip. Those who've either sung along or rolled their eyes to Ronson's hit singles, however, may have missed the four solo albums he's more quietly released along the way. The fifth and newest, Late Night Feelings, is his sharpest, sturdiest effort yet, made so by its cohesive, downer-dance sound and its hip slate of all-female featured vocalists.
Ronson insists that the women-only lineup happened coincidentally, telling NME that "they were the people I was working with and coming into contact with" throughout the creative process. The resulting tracklist showcases a medley of mega-stars (Camila Cabello, Miley Cyrus and Alicia Keys), indie darlings (Lykke Li, Angel Olsen and King Princess) and relatively unknown vocalists who, like Ronson himself, have co-written or appeared on songs fronted by higher-visibility musicians. Most prominently featured among the latter group would be YEBBA, an artist originally from Arkansas, who melds a brassy soul timbre with an earnestness derived from singing Christian praise music in her youth. YEBBA has made a small splash singing backup for Chance the Rapper, winning a Grammy with PJ Morton for a cover of "How Deep Is Your Love" and releasing her own single "Evergreen". On Late Night Feelings, Ronson trains a bigger spotlight on her, as she brings dynamism and range to three songs that move through a familiar post-breakup arc of delusional hope, shameless pleading and the puffed-up confidence we fake in order to move on. YEBBA's three songs allow her to riff over Ronson's penchant for funk-derived guitar grooves ("Knock Knock Knock") and to belt out a dance track ("Don't Leave Me Lonely") that feels like a cross-breed of Sia's dembow rhythm appropriations and Robyn's sad-on-the-dancefloor soliloquies.
As these tracks suggest, Late Night Feelings is a breakup album through and through, summoning the cathartic space of the dance floor to explore the downtrodden internal monologues that can darken club-goers' minds as disco balls spin and bass drops rattle the floor. Writing songs out of that friction—between chasing joy and courting self-destruction, peppy beats and depressing lyrics—isn't a new innovation; it underpins early disco, while Drake, Sia and Robyn have made recent careers of it. In this sense, Late Night Feelings works as a sleek, pleasurable entry in an established canon rather than a true innovation of the form.
The album's distinction, however, lies in Ronson's skill at tailoring sounds to suit vocalists' already-established personae and musical strengths. I didn't realize how badly I needed to hear Angel Olsen sing a four-on-the-floor almost-banger—I add "almost" because her signature dolor remains, to her credit—until I heard "True Blue." The song stands out for its eerie intro, in which Ronson manipulates Olsen's voice to sound like it's squeaking through a gramophone, and for the singer's ascent from a blasé, world-weary verse into a wailing chorus sung an octave higher. In the outro, Ronson puts his DJ pedigree to work, deconstructing the song's variant parts and remixing them so that some dirty-sounding synths and guitars slither through Olsen's pleasingly harmonic vocals. Thanks to Olsen's melodramatic delivery, "True Blue" sounds like New Order in drag, set to a more thudding, contemporary beat.
Two songs featuring Lykke Li, "Late Night Feelings" and "2 AM", pick up where the Swedish singer's self-critical album I Never Learn left off in proffering ill-advised copulations to an ex. In the title track, these sentiments ("You take the sane in me and tear it like a page") unspool over some counterintuitively buoyant tropical house references, summoned by marimba and a guitar tweaked to sound like a steel drum. In "2 AM," Li's layered vocal tracks brush against one another with the soft friction of swaying bodies during a slow-dance. A collaboration between Alicia Keys and The Last Artful, Dodgr brings hypnotic piano chords, spacey synths and new-agey lyrics ("I keep on meditating, activating / Anything to keep me uplifted") to bring a more forward-looking, healing tone to the record.
Late Night Feelings also gives a vocal platform to Diana Gordon ("Why Hide")—who co-wrote the most genre-bending songs on Beyoncé's Lemonade including "Don't Hurt Yourself" and "Daddy Lessons"—and Ilsey ("Spinning"), who contributed to recent smashes like Panic! At the Disco's "High Hopes" and Miley Cyrus's "Nothing Breaks Like a Heart". The latter song also appears on this album, sounding five years late to the bluegrass-EDM fusion that Avicii popularized. Though the track feels slightly out of place on Late Night Feelings, its inclusion likely derives from its previous success as a single released about seven months ago, in hopes of giving the record some traction on the charts.
Given his platinum-tinted track record, one would think Ronson could produce grabby hooks and retro-nodding soundscapes in his sleep. But he's a known perfectionist, having reportedly suffered panic attacks while trying to get the guitars right on "Uptown Funk." Late Night Feelings moves with the swagger of someone who's practiced cool so relentlessly that it starts to look tossed-off. It constructs a wall of sound with studied cracks and spaces; though he's slathered most measures in a thick coating of synths, beats and electric guitars, the songs make room for slivers of negative space that make the heavier matter hit harder. One could get away with lazily DJ-ing a late-night party by hitting play and letting Late Night Feelings run all the way through, a possibility that attests to the record's consistency and the comfort it offers despite its darker themes.