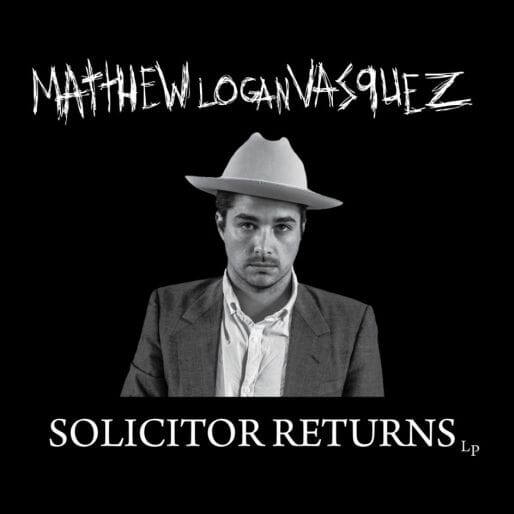 After a decade with the now-on-hiatus Delta Spirit (as well as time collaborating in the indie supergroup Middle Brother), Matthew Logan Vasquez finally took a chance to experiment on his own. The result first appeared last November with Vasquez's Austin EP, and now he's released his debut solo LP Solicitor Returns. But while so many frontmen use solo opportunities to go acoustic, Vasquez takes a rockier approach to his work outside of his main gig.
Much of Solicitor Returns follows a sturdy musical structure—an acoustic guitar providing chunky rhythms beneath electric guitar lead lines swathed in a fur coat of fuzz. Only a few songs deviate from that method. Bookending the album, the opening "Solicitor Returns" is actually an instrumental and the closing piano-based "Muerte Tranquila" trades lyrics for atmospheric, choir-like "ooh"s and "aah"s. And in the middle of the album, "Personal" and "Bound to Her" begin with distorted synths before eventually finding their way to this regular structure. Topically, though, the latter track aligns Vasquez with Nebraska-era Bruce Springsteen sounds and law enforcement motifs.
Mostly though, Solicitor Returns sounds like the edgier Middle Brother tracks (usually sung by Deer Tick's John McCauley). Vasquez's voice—ragged, raw, resilient—conveys remarkable emotion, though, and fans of that distinctive sound should not skip this almost entirely solo effort.