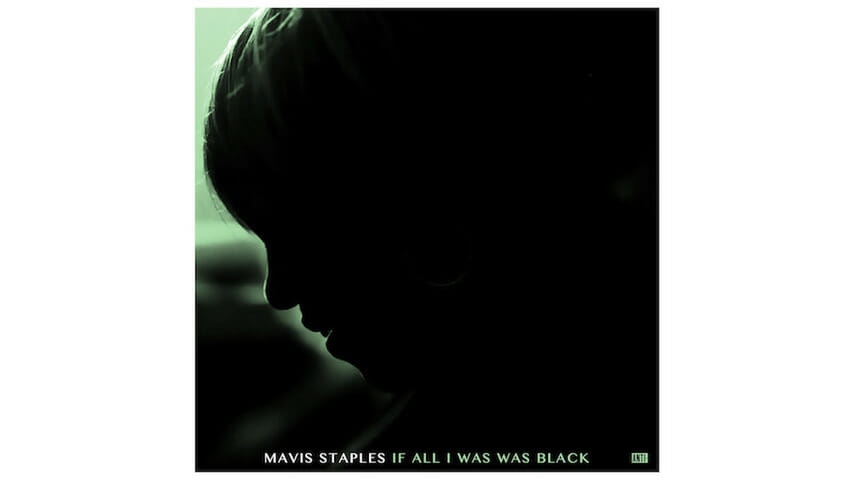 At first blush, the new album from legendary gospel/soul singer Mavis Staples seems like an odd project.
It's called If All I Was Was Black, which makes sense, given the color of Staples' skin. But every song was written or co-written by decidedly white Wilco leader Jeff Tweedy. (He co-wrote three with Staples.)
So are these largely Tweedy's feelings; a white man writing about the black experience in America? If so, why not just record them himself? Or did he feel like he had to call on his longtime friend to sing them when he found himself writing lyrics like "When I say my life matters, you can say yours does, too. But I bet you never have to remind anyone to look at it from your point of view"?
The short answer to these questions is: Listen to the music. It answers all.
Here's the long version: Don't be like me. Don't underestimate the transformative power of Staples' voice, or the world-beating potency of her personality. Don't undervalue Tweedy's masterful skill as a songwriter, nor his seasoned artistic judgment.
And don't cast premature misgivings on a collaboration between two titans of song.
If All I Was Was Black is the duo's third record together, but it feels like it exists in a different world than 2010's You Are Not Alone and 2013's One True Vine. On those two, Staples stuck closer to the traditional gospel and soul sound she's been mining for decades, both as a solo artist and as a member of her family band, The Staple Singers. Lyrically, both tread the well-worn territories of love, loss, faith, joy, Jesus, troubled times and long roads to redemption.
On Black, Staples and Tweedy instead channel their unease with our ongoing state of unrest, employing mostly minimalist funk and refreshingly frank language.
"This kind of tension," Staples sings on the opening track, "hard not to notice." The song, "Little Bit," is a plainspoken meditation on police violence toward black men and its effect on the black community, built on a unnerving, low-down groove. For his whole career, Tweedy has tended toward noisy guitar solos that often clash with Wilco's amiable tunes. Here, they feel appropriately restless.
Several of the songs on Black inhabit a similarly dark space. In "Who Told You That?" Staples' voice quivers as she sings "When I cry, I don't feel it anymore. It's like a rainy day that never goes away" against a fidgety backbeat. Three tracks later, however, she's picking herself up for a pep talk in "No Time for Crying": "No time for tears, we've got work to do," Staples sings as the song builds into a math-funk mini-frenzy. Bullets are flying, people are dying, and someone's got to put a stop to it. If not us, then who?
So Black is a heavy record, but there are bright moments sprinkled throughout. "Build a Bridge" is an oddball here, with its idiosyncratic percussion, psychedelic guitar and falsetto vocals. But it works. "Peaceful Dream" spills over with handclaps and hearts filled with hope. And "Ain't No Doubt About It," with its sunny gospel-folk groove, is a praise song to God, but it also works as an ode to allies. It's also the most Wilco-ish song on the album. (It probably helps that it's a Staples-Tweedy duet.)
At the end of If All I Was Was Black is a short song that pairs relatively simple guitar picking with the very bottom of Staples' vocal register. "Sometimes I have regrets, but I ain't done yet," she sings, her voice weathered with decades of incredible highs, terrifying lows and everything in between.
Mavis Staples is a hit-maker, a civil rights activist, a Rock and Roll Hall of Famer and a true believer in her God, in this country and in the power of good over evil. If we need a voice to listen to right now—to educate us, to comfort us, to spur us into action—it's hard to think of a better one than hers.