Metronomy Forever Keeps Love on the Mind, Regardless of Its Limitless Conclusions
20 years into their career, Metronomy are as strong as ever
Music
Reviews
Metronomy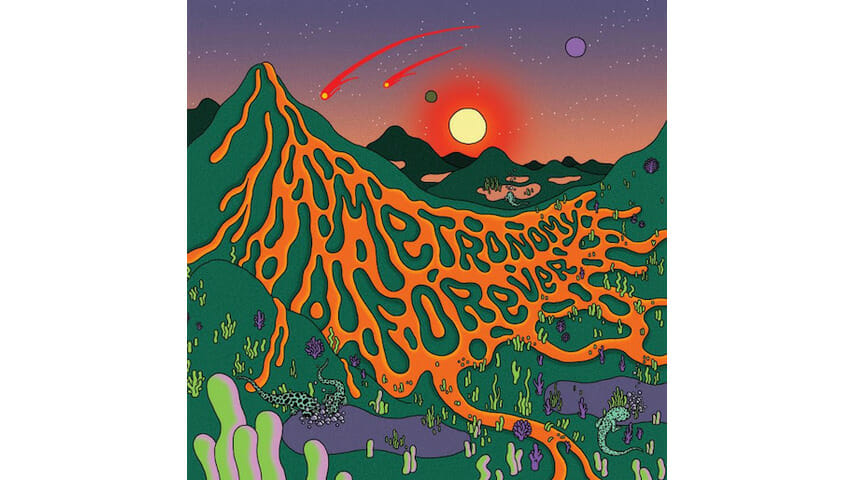 It takes a really brave or bold person to write a love letter to a summer fling that didn't work out, let alone ten years later when they have had a kid with a different person. If you have been fortunate enough to have been in love with someone (whether lost or still present), being a witness to complex emotions and communicating through misplaced traumas is part of the experience.
Metronomy Forever depicts the stories of how love makes us irrational sometimes. Track by track, Metronomy push all of the buttons and shake all the dust off the skeletons in their closet, showcasing a full range of their sound in the process.
U.K. indie electronic-pop music group Metronomy's sixth album, "Metronomy Forever", celebrates 20 years of being a group. But they've also grown as individual musicians and songwriters: Joseph Mount, their lead vocalist, keyboardist and guitarist, recently produced and wrote most of Swedish singer Robyn's 2018 album, Honey. They're no stranger to good collaborations. The band, which features drummer Anna Prior, bassist Olugbenga Adelekan, Michael Lovett on keys and multi-instrumentalist Oscar Cash, have released remixes with artists including Lady Gaga, Gorillaz and Ladytron.
Metronomy Forever is a blended mix of futuristic bass funk, high school punk band acoustics and crafty electronic sounds that resembles both Daft Punk and Chromeo, at points even recalling Outkast's Idlewild. "Sex Emoji" sums up this record's musical mission statement perfectly; the song begins with four electronic bass cords spun into a weird cartoon-like sound filter over Mount's vocals ("Love honey / Sex money / Text emojis / Say you love me"). "Sex Emoji" is an honest—and not romantic—song about still wanting to be friends with benefits after the summer fling has ended.
But, how did we get to that summer romance in the first place? "Salted Caramel Ice Cream," serves as a prelude of sorts to "Sex Emoji," before the character in question got the confidence to send those naughty emoji's in the first place. ("She's like a dream, salted caramel ice cream/ Oh god she's coming, don't look up / I've got to do this, I've got to do it right"). Never question Metronomy's ability to write a solid bop.
"Lying Low," a purely electronic piece with minimal vocals, has loads of depth, beautifully orchestrated with its layers of synths, an electropop bassline serving as the backbone of the track and an awkward robotic "yeah." If Metronomy Forever was a film and we were following this decade-old summer love, "Lying Low" would be the music playing in the background when the two lovers met on a dancefloor, exchanging looks before one of them makes a move.
The crown jewel of the English act's sixth studio record is "Miracle Rooftop," yet another instrumental, electronic-leaning track. The group truly shines in their ability to create dynamic electronic house music, a group of instrumentals that sees them apply a general softness to it all, taking us on a beautiful nostalgic journey.
With the range, depth and lyrical class Metronomy brings to Metronomy Forever, it's quite a fun listen, one that shows how the group has evolved over their lengthy career. The electronic orchestration will leave you bopping through memory lane as you reminisce on old love.