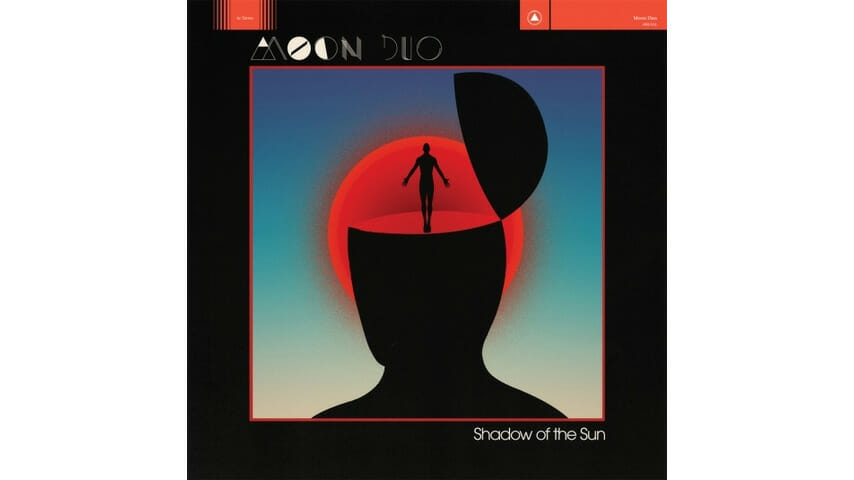 The third album by Portland's Moon Duo is something of a musical mood ring; how you hear the music really depends on your state of mind while it's playing. I've listened to Shadow of the Sun over a dozen times, and its effect on me kept changing dependent upon how I was feeling at the time. If I was rushed or in a crummy mood, the nine tracks of motorik psychedelia felt far too repetitive and janky, revealing flaws in the internal logic of Ripley Johnson and Sanae Yamada's songwriting. On a sunny day with a spring in my step, their nods to rock and pop traditions from the '50s to the '90s made for the perfect soundtrack to bouncing around the house or cruising the streets.
Maybe that says more about me than the album, but I think it also allows for a peek inside the dual nature of Moon Duo's work. As with their prior full-lengths and singles, the pair didn't create anything terribly complicated for Shadow of the Sun. A simple drum machine pattern is set in motion, backed up with complementary and equally insistent guitar and keyboard lines. This template gets some nice reverb-heavy vocal melodies and the occasional solo applied to it before it grinds to a quick halt or fade out some three-to-seven minutes later. The tempos and guitar effects change, but the formula does not.
If you are looking for some assurance that Moon Duo are progressing as a band, you're not going to be satisfied. Outside of cleaning up the quality of their recording, this falls right in line with much of their discography. Sometimes, though, you want those kind of guarantees, those albums that you know you'll love even before you've clicked "Purchase" or peeled the plastic from the sleeve. And that's just what this new LP offers, that comforting feeling that comes when you instantly recognize their nods to Suicide ("Wilding"), The Velvet Underground ("Slow Down Low") and the world of UK post-punk. Don't expend too much mental energy on it, and you'll dance through it all with a huge grin on your face.