Morrissey Releases First New Single in Two Years, "Spent the Day in Bed"
It's the lead single from his forthcoming album, Low in High School.
Music
Features
Morrissey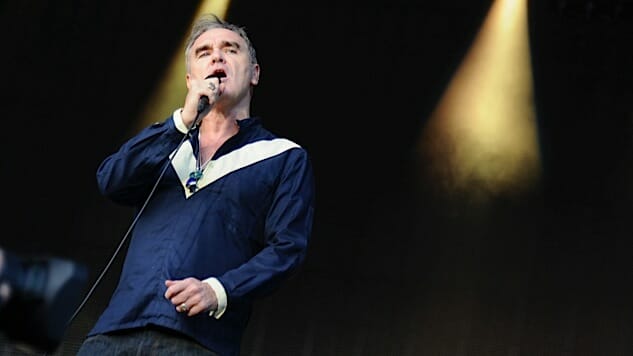 Morrissey has returned with the first single from his forthcoming album, Low in High School, marking a new chapter in his post-Smiths solo career.
"Spent the Day in Bed" is a peppy (a word Morrissey probably loves), organ-driven song about checking out from the news cycle and resisting the media narrative. "The news contrives to frighten you," he sings. "To make you feel small and alone, to make you feel that your mind isn't your own."
On Monday, Morrissey published his first ever tweet as a teaser for the single.
Spent the day in bed…

— Morrissey (@officialmoz) September 18, 2017
Morrissey has previously described Low in High School, which is out Nov. 17, as a "landmark record." It will be his 11th studio album and the first via his new deal with BMG, through which he launched his own label, Etienne Records. To engineer the album, Morrissey re-enlisted Grammy-winning producer Joe Chiccarelli, who is renowned for his work with the likes of Frank Zappa, The Strokes and The White Stripes.
Chiccarelli worked with Morrissey on his last album, 2014's World Peace Is None of Your Business, which reached No. 2 on the U.K. Albums Chart. It's been an eventful few years since then, with the politically outspoken 58-year-old singer weighing in on the May 22 terrorist attack in Manchester, then claiming to have been a been a victim of terror outside a Nike store in Rome. He was also the subject of a biopic.
Here's a look at the tracklist for Low in High School, which runs the gamut in subject matter from "When You Open Your Legs" to "The Girl From Tel-Aviv Who Wouldn't Kneel."
TRACKLIST:
01 "My Love, I'd Do Anything For You"
02 "I Wish You Lonely"
03 "Jacky's Only Happy When She's Up On The Stage"
04 "Home Is A Question Mark"
05 "Spent The Day In Bed"
06 "I Bury The Living"
07 "In Your Lap"
08 "The Girl From Tel-Aviv Who Wouldn't Kneel"
09 "All The Young People Must Fall In Love"
10 "When You Open Your Legs"
11 "Who Will Protect Us From The Police?"
12 "Israel"