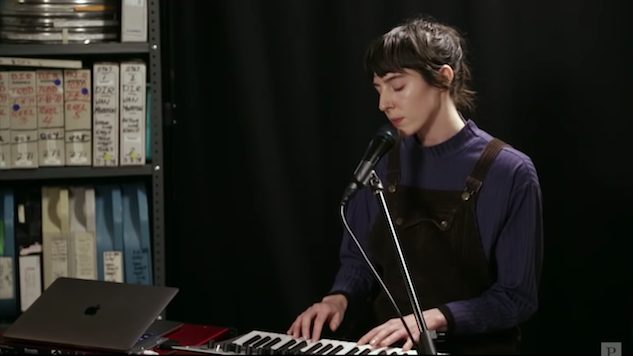 "I dabble in a lot of different things," said Mothers' Kristine Leschper in an interview with Paste earlier this year. Indeed, Leschper is a creative jack-of-all-trades—a writer, poet, visual artist and musician. The latter hustle, though, is what brought her to the Paste Studio in New York City for the second time, on Monday, Dec. 10. Leschper's Philly-based band, Mothers, released a great new record, Render Another Ugly Method, on ANTI- Records in September, and it's an interesting heap of experimental punk vignettes, many of which focus on the art of making or creating. "Really what the record did for me was ask questions," Leschper said during the studio session. But while many of the songs raise brain-stumping questions, they don't necessarily offer answers, which is why Render makes for such a compelling listen.
At their Paste Studio session, Mothers treated the Internet to two tracks. First, they played "Carina," an older song Leschper noted might be unfamiliar to most listeners. Ever the intentional artist, Leschper named the song after the Carina Nebula. "It uses the expansion of the universe as a lens through which to examine interpersonal relationships," she said. Second, they played a song from the new record, ""IT IS A PLEASURE TO BE HERE."" While the added quotation marks leave the meaning of that track up to interpretation, Leschper pointed out that it was, in fact, a pleasure to be in the studio.
Render Another Ugly Method, a follow-up to Mothers' 2016 debut When You Walk A Long Distance You Are Tired, is out now. You can watch their recent Paste Studio performance below. Further down, listen to their 2015 Daytrotter session. While you're here, read Paste's 2018 interview with the band.