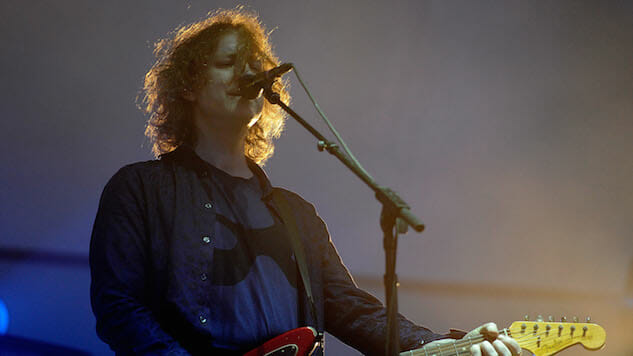 My Bloody Valentine have confirmed the release of two forthcoming EPs, including one to be released this summer and another due out next spring.
The band's latest release was 2013's m b v, which came 22 years after their classic 1991 shoegaze LP Loveless. The band are set to make their live comeback this summer with frontman Kevin Shields saying that the shows will serve as a deadline for the band's new material. Since then, Shields said he wanted to "get away from my 'every 20 years and make an album and then tour and disappear for five years.'"
According to U.K. magazine Sound On Sound, Shields confirmed the band's plans to release two EPs over the next few months, stating, "Kevin Shields has now turned his attention to two new My Bloody Valentine EPs—one to be released this summer, a second to come next spring."
The band is set to play at several festivals this summer, like London's Meltdown Festival (curated by The Cure's Robert Smith), Los Angeles' FYF Fest, Spain's Bilbao BBK Live and Japan's Sonic Mania.
In January, the band released, for the first time, fully analog mastered 180-gram vinyl versions of Loveless and Isn't Anything (1988), with gatefold sleeves created from the original 1/2" and 1/4" tapes.
Towards the end of last year, Shields collaborated with Brian Eno for a new single for the Adult Swim Singles program. The nine-minute track, "Only Once Away My Son," features droning, warping, mind-bending hums with shimmery accents of chimes, bells and whistles. Listen to the single here.
Check out the band's upcoming tour dates below and read Paste's review of their latest LP m b v here.
My Bloody Valentine Tour Dates:
June
23 – London, U.K. @ Royal Festival Hall / Robert Smith's Meltdown Festival (SOLD OUT)
July
02 – Los Angeles, Calif. @ FYF Festival
05 – Roskilde, Denmark @ Roskilde Festival
August
15 – Tokyo, Japan @ Toyosu Pit
17 – Tokyo, Japan @ Sonic Mania Festival
25 – Torino, Italy @ Today's Festival