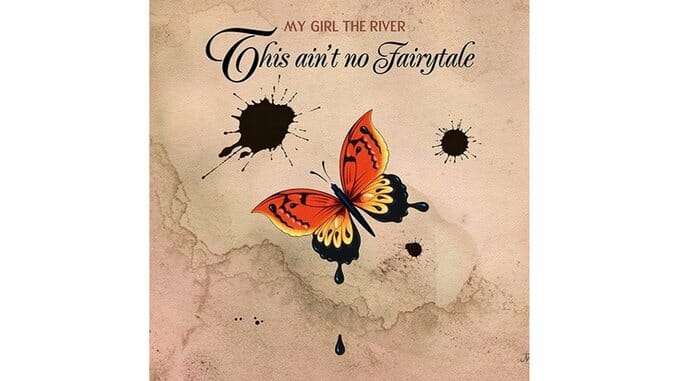 My Girl The River's fabulous debut album, This Ain't No Fairytale, is a lovely mélange of Americana-Roots music. Kris Wilkinson Hughes developed the project. Hughes, indigenous to Louisiana and a former resident of the epicenter of roots music, Nashville, seems to revel in writing songs about the southern United States. Songs like "Come Back To Nashville" and "Covington" bring to mind works by other fellow alt-country musicians Jason Isbell and Lucinda Williams. These tracks, although enjoyable in every setting, feel like they would be best appropriate for road trips across the Great American interstates and byways.
Although the record feels about as American as apple pie, Kris's husband and bassist on the album, Joe, is a native of the United Kingdom. The Hughes have been residents of Bedford, England for approximately 18 years, and although they live very far away from Nashville and Covington, Louisiana, all of these songs still feel very deep rooted in the customs and traditions of southern Americana. Clearly the upbringing and early life of Kris in the south had a major weight on her, as every song is distinctly all-American.
This Ain't No Fairytale has an array of great songs. One of the standouts is the fantastic "Woods Behind Our House." With a roots-based acoustic feel, this song is also the first single from the album. It demonstrates very well the knack that My Girl The River has for exceptional songwriting. Another knockout is "Come Back to Nashville," reflecting Kris's love and nostalgia for the Music City.
It is important to note that while Kris is the frontwoman for the group, her husband Joe is the primary songwriter behind this project. Joe is also a successful songwriter in his own right, and even co-wrote the Annie Lennox smash hit, "No More 'I Love You's.'" Kris and Joe are a pair to be reckoned with.
The album's conclusion "The Last Song" was actually the first song written for the project. This is the perfect way to close the album, and leave the listener hooked for the next entry in My Girl The River's catalogue. With This Ain't No Fairytale, one can only hope that we don't have long to wait until the next chapter in their saga. Overall, this debut album's title reigns true. While this record may not be a fairytale, it will become something that is just as celebrated over the years to come.