On "Sole Obsession," Nation of Language Continues Their Reign As a Synth-Pop Powerhouse
The Brooklyn trio's first new work of 2023 is also accompanied by a North American tour.
Photo by John MacKay
Music
News
Nation of Language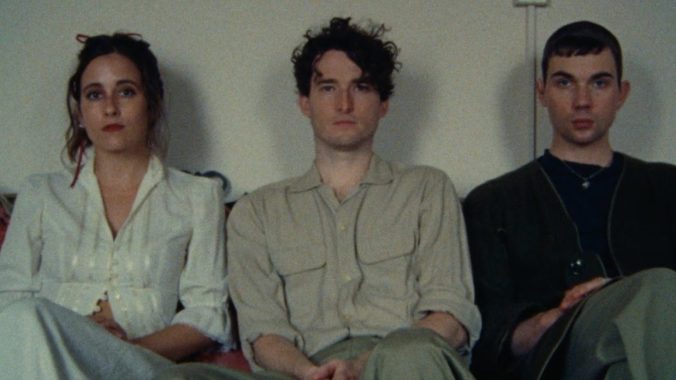 Since hitting the scene in 2020 with their stunning debut LP Introduction, Presence, Brooklyn-based trio Nation of Language have been consistently churning out delicate, soulful synth-pop swagger ripe with post-punk influences and poetic, thoughtful lyrics. Together, Ian Devaney, Aidan Noell and Alex MacKay are steadfast in their trajectory, quickly ascending into the echelons of the musical zeitgeist. The 2021 album A Way Forward cemented Nation of Language's greatness, and the band capitalized on that with a pair of singles—"Androgynous" and "From the Hill"—in 2022.
A third album, Strange Disciple, is somewhere on the horizon, but, for now, we have "Sole Obsession" to gush over. As always, the synths are shimmering, the bass and drums waltz together in perfect harmony and frontman Devaney's vocals careen like the perfect amalgamation of Bernard Sumner and Andy McCluskey. It's a perfect dancefloor number about devotion and human compulsions. To accompany the tune, Nation of Language have released a sublime, cinematic music video that aids in the band's exploration of desire and fixation.
"In simplest terms, 'Sole Obsession' is one about knowing when, or if, to give in or give up. Particularly, when to untie the knots we tie ourselves into when an infatuation sets in. So many of us have experienced an addictive feeling that constricts us further and further until, hopefully, there's a moment of clarity that allows one to free themself from that particular compulsion. The title of our next album, Strange Disciple, is a lyric from 'Sole Obsession' which references a character of such a nature; one who finds themself an adherent to a subject that is probably not worth the devotion," Devaney says about the track.
"We chose to represent this with an anonymous robed figure that lives within all of us, waiting for us to don the cloak and take up our role, and we worked with John MacKay to bring the Disciple to life in the music video. Taking cinematic inspiration from Maya Deren's Meshes of the Afternoon (1943) as well as Ingmar Bergman's The Seventh Seal (1958), the Disciple is depicted as one of us, and we in turn are depicted as the Disciple," Noell says of the accompanying music video.
Watch the music video for "Sole Obsession" and check out Nation of Language's upcoming tour dates below.
Nation of Language's Upcoming Tour Dates:
4/28 – Baltimore, MD – Ottobar
5/4 – Brooklyn, NY – Brooklyn Steel^
5/17 – Los Angeles, CA – The Fonda Theatre*
5/18 – Seattle, WA – The Crocodile*
5/19 – Seattle, WA – The Crocodile*
6/2 – Barcelona, ES – Primavera Sound Barcelona
6/6 – Madrid, ES – Primavera In The City
6/9 – Madrid, ES – Primavera Sound Madrid
6/11 – Hilvarenbeek, NL – Best Kept Secret
6/14 – London, UK – KOKO
8/11-8/13 – San Francisco, CA – Outside Lands
8/12 – Portland, OR- Revolution Hall
8/13 – Seattle, WA – Day In Day Out
8/14 – Vancouver, BC – Rickshaw Theatre
10/13 – Pittsburgh, PA – Mr. Small's Theatre#
10/14 – Cleveland, OH – Grog Shop#
10/16 – Madison, WI – High Noon Saloon#
10/18 – Milwaukee, WI – Back Room @ Colectivo#
10/19 – St. Paul, MN – Amsterdam Bar & Hall#
10/20 – Kansas City, MO – RecordBar#
10/22 – Denver, CO – Gothic#
10/23 – Salt Lake City, UT – Urban Lounge#
10/29 – San Diego, CA – Belly Up Tavern#
10/30 – Phoenix, AZ – Crescent Ballroom#
11/2 – Austin, TX – Scoot Inn#
11/3 – Fort Worth, TX – Tulips FTX#
11/4 – Houston, TX – White Oak Music Hall – Upstairs#
11/7 – Nashville, TN – Basement East#
11/8 – Asheville, NC – Grey Eagle#
11/9 – Carrboro, NC – Cat's Cradle#
11/10 – Philadelphia, PA – Union Transfer#
11/30 – Boston, MA – The Sinclair#
12/1 – Montreal, QC – Studio TD#
12/2 – Toronto, ON – Phoenix#
^w/ Gustaf
*w/ Reggie Watts
#w/ Miss Grit