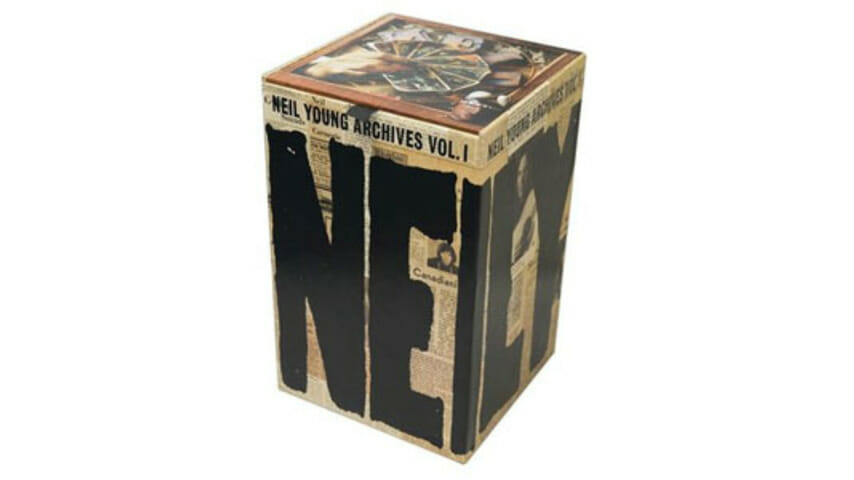 Everybody knows this is a scam
"Cough up the bucks," Neil Young sings on his latest album Fork in the Road, which is exactly what you have to do to purchase his mammoth, 10-disc Archives Vol. 1 (1963-1972). The DVD version will set you back $200; the Blu-ray version $300. So much for free love, or free anything.
For more than 20 years, Young has promised that this music would eventually be made available. Like Bob Dylan and Van Morrison, he's left entire albums in the vault, and has played dozens of tantalizing songs in concert that have never been released. Archives Vol. 1 (1963-1972) is the first in what promises to be a series of exhaustive (and perhaps exhausting) box sets that chronicles a musical legacy stretching back almost 50 years.
Longtime fans have been salivating at the prospect for a long, long time, but the payoff is disappointing. Billed as something of a multimedia breakthrough, the 10 discs here present good—and often great—music paired with sub-standard video content. Unreleased tracks? They're here, although in disappointing quantity and quality. The first disc—featuring Neil's precocious high-school recordings from the mid '60s—is mostly new but predictably underwhelming, offering surf instrumental Ventures knockoffs and a few tentative stabs at Dylan-inspired folk. There are certainly better unreleased tracks from Buffalo Springfield, CSN&Y, Crazy Horse and solo Neil scattered throughout the collection, but aside from the first early disc, which is all new but sub-standard in quality, there are only four genuinely new songs. Otherwise, we are offered most of the tracks from previously-released studio albums Neil Young, Everybody Knows This is Nowhere, After the Gold Rush and Harvest, a smattering of previously released Buffalo Springfield and CSN&Y tracks, and three partial concerts (two of which are already available as separate releases). The studio albums and live sets are great, of course, but the questions have to be asked: What self-respecting Neil Young fan doesn't already own most of this material? And what new Neil Young fans are going to shell out hundreds of dollars for music that they can buy separately for a third of the cost?
This leads us to the multimedia portion of the set, which theoretically answers the question of why this box exists in the first place. Is 24-bit/192 kHz stereo PCM audiophile quality important to you? Then suck it up and buy the Blu-ray edition. But you should also know that the "enhanced content" is laughable. There are two true videos here: a grainy but excellent version of Neil's 1971 solo concert at Toronto's Massey Hall, and a re-released version of Neil's interminable, ponderously stoned 1973 movie Journey Through the Past. On the other eight discs, the "video" consists of still photos of Neil, still photos of Neil's record covers and—most mind-numbingly—long shots of Neil's vinyl albums spinning on a turntable. For variety, you can view Neil's scrawled lyrics, read old concert reviews and goggle at an actual ticket stub from the Fillmore East. Be still, my heart.
It's worth wondering about what isn't here. Certainly the Live at Canterbury House 1968 concert is not. Neither are many of the other rumored outtakes and unreleased live tracks. Those looking for a treasure trove of previously unreleased material will be sorely disappointed. It's incomprehensible why so much readily available material is foisted on long-suffering fans, and why so much of the truly new material is missing.
Here's the deal: If for some inexplicable reason you're still missing Everybody Knows This is Nowhere, After the Gold Rush and Harvest, then by all means buy them. Buy CSN&Y's Déjà Vu. Buy Young's Massey Hall and Fillmore East live sets, too. These are among the best albums made in the '70s. Then open the Internet browser of your choice, search for old photos of Neil Young, and stare wistfully at your monitor as the music plays in the background. You'll encounter something remarkably like the Archives Vol. 1 experience. You'll also save yourself a lot of money. I love Neil Young. Really, I do. But, almost four decades down the line, it appears that "heart of gold" was a lot more than just a nostalgic hippie metaphor.
Listen to Neil Young on imeem.