Neyla Pekarek Shares First Single from Her Forthcoming Solo Debut, Rattlesnake
The songwriter and cellist revealed she was leaving The Lumineers in mid-October
Photo by Liza Nelson
Music
News
Neyla Pekarek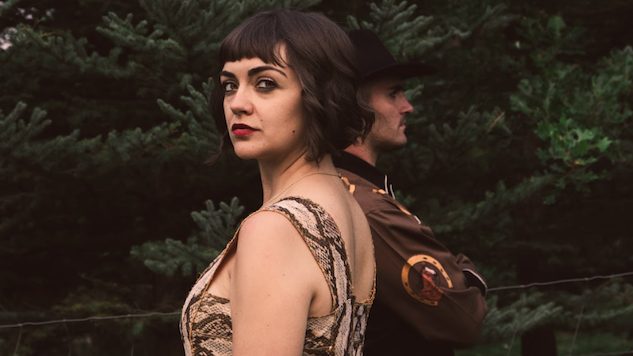 Songwriter and cellist Neyla Pekarek, best known for her work with The Lumineers, has released the first single from her debut solo venture today, Nov. 1.
"They say when a snake sheds its skin, it is a sign of rebirth, transformation, and new beginnings. Eight years ago, I answered a Craigslist ad to be in a band. In those eight years, we were nominated for two Grammys, we met President Obama, and we saw just about every dark, dingy green room this big, beautiful planet has to offer," said Pekarek in a statement announcing her transition into life as a solo artist. "I am incredibly grateful for these experiences and opportunities, but it is time to shed my skin; it is time for a new adventure."
In mid-October, Pekarek announced her departure from The Lumineers to pursue a solo career. Soon after, she signed with S-Curve Records, revealing that her debut solo album, Rattlesnake, was due in early 2019. Rattlesnake, now set for a Jan. 11, 2019, release, is a concept album exploring the legend of "Rattlesnake Kate," an early 20th-century western figure who successfully battled 140 rattlesnakes and lived to tell the tale. "Train," released today, is our first preview of the album, which was produced by Matt Ward (M. Ward, She & Him, Monsters of Folk), as well as its opening track.
"Train" is a rousing ode to a locomotive, showcasing Pekarek's clean vocal chops. Though the track is narrated through the perspective of "Rattlesnake Kate" herself, it's dripping in opportunity and hope for bigger and better things, and seems as though it could apply to Pekarek's latest adventure, as well: "My one-way ticket to a better life and a better song … Board my train and move on."
Pekarek is expected to debut her new music at an upcoming show at Rockwood Music Hall Stage 2 in New York City on Nov. 13. You can find more details about the show here.
During her time with The Lumineers, Pekarak recorded on two platinum-certified albums (The Lumineers, Cleopatra), toured with U2 and Tom Petty, and garnered a handful of awards nominations. Prior to joining the band, she earned a degree in music education.
Check out the new single below, and revisit a 2014 SXSW performance by The Lumineers from the Paste archives further down. Keep scrolling for the Rattlesnake album art and tracklist.
Rattlesnake Tracklist:
01. Train
02. The Attack
03. Better Than Annie
04. Letters To The Colonel (feat. Brian Cronan)
05. Whiskers
06. Brownie: Ode To A Horse
07. The Perfect Gown
08. Arsenic
09. Hold On Tight
10. I'm A Scoundrel (feat. Brian Cronan)
11. Swearing You Off
12. Miffed
13. Western Woman
Rattlesnake Album Art: