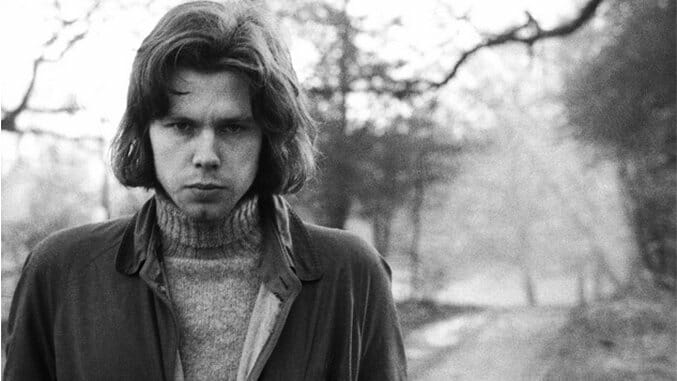 Folk singer Nicholas Rodney Drake, known to the rest of us as the inimitable Nick Drake, left this world too soon at the age of 26 in 1974. Between 1969 and 1972, he recorded three full-length albums, Five Leaves Left, Bryter Later, and Pink Moon. The latter is the most stripped-down of the three with just Drake on vocals, guitar, and piano; the first two included additional personnel and broader instrumentation. Each release is threaded with Drake's lush and engaging voice, his often-chilling words that outline many of his struggles in life. His sadness and its reflection of relatable universal human challenges compound the utter poignancy. His precision-style, acoustic guitar playing is elaborate, sincere, and hypnotizing—an integral component of his overall appeal.
Always respected, Drake's posthumous popularity is a magnet that continues to collect new fans. His songs have been in commercials, on movie soundtracks, and covered by a wealth of musicians. Here we rank each of his 31 songs.
31. "Horn"
Barely breaking the one-minute mark, this instrumental from Drake's Pink Moon features a sharp and slow guitar riff that is also utilized in the song "Black Eyed Dog," from Time of No Reply, a collection of outtakes and alternate tracks that was released in the late '80s. Because his voice was so intriguing and hypnotic, there were times it could overtake his stellar guitar playing. This gives a little chance for the listener to become entranced solely by the guitar, but it's unfortunately just too short to make it terribly memorable.
30. "Harvest Breed"
Most of Nick Drake's songs encourage pursuit and discovery of beautiful things in life. Though they nearly all journey back to the realization that enjoyment is brief and death is inevitable, they still revel in their temporary cloaks of solace. "Harvest Breed," from Pink Moon, addresses life's fleeting nature in its opening lines, "Falling fast, falling free / You look to find a friend." It continues with an encouraging message—to make the most of that unavoidable spiral down by taking a second to smell the flowers as you pass them by. There's rarely an endless free-fall in Drake's lyrics; he offers a look at all the polarities but doesn't let you forget there's always an end.
29. "Sunday"
Where some of Nick Drake's other instrumentals make the guitar the primary voice, the flute seems to bury it in this song. Its arrangement is wispy and sweet, reflecting a lot of the inherent musical spirit of Bryter Later, his second album. This tune also features strings, which add a bit of pluck, but that flute hits a bit too heavy. It adds to the exploratory nature of this second effort, but may also be part of the reason he chose to strip things down with his third and final full-length, Pink Moon.
28. "Introduction"
Kicking off Bryter Later, this is another one of Drake's short and sweet instrumentals. Just more than a minute long, it rings in the record with his signature melodic guitar picking and sets a mood with his instrument's melancholic tone. Drake seemed to be fond of including these short bursts on his last two records. Those recordings would have stood up just as well without them, but in context, they do provide interludes between the overall sadness. Short and sad themselves, the momentary absences of words do create some soothing, breathable spaces.
27. "Saturday Sun"
This song, from Drake's debut record, Five Leaves Left, is one of the many examples of how he balances moods by bringing their opposites into the equation. In this song, he reflects on a Saturday when the emergence of light almost left people in a foreign state of being. "Saturday sun came so early one morning / In a sky so clear and blue / Saturday sun came without warning / so no one knew what do to." That unexpected burst of light opened a door to good looks at pleasant memories, smiling faces, lives well-lived, but he made it fully Drake-ian again when the Sunday rain comes the next day, bringing with it a longing for that fugacious beam. In 1970, Elton John did a cover of this that doesn't do justice to the dueling emotions present in the original. It just sounds like a '70s Elton John standard.
26. "Road"
That which goes unsaid in this lyrically minimalist song brings the darkness. The third song on Pink Moon, it modestly offers that while you might want to follow clear and obvious paths to the stars or the moon, the singer will be taking the "road that'll see me through." Though it was known that he was falling into deep bouts depression around this time, Drake collaborators have been quoted as saying that Drake wasn't depressed during the actual writing of Pink Moon. The starkness in this record seems like much more than just wanting to keep the recording free of too many bells and whistles.
25. "Fruit Tree"
Though the song talks about the historical nature of how fame happens for many people posthumously, it's of course sadly prophetic of Drake's own career. He muses, "Fame is but a fruit tree / So very unsound / It can never flourish / 'Til its stock is in the ground." It has been noted that at times, he experienced bouts of anger about not seeing the same types of rewards that others were receiving for their talents. Regardless, anger never felt like a prevailing emotion in his music. Maybe he found some comfort in the sad blanket of the song's summarizing last line: "They'll all know that you were here when you're gone."
24. "Poor Boy"
This song maintains the polish and smooth flow of the entire Bryter Later LP, but there's something about it that feels like it's trying too hard. Though it was released prior to the Rolling Stones' Exile on Main St., the sax and background vocals make it feel a little like an Exile throwaway. Not a critique on the album's production, as Joe Boyd's work on the first two helped give them a marked distinction that made them both intriguing. This just might be one song that could have been thrown in the fire for the sake of another and not missed too much.
23. "Which Will"
There's a breathy trepidation in Drake's voice throughout this song as he asks his subject what direction they'll move in, if not with him. "Which will you love the best? / Which do you dance for? / Which makes you shine? / Which will you choose now? / If you won't choose mine," he sings. His whisper sends chills, as he asks the type of questions that teeter on the precipice of heartbreak—the kind of fear where you're dying to hear the answer and terrified to, at the same time. For a double dose of the morose, listen to his original followed by Lucinda Williams' cover.
22. "Bryter Later"
There's that flute again from the album's instrumental title track, but in this case, it gets beautifully absorbed into the softly tight drum beat and nuzzles nicely between the string plucks on the guitar. Even when it jumps out for some higher, runaway notes, it maintains its consistent prettiness. Dave Pegg, of Fairport Convention, who plays bass on this one, keeps the title track silky and stable.
21. "Cello Song"
The instrumentation on this song is plentiful. Double bass, guitar highlighted by precision picking, a shaker, and congas keep a steady mathematical beat while the cello cuts in, out, and through it all like a hot knife. Drake's vocals sit slightly atop, but don't feel as prominent as they do in some songs, although the words, themselves, vie for some of his most heart wrenching. Loneliness exudes in lines like, "So forget this cruel world / Where I belong / I'll just sit and wait /And sing my song / And if one day you should see me in the crowd / Lend a hand and lift me / To your place in the cloud."
20. "The Thoughts of Mary Jane"
It's no secret that Nick Drake was a fan of indulging in some weed smoking. Of course, that makes the Mary Jane in the song's title an easy target as a reference to marijuana. The lyrics, however, don't directly or metaphorically take you in any specific direction. "The way she sings / And her brightly colored rings / Make her the princess of the sky" could conjure up images from magical, mind-altering smoke rings, to an actual girl with of delightful quirks.
19. "Free Ride"
Easy, simple, and pondering, this one is a perfect piece in the Pink Moon puzzle. Drake sounds ostracized and perplexed as he asks, "All of the pictures that you keep on the wall / All of the people that will come to the ball / But hear me calling, won't you give me /
A free ride?" These are the kinds of questions that are soul baring and even embarrassing to ask because they come with an admittance of self-doubt. He moves through them with a palpable pain-soaked grace.
18. "From the Morning"
Pink Moon's final track was a good choice for the closing chapter of this solemn journey. It doesn't carve a pathway out of the despair that comes from having a deeply feeling heart and mind, but it does something that not all Nick Drake songs do: It parallels the light and the darkness by mentioning the beauty that can exist in both. "A day once dawned and it was beautiful / A day once dawned from the ground / Then the night she fell and the air was beautiful / The night she fell all around." When Drake sings, "And now we rise and we are everywhere / And now we rise from the ground," it feels as hopeful as anything on this record could.
17. "Things Behind the Sun"
Some of the latecomers to Nick Drake's music came via this song's truly captivating cover by The Mars Volta. As Drake's original haunts listeners with his wickedly poignant folk, the prog-rock band's sonic witchery doubles the spine tingles. The song advises sizing up the naysayers and subsequently disarming their power by just doing you. "Please beware of them that stare / They'll only smile to see you while / Your time away / And once you've seen what they have been / To win the earth just won't seem worth / Your night or your day."
16. "River Man"
A string arrangement by Harry Robinson, an arranger and bandleader who showed off his skills for a time at Decca Records, makes this song a little more vibrant than other Drake tunes. It's been covered by everyone from jazz acts to experimental musician R. Stevie Moore. There's been plenty of speculation about who the woman named Betty is, but nothing in the original or any of the covers offers any definitive proof.
15. "Time Has Told Me"
The opening song of Five Leaves Left sets a forlorn tone as it finds Drake almost imploring a great love to stick it out with him through all the challenges that entails. "Time has told me / You're a rare, rare find / A troubled cure / For a troubled mind / And time has told me / Not to ask for more / For someday our ocean / Will find its shore," he sings, emphasizing the lack of ego in his music. Drake's own selflessness shows a heightened awareness of how his pervasive sadness posed struggles in all types of relationships.
14. "Day is Done"
This song from Fives Leave Left moves straight through seven cheerless verses. For example, "When the party's through / Seems so very sad for you / Didn't do the things you meant to do / Now there's no more time to start anew / Now the party's through." The orchestration of the zesty strings gives this a little lift, but it's no real contender for the hard-hitting lyrics that remind us how cruel regret can be.
13. "Man in a Shed"
Perhaps Nick Drake didn't need to identify himself as the man in the shed, in this song's final verse; it's pretty obvious as it matches his pattern of crafting songs about wishful unions and arms-length interactions. Still, it rips through the ears and stabs you in the gut when he puts this out there, "So leave your house / Come into my shed / Please stop my word / From raining through my head." The melody is equally memorable. It's a song that on first listen could seem a little easy, given that uneventful twist, but somehow all the components make it even more powerful.
12. "Way to Blue"
Simple piano and mild strings are enough for this tender song from Five Leaves Left. "Way to Blue" is a reminder that Drake's voice is so rich in vocal sweetness and honesty, that it could easily stand alone and elegantly deliver his messages. Forever reaching for that ephemeral "light," this is another song about his quest. He understands universal emotional damage and wants to find answers for everyone, not just for himself. "Have you seen the land living by the breeze? / Can you understand a light among the trees? / Tell me all that you may know / Show me what you have to show / Tell us all today / If you know the way to blue?"
11. "Place to Be"
Though he didn't do it as a habit, Drake would elongate words throughout the line of a song and then snap the last word to a close. It's not sharp or harsh, it's just noticeable and adds a bit of an interesting force. He exercises that effect consistently in this Pink Moon track that looks at resigning yourself to simple comforts after life has its way with you. He laments, "And I was green, greener than the hill / Where the flowers grew and the sun shone still / Now I'm darker than the deepest sea / Just hand me down, give me a place to be."
10. "Three Hours"
The guitar work in this song is mesmerizing. Sometimes it battles the vocals for attention and occasionally even wins. The way Drake lowers his voice in some spots, strategically putting it beneath the guitar picking suggests that he wanted that twisty, bluesy guitar to reign. Plus, the conga drums elevate the whole affair.
9. "Pink Moon"
The title track from Nick Drake's final release probably saw the most mainstream popularity, after being featured in a Volkswagen commercial in the late 1990s. It also deserves getting into as many ears as possible. It's sweet, sincere, and one of his most delicate songs; its propensity to resonate on a grand scale is undeniable. As Drake tells us that the pink moon is on its way, he is at his most tender.
8. "Parasite"
Not much different than the rest of the minimal and direct Pink Moon, "Parasite" haunts with its wispy vocals and intricate and dramatic guitar work. The subject matter is grim, as Drake sings, "And take a look down you may see me on the ground / For I am the parasite of this town / And take a look you may see me in the dirt / For I am the parasite who hangs from your skirt."
7. "Hazey Jane I"
The sweeping intro of this song picks you up and envelopes you effortlessly into its fold. It's a soft piece of poetry, yet its intermittent drum taps give it a backbone. As the protagonist asks Jane to put her life under the microscope via a series of questions, he magnifies a hopeful power in their union, outlining the benefits to her, "Do you hope to find new ways / Of doing better than your worst? / Hey slow Jane, let me prove / Slow, slow Jane, we're on the move."
6. "Know"
This song breaks up a couple of Pink Moon's heavy hitters, "Things Behind the Sun" and "Parasite," and is perfect for the job. The folky tune shows off some of the ruggedness in Drake's voice. It's lyrically minimal, mostly humming, but the one chorus it offers packs all the punch it needs, "Know that I love you / Know that I don't care / Know that I see you / Know I'm not there."
5. "At the Chime of a City Clock"
From Bryter Later, this is without a doubt one of Drake's most romantic songs. The music lends itself to this description, as well-orchestrated strings force an upbeat vibe to the chorus and saxophone flourishes give the song a heady feel. The lyrics address how tough city life can be and how some protective armor for the soul can be useful when engaging in a less-than-bucolic life. There's true romance in exploration, sometimes because of the challenges involved, and this song exemplifies that sentiment. After all, it doesn't discourage pursuing a new life; it just features Drake's ever-realistic perspective, delivered in his standard sweet-meets-soulful combo package.
4. "Northern Sky"
The Velvet Underground's John Cale plays the celesta, an idiophone operated by a keyboard, piano, and organ on this motion-filled love song off Bryter Later. The celesta strikes resonate both mild and majestic, as the piano rolls fluidly throughout the song. As Drake expounds on love's dizzying effects, "I never felt magic crazy as this / I never saw moons knew the meaning of the sea / I never held emotion in the palm of my hand / Or felt sweet breezes in the top of a tree / But now you're here."
3. "One of These Things First"
"One of These Things First" is just lush—filled with soft piano notes and righteous in its simplicity. There's a bit of regret in the lyrics as Drake pours through a variety of things he could have been: "I could have been your pillar / Could have been your door / I could have stayed beside you / Could have stayed for more…Could have been one of these things first." It invites nostalgia, along with some of those glances toward mortality that parallel the passing of time.
2. "Hazey Jane II"
While "Hazey Jane I" asked so many questions of Jane, this song gives only a slight nod to her name, mentioning that she's back in his thoughts again. Her mere presence seems to conjure an optimistic air. Featuring folk legend Richard Thompson on lead guitar, this song has the most hopeful musical feel of any of Drake's works. It's certainly in line with the definitive and present lilt in Bryter Later, overall, but it goes several steps beyond any of the other tracks to offer a reverie in its hazey daydream vibe.
1. "Fly"
There's a line in the Tom Waits song "Step Right Up" that says, "Christ, buddy, you don't know the meaning of the word heartbreak." It's a cheeky line in that song, but if you put it in your pocket to utilize at other times, attaching it to this song would be a well-played move. From Bryter Later, "Fly" showcases Drake at his most exposed. His voice crackles and drips with anguish and want as he pleads, "Please tell me your second name / Please play me your second game / I've fallen so far for the people you are / I just need your star for a day." It's soaked in a sense of terminal loneliness that is only solidified by the addition of John Cale's viola and harpsichord.