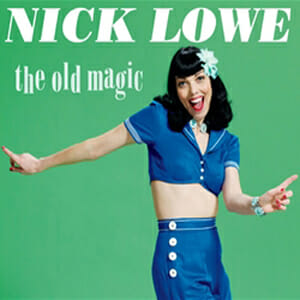 _The spirits of Buddy Holly, Frank Sinatra and Chet Baker inspire Nick Lowe's
new album_
For more than three decades and despite all of the critical acclaim he's received
during that time, Nick Lowe has been making music that flies right under most
people's radar. And, that's a shame because it's hard to imagine a soul so hard-hearted and melody-challenged who wouldn't find a lot to love in The Old Magic, Lowe's first collection of new songs in four years.
If you didn't know any better, it wouldn't be much of a stretch to hear songs like "Checkout Time" or "Stoplight Roses" and think you were listening to recently
discovered treasures from the Sun Records vault or outtakes from a lost Johnny
Cash recording from the '50s. As hyperbolic as that may sound, the eight originals
and three covers that Lowe has recorded this time out are as good as pop music
gets.
For most people, Lowe is remembered primarily for his exhuberant new wave and
pop records from the '80s. Discs like Labour of Lust and Pure Pop for Now
People sound just as fresh as they did when they were issued, but the singer and
guitarist has never been one to rest on his laurels as he's continued to release a
steady stream of brilliant albums that have found favor with a small but dedicated
group of fans.
Nick Lowe remains a songwriter's musician. He's never been one for flashy solos, complicated chord sequences or bombastic arrangements. The tracks on The Old Magic are based around simple melodies with Lowe's intimate, straightforward vocals mixed right out front. Numbers like the Sinatra-esque "House for Sale" and the Buddy Holly-influenced Sensitive Man are masterpieces of lyrical economy that showcase Lowe's brilliant phrasing and nuanced delivery.
It would be difficult to pick a standout track on such a strong album, but the Chet
Baker-styled "I Read A Lot" is certainly a contender and may just be one of the most
witty and soulful break-up songs written in years. Mature love songs are a true
rarity in pop music, and The Old Magic offers proof that no one writes them better
than Nick Lowe does. At 61 years of age—a time in life when many people begin to
consider retirement—Nick Lowe has put out his best album in many years and more
than three decades into his career, the British tunesmith may be just beginning to
hit his stride.