Best of What's Next: Nick Shoulders
The Arkansas warbler went viral during COVID; now he's at the forefront of outlaw country's resurgence, co-running a record label and forging his own canon of thoughtful, rebellious brilliance
Photo by Nick Futch
Music
Features
Nick Shoulders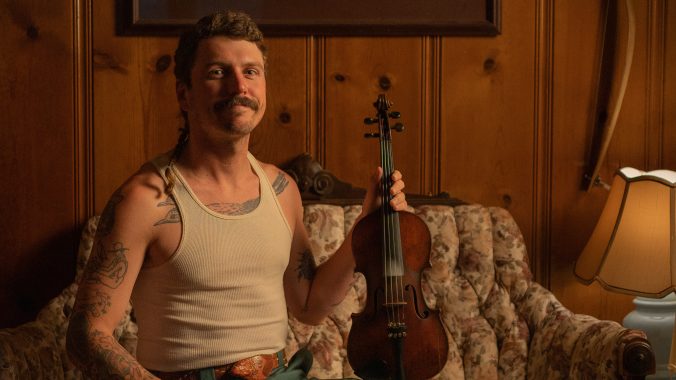 I've been a devotee of country music—in some form or another—for most of my life. I grew up listening to old-school outlaw radio on family trips from the Rust Belt of Ohio down through the heart of West Virginia. My grandfather would whistle along to hits from Willie Nelson and Merle Haggard through the gaps in his dentures, as we took stock of the Appalachian Mountains that boxed us in on deserted highways—in the same bird call he'd use to beckon me back from the edge of his property line when a storm was nearing. When I was 16, before I had my own car, my grandparents gifted me a vinyl copy of Johnny Cash's At Folsom Prison that they'd had tucked away for at least two generations. Within seconds of hearing Nick Shoulders sing, I knew I'd love his music for a long, long time.
I found out about Shoulders many moons ago, during the throes of COVID, when a buddy of mine DM'd me a YouTube link—saying nothing but "I think you'll dig this." On the other side of the code was this video of a guitar player, decked out in pitch-black overalls and sporting a shoulder-length mullet beneath a camo hat, yodeling while perched atop a rock in a wilderness someplace. "Oh, how my poor heart aches for every hollow that I forsake," he sang, as a pup sat stoically on a rock formation behind him. "Blue cave water and canebrakes forever call me on home to snakes and waterfalls." Seemingly out of nowhere, the video amassed over a million views (now comfortably over 3-million) and another video featuring Shoulders—where he sang a track called "Rather Low" in the wood-paneled hallway of Tigermen Den, a DIY venue in New Orleans—eclipsed the same milestone not long after. I'm sure you could chalk it up to the pandemic, that folks were at home and on their phones more than ever—that going down a social media rabbit hole could no doubt lead to discovering a musician like Shoulders. Only in an era like this one could a seven-figure view-count arrive in the same place as Burt Oxford's carving on a rock down in Ghost Holler.
But the stark reality of the matter is that Nick Shoulders is not just a viral anomaly; he's a bonafide American treasure. He has nearly 60,000 followers on Instagram, plays songs with his teeth on TikTok and even used his newfound acclaim to kickstart his own label (Gar Hole Records, which he co-founded with Kurt DeLashmet, a prominent cassette tape guru) in his hometown of Fayetteville, Arkansas three years ago—and, yet, no one outside of his growing covenant of UnAmericana peers and metalheads-turned-country music oldheads knows who the hell he is. Upon the release of his fourth album today, All Bad, you better believe folks will start remembering his name. If I've gotta canvas this whole country to make that assumption a truth, then I'll be knocking at your door soon.
Despite there being a serious punk ethos to Shoulders' get-up—even when he is playing a mouthbow while doused in hunting garb, singing Blondie songs or whistling along the edge of a hill in crocs—he grew up a disciple of Southern Baptist gospel and his grandfather, Pat M. Riley, was a warbler himself (and he even recorded a record in the 1980s that Shoulders uploaded to YouTube in full a few years back). He carries a voice that spans the genetic wonders of many generations, and Pat was a self-proclaimed "Dixie-fried Rat Pack member" who passed down a vibrato onto his grandson—one designed for clearing old clapboard church rooms and vaulting over the heads of service-goers before microphones were widespread. According to Shoulders, his grandpa "fancied himself a virtuoso singer." On All Bad, his voice returns in the shape of a familiar yodel, curling octaves beckoning us to come make a home within its curious, improbable warmth.
After putting out an EP called Lonely Like Me in 2018 and his first full record Okay, Crawdad in 2019, Shoulders was tasked with the odd responsibility of creating at a time when he was at his most popular but couldn't get his band (who are, aptly, named the Okay Crawdad) together to make a third album. It was the crux of making art back then, when COVID and quarantines were pushing everyone towards consuming more and more of it but the makers themselves couldn't produce in the ways they'd hoped to. What ended up arising from that period was Home on the Rage in 2021, a scaled-back, quiet detour from the full-bodied sound he'd only just started to perfect two years prior—largely existing the way it does because Shoulders made it (almost completely) by himself, and it now serves a gentle memento of a time that is, at least for now, in the rearview.
"To be able to put out that kind of folk record from within a very specific experience of lockdown, it was really nice to be ablt to fall back on some of that material to have a physical, mental reference of how different and how completely nuts the period was that gave birth to Home on the Rage and that set of songs," Shoulders says. "We were in such a flurry—and continue to be in such a flurry—it's nice to remember that 'Booger County Blues' was written on a dilapidated porch facing the White River in Madison County [Arkansas] and getting to remember what it was like to have space and time and quiet."
Songs from Okay, Crawdad like "Rather Low" and "Too Old to Dream" and "Hank's Checkout Line" had an energy that was birthed through Shoulders taking his DIY, vehicle-dwelling, street corner-playing upbringing to New Orleans and, for the first time in a long while, finding himself sedentary. It contrasted deeply with the home-centric, Arkansas-based ecosystem of Home on the Rage, stripping the fundamentals of being shaped by the road and honing a craft while careening with the bend of a perpetual, touring motion.
"Taking the culture that was based around transients and being footloose and mashing that against being settled in a house in a community with friends and people that you saw all of the time, who came out to these shows," Shoulders says. "Okay, Crawdad and Lonely Like Me were rooted in the New Orleans dance scene and the general, vehicle-living listlessness that we had to do to support ourselves outside of that. How harsh a reality constant movement is, it's more akin to the first few records—in that sense that it does have that practiced exposure to it. [All Bad], there is no precedent for it, just like the times we're living in. The amount of moving and what we have seen and been exposed to and forced to reckon with, it's definitely put a very particular tinge on the music—in that it couldn't have existed in the vacuum of living in a shotgun house in Holy Cross."
All Bad is a return to form for Shoulders and the Okay Crawdad (Grant D'Aubin, Cheech Moosekian and Jack Studer). He'd been writing lightly while on a massive, multi-continent tour—gigging with folks like Sierra Ferrell and The Lostines and sharing festival bills with Big Thief and Lord Huron—and cemented a few new tracks in the live space. But it was when, during a freak, 10-inch snowstorm in Arkansas last winter, that Shoulders got COVID and had to put himself into quarantine. It'd turned into a miniature sequel to 2020 and, with a deadline for making a record staring him down, he demoed the rest of the project on his phone—playing every instrument and writing in, what he calls, a "weird, brain-fog flurry." Once his tour with Ferrell concluded and he'd road-tested a large chunk of the new material, he and D'Aubin, Moosekian and Studer took to Mashed Potato Studios in New Orleans to make what would become All Bad.
Shoulders considers All Bad to be the true spiritual, full-band successor to Okay, Crawdad. The latter was a snapshot of how he and the band sounded and how they sang at St. Roch Tavern on a Monday night in New Orleans. All Bad is a major reunion that greatly speaks to how mechanically intertwined the music is with their friendship and them being longterm players who have been making music together for six years. When it came to reconvening in a studio space for the first time in four years, Shoulders likens it to being able to ride a bike your whole life. "It felt very intuitive and very much in lockstep with what we wanted to be sounding like and what we wanted to be doing as a band," he adds. "It was remarkable to have a gap of a year-and-a-half, or more, and then just get stuck in a band together for the first time since and locking back in together like we'd never put it down." When you make an album with people you love and adore and enjoy the company of, you can feel that in the music—especially if it's recorded live. And All Bad was recorded live.
The first time Shoulders and the Okay Crawdad ever made a record together in a studio space was just them performing to tape with a few microphones and some hooked-up instruments. The foundation of their sound wasn't rooted in the company of some million-dollar space with shiny gadgets; it was stoked and shaped through the sheer humanity of their collective chemistry with each other. To make a record at Mashed Potato (where Lonely Like Me and Okay, Crawdad were also recorded) below sea level, there's a rich legacy pushing up against you at every turn. You're in the thicket of an intersection that houses long heritages of Zydeco and Cajun and R&B and gospel and you don't know whether you want to be another rock in the hill or make your own shadow for someone else to stand in when the next generation picks up a six-string.
"Just knowing that we were standing where we had stood not that many years ago—and being in a room with no sub-flooring with barges going by and, sometimes, we'd have to pause because there was noise from the river and the levee outside—having that realness to it and that root in our lifestyle and not have it be something severed from our true existence and our day-to-day was the best part about it," Shoulders adds. "Being able to be in a shotgun house and hear the ships go by and be doing this thing that felt like it was part of our lives and part of something that I had really cherished and honed in as a craft while I lived down there, it was such a reunion and it felt like a very purposeful connection and continuation of something ancient and vital and important about the way music is recorded down there. That normalization of music that makes it something that people do and not a commodity, that's what we're trying to accomplish—to prove to ourselves, and maybe the listener, that country music can still be functional and rooted in landscape."
On Home on the Rage, Shoulders covered a Civil War-era standard called "New Dying Soldier." It was most prominently performed by Buell Kazee in 1928, and—despite it being a folk song about becoming a cog in a rich man's war—it fit with the ethos of that record. Now, Shoulders has fashioned an old J.R. Cheatham track called "Blue Endless Highway" (which collected dust until Michael Hurley opted to cover it on his 1971 album Hi-Fi Snock Uptown)—a story of being lonesome no matter where the roads take you, an apt inclusion on a record made after a long, grueling tour. The tracks are never explicitly tethered to intentionality or a thematic scope. Instead, it's a product of Shoulders approaching country music like an anthropologist. A big part of that comes from him collecting songs and .45 rpm records—a hobby partially catalyzed by Franklin Fantini, the man behind Dollar Country, a Cleveland-based, online radio show and archival project.
"I just adore treating old songs like fossils, and some fossils need to be on display because they're just awfully pretty," Shoulders explains. "That ethical drive to view music as something that's not just a stationary, modern thing that has popped up since the record industry came around, that it's a living, ancient thing that was here before capitalism and will be here after—to have that dedication to knowing that you always are going to have to keep digging, have to keep affirming and finding the new pits of trueness that lie under there, 'Blue Endless Highway' represents what I tried to imbue on all of this, which is that tendril to our oldest, most true things. It's about my great-grandpa getting buried in the woods in Mer Rouge, Louisiana after his cousin shot him and my grandma not knowing that for 55 years. She was 55 years old before she found out she was not abandoned by her father when they went up to Little Rock. I think that is the spirit of all the songs and is really deep in [All Bad], not losing track of the fact that what we're dealing with is something huge and ancient and important and vital."
A large part of Shoulders' work rests on his self-appointed responsibility to write and sing about the South in ways that are intimate, relentless and honest. For every moment where he's singing about katydids and cypress trees and the majesties of the Mississippi River, he's also lamenting—in the same breath—the act of burying friends, outliving a climate crisis, throwing cop brutality under the weight of his linguistic guillotine and trying to unlearn the oppressive, reviled heritage of the post-Confederacy landscape he rambles across. He doesn't generalize the music in the name of making it accessible for people in New England or the Pacific Northwest, but Shoulders' work speaks to what people are also experiencing in Appalachia or California or the tangential rural hotspots in the Midwest. There's something about the Ozarks and the panhandle and the Gulf Coast that, when translated through art, gets closer to destroying the gap that separates America's regions.
"The Mississippi River Valley in 1860 had more millionaires per capita than anywhere else in the country or world. Now, it's got some of the poorest counties in this country," Shoulders says. "I think that really is instructive on what has happened in the arc of history and what has created the unimaginable inequality and suffering that are part of the post-Confederate experience. I think in the same way, the fact that people can see themselves in that history is instructive to teaching us everything we need to know about America and what the process of empire-building and the destruction of landscape and what actually props us up as people has cost the music. I think you can hear it in what's produced outside of the experience, where it lacks respect and humility—maybe for the scale of suffering and the proximity of it."
Shoulders doesn't think you have to grow up in a former Confederate state or in the shadow of enslavement, the Trail of Tears or the Civil War to have that perspective. It's an instinctive window in for the rest of the country—especially the coasts and major metro areas, which have grown to be so largely disconnected and taught to fear and chide the cultural experience that Shoulders and his friends and his family are here to represent. "That reachable, teachable moment—with finding a way in of seeing structures and history and material condition—are the things that created this, not the personal malice of people who are lacking resources," he adds. "I think that's a powerful burden and a huge responsibility that I feel personally, as somebody who is a product of the shadow of that history. If people see themselves—and see a certain amount of fascination—in that history and in that cultural experience, it's an opportunity to instruct us, more honestly, about our history as a country and where that violence and oppression is truly rooted."
Across four albums, Shoulders has strongly established himself as somebody who will not mince words about how the blade of capitalism and racism and violence has fallen unfavorably on the South over the last 200 years. On a song like "Bound and Determined" from Okay, Crawdad, he zeroed in on the folks who champion Confederate history in the name of preserving tradition—fusing battle cries of not selling his soul to zealot billionaires or refusing to give a damn about the land that's being bought up by corrupt capitalists and sold for parts. "Do you love freedom, or security and dreams?" he asked. "Is life worth living if there's lead in the last stream? To a glutton, what's allegiance worth if the meek like me are to inherit the earth? It's not oppression to ask for common decency. You'll learn your lesson while you're repeating history."
On "Home on the Rage," the camera's focus was turned again on how, across centuries, the beauty of the world was stripped away slowly by greed and how the ground is littered with blood in graves in the name of Manifest Destiny and nationalism. "10 generations on land that they stole, torched the prairie for plantation, they broke the mountains for coal," Shoulders sang. "I ask 'What's worth keeping? Can we be proud of what's fair?' Oh, it's 10 generations just gasping for air from the cold, I know."
Now, on All Bad, the work returns to documenting the backyards and rolling hills and rivers Shoulders calls home—and how those glimmers of natural hope and grace are being suppressed in the name of underpaid, exhausted labor and the cost of living skyrocketing in towns of mere thousands. "There once was land, endless land, under starry skies above, but they fenced us in," Shoulders sings on "Won't Fence Us In." "Now it's interstates and interchanges, monocrop and truck stops, 'cause they fenced us in! I wish that every golf course became a WMA and every politician knew the rent that we paid, just to drink ourselves to death and go to jobs that we hate." Across renderings of November hurricanes, acid rain, plateau hollows and cul-de-sacs craving rust, Shoulders dares to outmuscle his and his peers' propensities for letting the well-built cage of their eroding hometowns keep them locked away.
"The big thing I've come around to and has been a visible arc of my catalogue is arriving at the conclusion that these symptoms and these problems that might be most glaring in places like the South, where the inequality and the historical are so surface-level and so unhealed," Shoulders shares. "But, when you do start to zoom out—as I have been able to only with time and exposure and the privilege of being able to travel—it really becomes apparent that what are problems in the South, that might be glaring and specific, are generally problems in most places that we exist in as a society. I think that really starts to point the finger towards the mode of operation, the mode of economy, the capitalist system that we exist in being the problem. It's not Southern history, it's not specifically United States history. It's not even specifically colonial countries history. What really starts to be glaringly obvious is this profit-oriented orientation, this way of thinking of the world and of culture and of each other in a quantifiable, modifiable sense has, truly, been toxic to our existence. It's very obvious that that is the root of problems, whether you're in Boulder County or Bangladesh. You're dealing with the same shadows of the same problems that are perpetuated by the exact same system that we all live under."
A big piece of All Bad is language reclamation and malapropisms and folklores. There's wordplay stretching from the song titles to the lyrics, especially on songs like "Mama Tired" and "Hook Line and Sinker" and "Hoarse Whisperer." It's a deft examination of how catchphrases and affectations can be reconfigured by new generations. It makes me think about how the term "redneck" has been washed away into a contemporary slur wagered against folks with accents who don't fit into the status quo of coastal or metropolitan fashion or ways of speaking—and many of the people on the receiving end of a "redneck" barb are also considered to be supporters and perpetrators of anti-didactic, conservative rhetoric. What's been lost is the true root of that word, that rednecks were pro-union, cop-busting, blue-collar workers who were holed up in mines or across railroads. But with Shoulders, he employs a very honor-based approach to dialect—and to memorializing and celebrating his family and community and the act of how he speaks—in his body of work.
"There is an incredible amount of intentionality that I put into this, as someone who—like many communities who are at the outliers of American prosperity—has been taught that the way they speak will make them be taken less seriously and, maybe, even reviled and make them unsafe," Shoulders says. "I think the fact that my accent has been largely bullied or media'd out of me—and that folk and country performers affect that for prfit—tells you everything you need to know about how the folk tradition can also be weaponized against people and can become homogenized to become something that's not representative of the values that it came from."
Shoulders took much inspiration from the detail and lyrics of "The Arkansas Traveler," a 19th-century fiddle tune based on a composition by Sandford C. Faulkner that was, from 1949 to 1963, the state song of Arkansas. There's a passage where a squatter—an old Arkansas hillfolk person—is talking to a Northern traveler. The traveler says, "You have a hole in your roof," to which the squatter replies: "Well, I couldn't see the sunshine if I patched up that hole." That exchange presented an idea for Shoulders, this understanding that language and power and culture can be so instinctually tied to economic power and prosperity. It was a big factor in why he readdressed his musical inheritance and the accent he'd been given from the lineage of his family.
"I felt compelled to make an honest attempt at having [my accent] represent something that was much more nuanced and much more representative of the cultural experience, rather than have it just be an act," Shoulders says. "I think that's one of the torturous things about playing Country & Western, that the 'Western' in Country & Western was for Western movie soundtracks. I think an element of this genre really can be a theatrical role for people. That's fine, we've always needed entertainment—theater's got a role in society. But, for me and mine, it's really, painfully, not a theatrical role. It's something we were forced to leave behind and reject and have had an arc of understanding and empathy that's caused us to be really radicalized towards reclaiming that.
"The fact that that experience within me is resonating with people and has the traction that it does with folks who see themselves in these songs, it's just a never-ending stream of gratitude and validation for me that was lacking when I was, systematically, trying to phase out vowels and make them shorter and sharper—and changing the way I dressed and presented to be less obviously from a specific cultural and economic experience," he continues. "The fact that that has visibility now, it means the fucking world to me."
I can remember being in a Northeast Ohio high school—that was only a quick drive South from Lake Erie—and getting mocked when a slight inflection of my very minor Appalachian accent would roll off my tongue at the end of a sentence. My family's dialect, which was rooted in the boonies of central West Virginia, largely died with the birth of my dad—who was the first child in the bloodline to not be brought into this world in the valleys of the Mountaineer State. Yet, after spending so much of my life in the company of my grandparents, who would speak in such thick mountain accents, part of that rubbed off on me—and I was tormented for the natural ways in which it would enter my own modern vernacular. What Shoulders is getting at and singing about is something that, I think, weighs on the minds of many. His work pays great respect to ancestry and what we should want to carry in this world and in our bodies—which can sometimes arrive in uncomfortable, forthright ways.
"Something I learned just last year, by traveling to Ireland and Scotland, is hearing what I've been told my whole life were the ancestral dialects of Southern English. Scottish and Irish, I think, are definitely dialects that inform a large amount of what we now call the Southern dialect," Shoulders says. "But, what I started to become aware of, pretty quickly, was that it wasn't totally true. What I heard missing was West Africa, what I heard missing was the legacy of enslavement. What I realized in that moment was that our dialect that we speak within that very specific shadow of slavery is a hybrid product, a hybrid experience. That's what makes part of the effect of the Southern dialect so venomous, that what you're doing is not just 'rural somewhere.' 'Rural somewhere' doesn't mean anything to me, honestly. It requires the amount of respect and humility that I find lacking in a lot of peoples' approaches. I just wish that folks saw in those lights that this accent is a product of systems of oppression. It's not just something that, inevitably, happens to people in the country everywhere. The reason we sound the way we do is very specific."
There's a juxtaposition on All Bad, where loneliness and land erosion is followed by beauty and keeping company with people who aren't actively trying to erase you. There's an exploration of a certain, generous dichotomy that Shoulders enacts flawlessly. Seeing disparities and balancing them with depictions of the natural wonders that still, in some places, exist in the Ozarks and the Bayou is something that is reflective of the contradicting brutality that sits before Shoulders on a daily basis when he's back home. Growing up, he was overexposed to inequality through seeing country clubs and chain gangs in the same county. At the same time, he spent much of the first seven years of his life touching unbroken forest for 10s of miles in any direction around him. Two actively working forces—the hope of eco-region stewardship towards public land and the grim reality of what happens when the wounds of the Trail of Tears and slavery and the Civil War go unsolved—are split down the middle, and that's where most reactions live.
"That balance is, truly, how anybody maintains some kind of happiness in this role," Shoulders says. "I think the extremes in my upbringing also reflect the extremes in my day-to-day now, where we rattle around in a van and then we sit in complete stillness for hours at a time and then we play music for an hour-and-a-half and then we try to sleep and then we get up and do it again. It's just all extremity. What lies in the middle, that static in between, is—if you put enough intention into it, you can craft it into something to prop up a song and a thought and a true feeling. Because, otherwise, you can just be constantly reacting. And my real goal in this life, having experienced the extremes I have, is to step out of that mindset of constant reaction and just try to be thoughtful."
For as often as he is a practitioner of the Podunk zeitgeist's affinity for emptiness—as evidenced by the recurring "Empty Yodel" song series, his never-ending homage to Jimmy Rogers' "Blue Yodel"—Nick Shoulders' attitude is very much alive beyond the confines of solitude. It reaches toward reflection and education, towards love and respect and recognition of inequality and the crutches of tainted heritage. There's a community he adores that breathes the same air as he does, in the deep, wondrous hollers of Arkansas and New Orleans and the towns, states and countries that exist beyond the Ozark and Bayou microcosms he calls home.
But, what is perhaps the most important piece of Shoulders' world is that all are welcome within it—so long as you respect the ground you walk and the people you cross paths with. On "Appreciate'cha," that truth has never been so grounded, as he unfurls a laundry list of people he loves and feels a kinship with: "If this land is your land, I appreciate'cha. If abolition was your stand, I appreciate'cha. Kings and dollars, stars 'n' bars, crosses, swastikas and tsars—if you are skeptical of all, I appreciate'cha. If you're doing your damned best, I appreciate'cha."
---
Matt Mitchell reports as Paste's music editor from their home in Columbus, Ohio.